We're in our second week of our new school term of sessions from brand new Welsh bands that are exciting us on the show. Please welcome this week's band, Houdini Dax.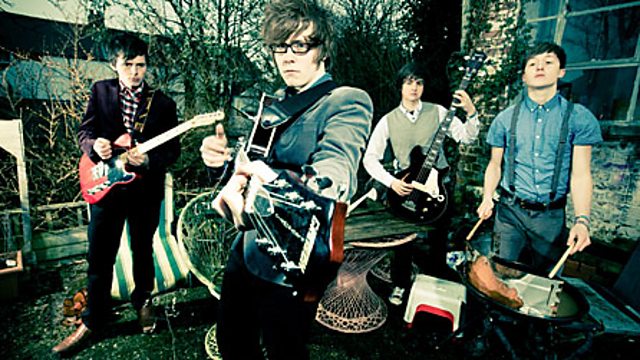 Hi Houdini Dax!
Hi Beth!
Who's in the band?
We've got Jack on lead vocals and guitar, David on drums and Owen on bass, but everyone chips in with a bit of singing.
What's the story so far with the forming of the band?
We all went to school together and played in bands through our early teens. When we finished our GCSEs we thought we'd start up a band that would really go somewhere.
We just spent two years hiding away in a falling-apart old studio writing songs on out-of-tune pianos and guitars when we were supposed to be learning things. When we had enough material we started gigging and recording, we've just improved from there.
What have been some good moments for the band?
There have been a lot of good moments so far, like signing to See Monkey Do Monkey Records and recording our début album. We've had most of the tracks for about a year, so it's been great to finally get a lot of them down, and we had such a great time recording them as well.
We're lucky enough to be signed with See Monkey who have their own studio, so we just went down there for a couple of days a week with Rich from The Method, who is our producer. We locked ourselves away and just played through the songs.
Listen to a track recorded for my show this week:
I heard that early recording sessions with Carl Bevan [60ft Dolls] were a bit crazy. Was this the Adam Walton session?
Yeah, we'd really not done much at that time. We were all 17 and we'd gotten an email from Adam asking if we'd do a live session for him. We had no idea what to expect, but were all really excited, so we turned up at Carl's studio expecting a couple of hours of recording. The thing we probably spent the longest on was a cover of I'm A Man which Carl wanted us to play as soon as he heard we knew it, and created a fuzzy, messy, animal noise-filled version that's only ever been heard by us.
After recording, we ended up staying in Carl's studio until the early hours. Watching an intoxicated Mr Bevan move from instrument to instrument jamming the blues with us was a pleasure and remains a great memory. We are good friends with Carl now. We dropped him off at the pub on the way home.
What memorable live gigs have you played?
There are always a few that stick out in your memory for certain reasons. Getting kicked off stage at the CIA is always one that springs to mind. Also, supporting The Bluetones singer Mark Morriss was an honour. We recently played with two other welsh bands called OK and Toy Horses at Clwb Ifor Bach which was a great night too.
What's been the creative driving force for the band?
It's the desire to be the biggest band around which means getting your music out to as many people as possible, whether that be live or in the studio. We've always written a lot of songs together and songs that we're happy with, so it's a good feeling to know that other people are into our music as much as we are.
Outside of music, we've taken far too much influence from The Office, to a point where we have complete conversations in quotes, but somehow it's always helped us to stay sane, which is always nice.
When did you hook up with See Monkey as a label?
We were contacted by them through MySpace. We were asked to play an acoustic set at one of their beer festivals, so Dave and Jack went down with two acoustics and a bass drum. We didn't know at the time that the label we're interested, so the set was filled with Flight Of The Conchord jokes and bad covers thinking it would be funny, but we still managed to get signed.
We released our first EP on the label. It is a great label doing so much for its bands and the Cardiff music scene at the moment. We're all fans of every band on the label too.
What are the plans for the band after the session this week?
We're heading to London this Sunday to play the Dublin Castle in Camden, followed by playing in Buffalo Bar on Wednesday 22 September. We're playing Bethan's night at Oxjam at City Arms within the next few weeks so we've been breaking out the acoustic guitars and reworking the songs with some lovely harmonies, it's been like heading back to the old school rooms, so that's been fun.