Meteor shower over church in Carmarthenshire
Alan Evans has been star gazing recently and took these photographs on Sunday evening at St. Mary Magdalenes church, St. Clears in Carmarthenshire.
These shooting stars are called the
Geminids
and can be seen annually at this time of year.
Most meteor showers are linked to dust and debris from comets. However, the Geminids originate from an asteroid 3200 Phaethon.
Phaethon is an extinct comet which has a cloud of dust trailing it. The Earth moves through it every year in mid December.
St.Mary Magdalenes church: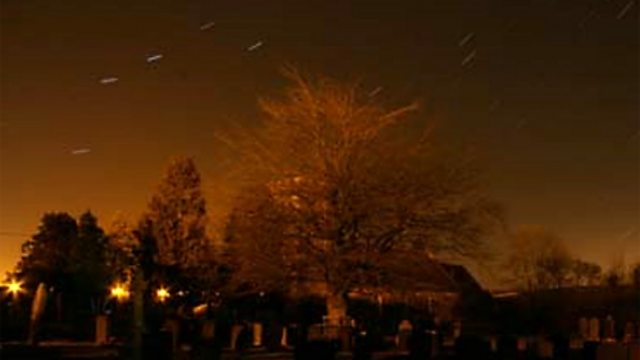 Particles of dust travelling at 80,000 mph hit our atmosphere and appear as bright pale green streaks of light streaking across the sky at a rate of up to 80 per hour.
To see the Geminids, stand with your feet pointing North, West or Southwards and look up at an angle of about 45 degrees.
The point at which the meteors appear to originate (the radiant) can be traced back to the constellation Gemini. The best time to see them is around midnight and ideally an hour or two before dawn.
Wrap up warm and don't get a stiff neck!
Derek
Geminids on BBC News Online