My Christmas: confessions of a pantomime dame
Christmas time is the season for traditional pantomime entertainment so we caught up with Wyn Calvin- one of the greatest pantomime dames to come out of Wales and hailed by the media as the number one Widow Twanky. Oh yes he is!
After a career spanning sixty years, he's played the parts and worked alongside some of the world's best performers - from Morecambe and Wise to Bob Hope, George Formby, Gracie Fields and, of course pantomime legend, Christopher Biggins.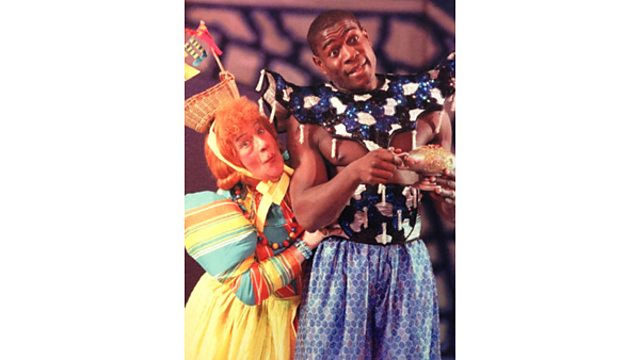 Wyn Calvin as Widow Twanky in panto with Frank Bruno.
Wyn Calvin's acting career began with the Entertainments National Service Association  entertaining the troops in World War Two in Europe.
After intensive theatre work back home, performing a different play each week, comedy and pantomime came naturally to him. "When you've got a face and voice like mine it has to be comedy doesn't it?" said Wyn.
Wyn soon realised he had a natural ability for comedy and left the straight plays behind.
His first big break came in the 1960s in the guise of Humpty Dumpty in a part written for Sir Harry Secombe who performed it at the London Palladium but Wyn took the show on the road from London to Manchester.
It was at Bristol, performing with The Seekers, that Tom Arnold – the then 'King of Pantomime' told Wyn he wanted him in skirts the following year.
Wyn did a double-take replying that "he didn't feel feminine" to which Tom replied "exactly, that's why you'll make a great pantomime dame!"
"Children are amused knowing that pantomime dames are men trying to be feminine and failing." The rest is history.
Wyn believes that "laughter is the best music of all and the sound of a theatre full of kids laughing is special.
"It's easier to get the laughs dressed in outrageous costumes and helps establish the fact that you're there to be laughed at".
"Getting ready can take up to 30 minutes for an opening performance but after that it's about four minutes each time" said Wyn.
Costume changes are par for the course with Wyn who always did at least ten - with each one getting progressively more ludicrous. "Thank God for Velcro" he said.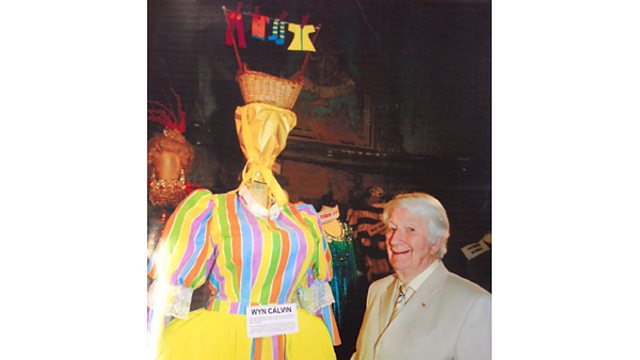 Wyn Calvin with his Widow Twanky costume.
Wyn's wife Carol made all his costumes with Wyn providing the silly ideas. One of Wyn's all-time favourites was his Widow Twanky hat which featured a miniature washing line on the top and now resides in the Wiltons Music Hall Museum.
Make-up is another matter and a good pantomime dame always does her own make-up!
Over the years Wyn has tweaked his look, concentrating on the eyes and mouth. "The important thing is making it look as if you're trying to look feminine. Every dame does the character differently, in their own way".
Travelling around performing meant Wyn saw his fair share of theatre 'digs' – a tradition that no longer exists today.
Looking back on it now Wyn laughs, referring to it as "a form of imprisonment" – arriving at work for midday and working until midnight before sitting down to his first hot meal. "You never ate before a performance and often had a matinee and evening performance each day".
One landlady who saw him performing once said "If I'd have known you were top of the bill I'd have given you clean sheets."
One night while playing the De Valance Theatre in Tenby Wyn asked the audience if anyone was local.
Someone shouted 'Yes, Narbeth' to which Wyn exclaimed "I was born there!"
The mystery voice from the crowd replied 'Yes, I know. I delivered you!" at which point the theatre erupted in laughter and Wyn stood dumbstruck before asking her if he'd changed much.
Wyn hung up his dresses in 2011 finishing up as Widow Twanky in Aladdin but has no regrets.
Variety shows may be long gone but Wyn feels privileged to have been a part of it. The new breed of soap stars have provided their own comedy moments for Wyn though.
Once during a performance of Aladdin, a well-known soap star once came off stage shaking uncontrollably saying that the crowd had booed him off stage.
Wyn replied "Of course they booed, you're playing Abanazar and the more you get, the better you are!"
Pantomime is alive and well in Wales this Christmas. Find your nearest one here.