Weather warming and cloud lifting
The weather has been a bit topsy-turvy this week with spells of wind and rain and some sunshine.
As we look forward to the weekend, there is a change on the way. A warm front will move in from the Atlantic and that will introduce warmer, moister air from the Tropics.
The warm front will bring a little rain and drizzle, some low cloud, mist, hill and coastal fog as well, especially in the south and west.
However, as the air crosses the mountains it will tend to dry out. The cloud will lift and break with north east Wales, the north coast and the Marches enjoying some sunshine.
It will also become muggy over the weekend with the humidity rising and where the sun does break through it will feel warm with temperatures rising into the low 20's Celsius.
But where it stays grey and misty it will be cooler, especially on the south and west coast, with temperatures nearer 18 Celsius.
If you're going to Lord's tomorrow to watch Glamorgan take on Nottinghamshire in the YB40 final, the weather will be dry with plenty of cloud and a light breeze.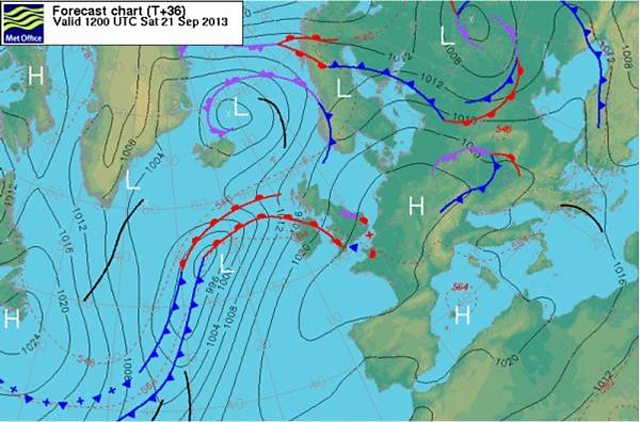 Weather chart for Saturday, 21 October 2013
It's the
autumn equinox
on Sunday when the sun will be directly overhead the equator. Some people take this day as the official start to autumn in the Northern Hemisphere.
The equinox refers to the moment that the sun crosses directly overhead at the Earth's equator.
The word equinox derives from the Latin words aequus (equal) and nox (night). It means equal day and night but in reality, the day is longer than the night at an equinox.
In Cardiff, day and night are equal on 25 September a few days after the Autumn Equinox.
At the South Pole the penguins will be celebrating the first appearance of the sun in six months.
At the North Pole polar bears will be bracing themselves for six months of darkness.
Here in Wales, the nights may be drawing in but cheer up, there are only 95 shopping days left until Christmas!
Have a nice weekend.
Derek