Weather this week 6 June 2012
This is my first blog for a while. I've been away on holiday in Corsica. Actually, it was hotter in Wales while I was there. Porthmadog in Gwynedd was the hottest place in the UK on Sunday 27 May with a top temperature of 28 Celsius, 82 Fahrenheit.>
So after a very disappointing start, May turned out lovely with a heatwave. Infact it was the sunniest May in Wales since 2000! 77.4mm of rain fell, which is close to the monthly average of 80.7mm. The mean temperature was 10.9 Celsius slightly above the long term average.
From a meteorological point of view, we are now into summer but it's going to feel more like autumn tomorrow and on Friday.
A deep area of low pressure is heading our way bringing plenty of wind and rain. On Friday strong to gale force winds are expected in the south and west which could bring down a few trees!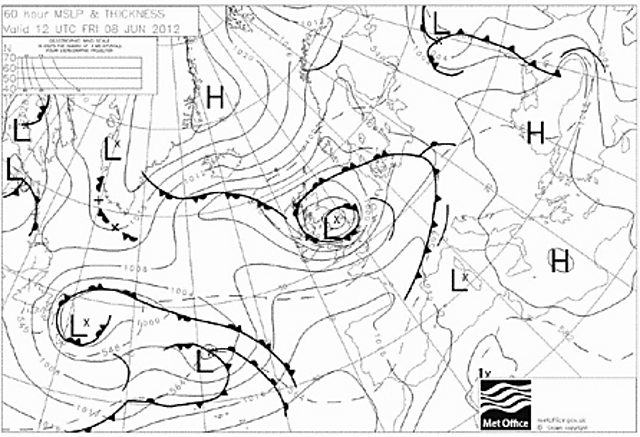 Pressure chart for Friday 8 June 2012
Into the weekend, the weather should improve on Saturday at least for a while but there is more wind and rain on the way. The unsettled weather looks set to continue until at least the middle of June but hopefully there will be an improvement later in the month although still not completely settled according to the Met Office.
In the meantime, keep the waterproofs and umbrella handy if you're heading to the Urdd Eisteddfod near Caernarfon.