Rubbish wildlife and ravenous ravens
Like the name suggests, cannon netting is a process whereby mini cannons are attached to nets. They are set up near spots where the birds are likely to land. Then, when the time is right and following a 3-2-1 countdown, the cannons are fired taking with them the nets and capturing the birds. Bingo! Well, that's the plan anyway...
It's a humane process and the birds are quickly and efficiently gathered then measured and ringed before being freed.
We had it all set up and ready to go. But wildlife being wildlife, the seagulls were having it their own way, and remained circling high above for the remainder of the day. In hot weather, we were left waiting and waiting with only the sweet smells and sights of people's unwanted refuse to look at. Nice.
And yet it was an experience I reckon everyone should go through. It certainly makes you think, seeing society's unwanted stuff - tonnes of it - and it still piling up day by day.
Not that the seagulls minded. Indeed there were quite a few other birds about too. Seagulls of various types, jackdaws, crows, buzzards and even some enigmatic ravens.
Ravens are intriguing birds surrounded by stories and folklore. You can recognise ravens by their jet-black colour, deep beak and wedge-shaped tail. But when you're close to them, the most striking thing about ravens is their size. They're huge and must be at least the size of a buzzard.
On Tuesday I was fortunate enough to travel to a raven roost on Anglesey. It was also a bit of a treat as on the way there I passed through the village with the longest name in Europe - Llanfairpwllgwyngyllgogerychwyrndrobwllllantysiliogogogoch. Like many Welsh folk, I'm often asked for a pronounciation when people find out where I'm from - so it was nice to see the place for real.
Unfortunately, the ravens weren't there en masse as it was daytime - and that's when they're out foraging. But it was an enchanting place with a few individual birds squawking above us.
Often associated with death, ravens sometimes get bad press. They almost became extinct in the UK but after becoming protected their numbers have increased. In fact, Newborough on Anglesey plays host to one of the largest raven roots in the UK.
Being part of the corvid family, ravens are very intelligent creatures. Recent studies have suggested they actually recognise facial features. It's also believed that they are able to communicate the location of food sources to each other plus a whole host of other surprising skills and behaviours.
While we were there I was shown a raven food pellet. This is the material that they can't digest and so cough up in a ball. Depending on what the bird has eaten, the pellets can look quite different. The one we found looked a bit like a Weetabix which showed the raven had eaten lots of seeds and cereal-type foods.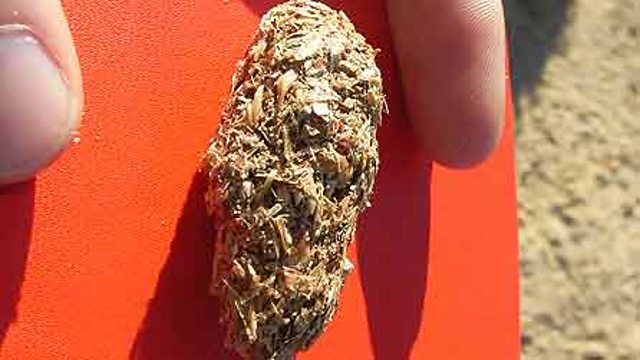 So that's certainly one to look out for. If you see a Weetabix in the wild it's probably not someone's unwanted breakfast but a sign that ravens have been close by!
You can find out more about some the stories surrounding ravens here. Use the comment form below to let me know what you think.
In the meantime, here's my pick of this week's wildlife web:
Earth-touch