Back in July 2012 I launched a search for Twylia Worlund.
She was the best friend and bridesmaid of Kathy Mackay while they lived and worked in Singapore in the 1950s. They lost touch when Kathy returned to the UK and Twylia to her home in the USA.
Kathy told her story on BBC Radio Wales' Jamie and Louise programme in July and I posted lots of lovely photos of the young friends taken at Kathy's 21st in Changi on my blog.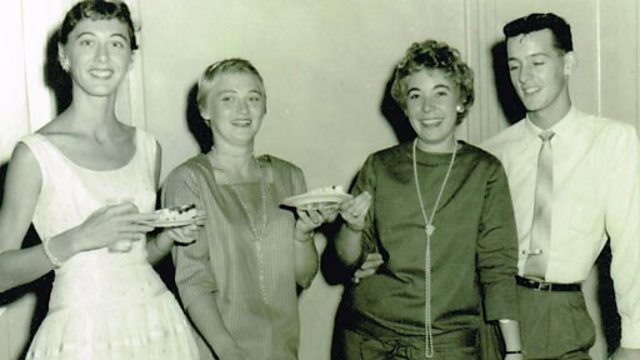 Elaine, Twyla, Kathy and Stuart
We have finally located Twylia.
Part of the reason I couldn't find her is that her name is actually spelled Twyla but that confusion didn't stop Bryany Bennett from London spending some time looking for her. With the help of an American friend and after searching various databases they managed to locate Twyla in South Carolina.
I am truly amazed at the generosity of people offering their spare time to help others and the way in which once an unsolved puzzle is laid open to the public, people are keen to see it resolved no matter what it takes.
So, a huge thank you is due to Bryany even if Kathy's phone bill has now rocketed!
Riding on the crest of that success story I thought I would announce yet another puzzle.
Identifying Ethel Maud Walters
Jeanne Butcher in Bassaleg has asked me to help trace the details of her maternal grandmother's Canadian experience.
Ethel Maud Walters was born in Cardiff on 9 April 1895. The family had always believed that she travelled to Canada as a young woman while working as a nanny, before returning to Wales to marry Watkin Williams in 1918.
Jeanne sent me a beautiful photograph of a young Ethel standing in the snow while looking after her two small charges.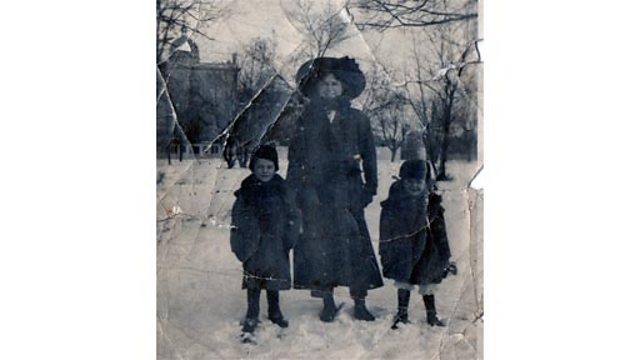 Ethel Maud Walters
I have scanned the passenger lists in both directions and there are a number of possible Ethel Walters/Walter/Waters born around the right time.
At first it seems that most likely match is Ethel Walters aged 19 from England who sailed on the Royal Edward from Avonmouth to Quebec arriving on 23 October 1912.
But then there is also Ethel Walters aged 19 from England. She, rather confusingly, also sailed on board the Royal Edward arriving from Bristol into Montreal on 28 August 1912 before heading onto Winnipeg. Although it does add helpfully that she was Church of England.
A year later on 27 September 1913 there is an entry on the Royal George passenger list for an Ethel Walters, a domestic aged 20 returning from Montreal. This is probably one of the above, but which one is our Ethel?
And then to confuse things further if you look at the border crossings from Canada to the USA for April 1913 there is an entry for an Ethel Walters aged 17.
The details are even more informative stating that she was a single, literate servant from Wales, who was last in Winnipeg and came from Cardiff. Surely this must be her.
I sent off Ethel's picture to various archives and libraries in Canada and also to Alison Toplis who specialises in dating photographs from the clothes worn by the subjects.
Alison was thankfully swift with her reply but unfortunately she added to the puzzle as she believed the photo could have been taken between 1917 and 1918.
Alison explained the reasons for the possible confusion:
"The first was the rising hemline which by 1918 had settled above the ankle, as shown by the coat, before hemlines fell again into the 1920s.
"Secondly the wide brimmed hat. There was a fashion for broad brimmed hats with a round shallow crown between 1917-19. Although you can't see the crown on Ethel's photo, it appears to be similar to this - the fact you can't see it suggests it was shallow."
A message from Winnipeg
Then another email arrived and a different piece of the jigsaw fell into place thanks to David Cuthbert, an archivist at the Regional Archival Program in Winnipeg.
His email and the detail within it are truly incredible. He deserves a round of applause. David wrote:
"We can't confirm it absolutely, but we think there is a strong chance that the photograph of Ethel Maud Walters was taken in Winnipeg.
"I suspect that the dome in the background belongs to a building that was known at the time as the Winnipeg Maternity Hospital, later as Misericordia Hospital, and currently the Misericordia Health Centre. The Winnipeg Maternity Hospital was founded in 1898 by the Sisters of Misericordia, and the initial building was completed in 1900."
To confirm it he sent a photograph which was taken in 1910 and can be found on the Manitoba Historical Society website.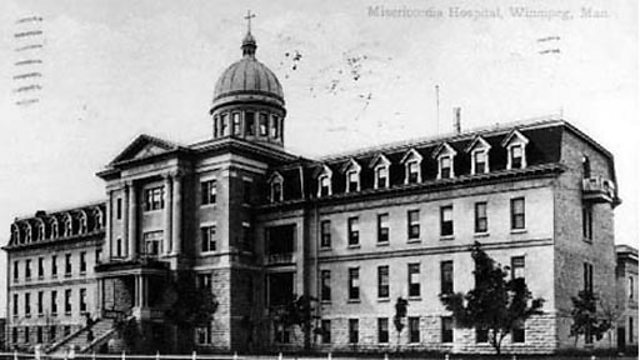 Misericordia Hospital in Winnipeg, Canada
I can see that the dome is the same, which means that even if I can't be certain (yet) of the dates when Ethel travelled to and from Canada, we do at least know that she spent time in Winnipeg.
You can listen to Kathy and Jeanne tell their stories on Wednesday 31 October between 2 and 3pm on BBC Radio Wales with me and Louise Elliott.