Owen Sheers announced as WRU artist in residence
It has been a busy couple of months for Abergavenny writer Owen Sheers. November saw the film adaptation of his novel Resistance hit the silver screen and today he has been appointed as the first-ever artist in residence for the Welsh Rugby Union.
The post will see him immersed in the national sport of Wales for the whole of 2012 at both elite and community rugby team levels, shadowing the national squad in the build-up to games and getting a sneak peek at life as one of Warren Gatland's red army.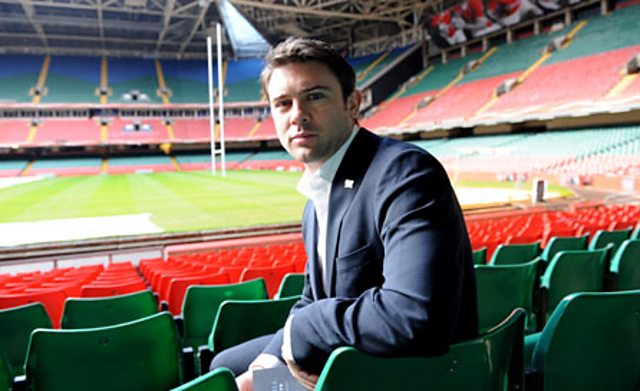 Owen Sheers in the Millennium Stadium. Photo: Huw Evans Picture Agency
He will start in early in the New Year so he can observe the senior squad prepare for and play in the RBS Six Nations tournament, for which their hopes are high. It is the first time anyone who is not a historian or sports writer has been granted such access.
Sheers referred to his appointment as a "privilege" and said he was excited about watching the team progress through the year from such close range.
"Traditionally the physical and intellectual cultures of Wales have always been close cousins, so I'm thrilled to be involved in a project that promises to foster an ongoing relationship between rugby and the arts," he said.
"For a writer this is a particularly exciting time to be observing rugby in Wales, especially at the elite level when such a young, exciting squad has already captured the world's imagination at the World Cup.
"Given my recent work on The Passion in Port Talbot, and my current project with the Theatre Royal Haymarket and Bravo 22 Company, working with wounded soldiers to create a play about their lives, this position with the WRU feels like a very natural step in my writing life - writing informed not by my own experience, but by the experiences of others."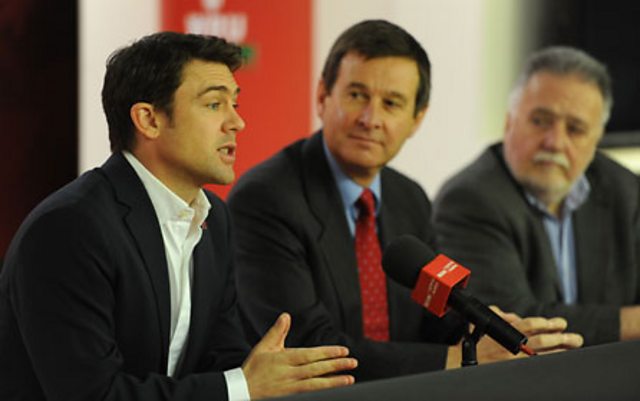 Owen Sheers with WRU chief executive Roger Lewis and chair of the Arts Council of Wales, Prof Dai Smith, at the announcement. Photo: Huw Evans Picture Agency
He added that he hopes any output from the residency will add to the experience of players and supporters while giving an insight into the world of Welsh rugby to those not so familiar with it.
The project is a partnership between the WRU and the Arts Council of Wales and will last for three years, with Sheers in post for the first year only. Other artists will be chosen for the subsequent years and will work in different disciplines.
The aim is to capture in literature the dramatic twists and turns of the sport and how it impacts on Welsh culture for posterity, so future generations will enjoy it and those living it right now can savour their memories.
The partnership was unveiled by the chief executive of the WRU Roger Lewis and the chairman of the Arts Council of Wales, Professor Dai Smith. Mr Lewis referred to Sheers as "one of Wales' literary stars".
"The work he has already published across a range of artistic disciplines displays a talent and power of observation which will undoubtedly help him create work of great interest and significance, in and beyond Wales," he said.
"Great art, like sport, has the power to change people's perceptions of the surrounding world for the greater good - it is a civilising influence.
"Welsh rugby is far more than just a game in Wales and we believe the wider impact it has on our culture and daily lives should be captured and interpreted in many ways.
"This project will help the people of Wales achieve a greater understanding and insight of what rugby means to us all and will also explain how the modern game relates to our wider society."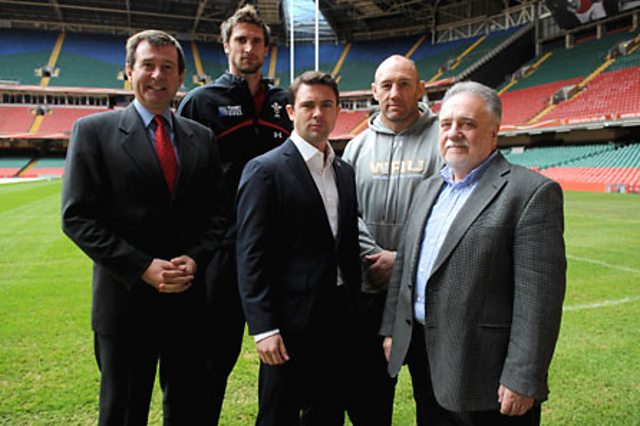 Roger Lewis, Wales international Luke Charteris, Owen Sheers, Wales forwards coach Robin McBryde and Dai Smith. Photo: Huw Evans Picture Agency
Recalling 15 October, when 61,000 people turned up at the Millennium Stadium to watch Wales play France in the Rugby World Cup semi-final 12,000 miles away, he added: "An artist and writer of Owen's calibre will be able to interpret events like that in a way which will make them last in our memories forever."
Prof Dai Smith said the Arts Council of Wales was "delighted" to announce the artist in residence programme.
"This is the first time any national team in the world has been involved with an artist in residence and Owen's discoveries for us, I know will be tremendous. He will capture so much of what goes on here at the stadium both on and off the field.
"Owen is a real live-wire, and a mover-and-shaker on the arts scene, to boot. I'm positive that his creative spirit will thrive and will open our minds to possibilities beyond the rugby field."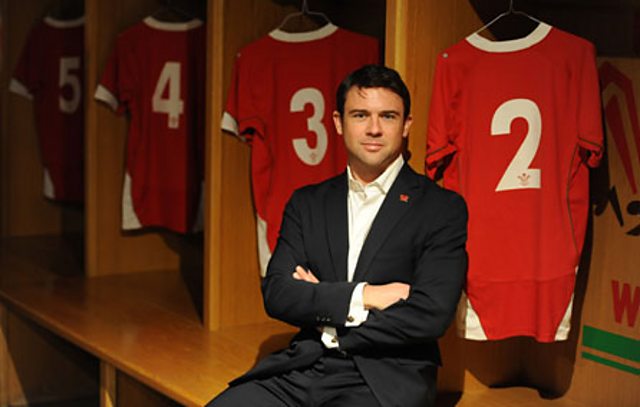 Owen Sheers in the Welsh dressing room at the Millennium Stadium. Photo: Huw Evans Picture Agency
Sheers co-wrote the screenplay for the film adaptation of his début novel Resistance, which stars Michael Sheen and Andrea Riseborough and is on current release.