In a recent blog article, we touched upon the role of Welsh pilots in the Battle of Britain. One of the most notable men that faced the might of the German Luftwaffe in 1940 and beyond was Wrexham-born Air Chief Marshall Sir Frederick Rosier.
The men, including Douglas Bader and Johnnie Johnson, are synonymous with wartime heroics. They reflect misty-eyed at Bentley Priory in Middlesex, the home of RAF Bomber Command as the decision is made to disband the legendary unit.
Sir Frederick Rosier offers his views on the day's events; reflecting on the changing face of the RAF since those dicey days of 1940 when the future of Europe hung in the balance and, whilst offering an insight into the valiant aerial combat he also laments the curtain being drawn on Bomber Command.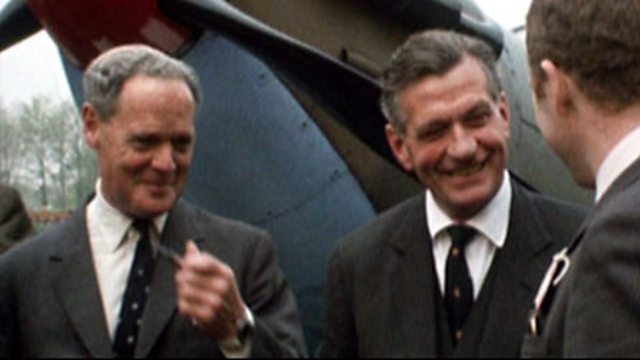 Sir Douglas Bader (left) and Jonnie Johnson
This fascinating clip also shows the legendary Bader and Johnson talking candidly and nonchalantly, pipes in hand, about their experience at the sharp end of the Battle of Britain.
Leicester-born Johnson fought alongside Bader, enjoying a similarly heroic and much decorated RAF career; emerging from World War Two as the top-scoring RAF fighter pilot.
Undoubtedly, these men look and sound every inch the archetypal battle-hardened heroes straight from not only the history books, but also the comic books - their speech and mannerisms very much of a bygone age. For example, It is hard to imagine the word 'gay' being used in a similar context today on camera.
Rosier joined the RAF on a short service commission in August 1935. His role in World War Two began in France with No.229 Squadron where he was shot down over Dunkirk in his Hurricane and badly injured.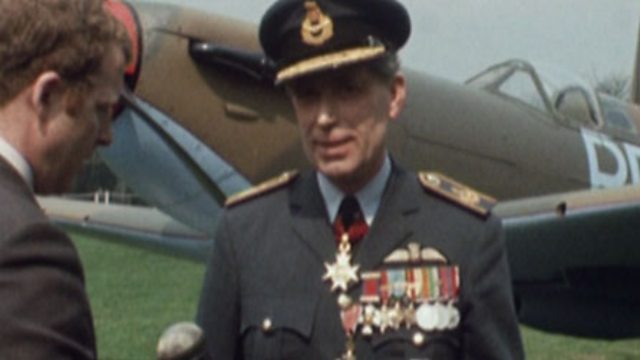 Sir Frederick Rosier
Following his recovery he rejoined 229 and took command of the squadron for the final few days of the Battle of Britain. As the RAF's claimed a decisive victory in 1940, he was promoted to Wing Commander where he led No. 262 Wing with the RAF's Desert Air Force squadrons.
Post-World War Two, and following his award of an OBE in 1943, Rosier spent time amongst the highest ranks of the RAF. This included a spell with the United Sates Air Force, a period as Group Captain at RAF Fighter Command, and in 1958, Rosier became Director of Joint Plans for the Air Ministry.
Later in his career Rosier was appointed Deputy Commander in Chief for Allied Forces in Central Europe from 1970 to 1973.
Despite his illustrious globetrotting, as World War Two morphed into the Cold War he always remained close to home. Rosier's wife also hailed from Wrexham, and they married in 1939. In his autumnal years the retired ace moved back to the village of Trevor near Llangollen where he passed away in September 1998 aged 83.
Feel free to comment! If you want to have your say, on this or any other BBC blog, you will need to sign in to your BBC iD account. If you don't have a BBC iD account, you can register here - it'll allow you to contribute to a range of BBC sites and services using a single login.
Need some assistance? Read about BBC iD, or get some help with registering.