Jim Callaghan, the Welsh MP at No 10
Jim Callaghan was the third of five Welsh Members of Parliament to become leader of the Labour Party.
Although most of his policies – and even his reputation – have been swept away by the power of Margaret Thatcher's years in charge of the country, Jim Callaghan was a man of some ability and great personal charm.
He became Prime Minister in 1976 and was proud to hold the title of the longest lived British Prime Minister - although with younger PMs now being elected, this record is likely to be broken many times.
Although not Welsh himself he represented Cardiff South for 42 years, the only constituency he ever contested and held.
He was a popular MP who retained the affection of the electors even though his somewhat lacklustre support for issues such as Welsh devolution didn't exactly endear him in some quarters.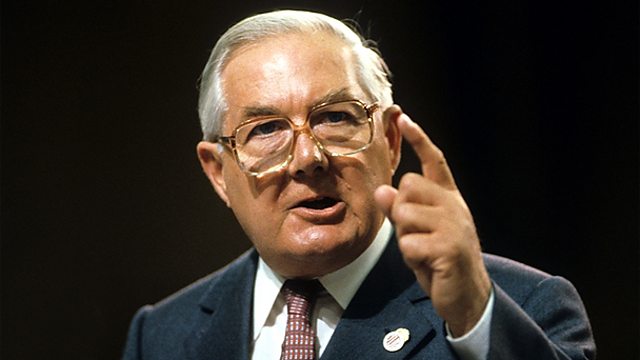 James Callaghan giving a speech at the TUC conference in Brighton in 1980.
Callaghan was born in Portsmouth on 27 March 1912 where his father was a Chief Petty Officer in the navy.
In the hungry thirties money was tight so although he had the ability, there was no real chance of the young Callaghan ever going to university. Instead he sat and passed the Civil Service Entrance Examination.
In 1931 Jim Callaghan, then working in Kent for the Inland Revenue, became a member of the Labour Party, quickly moving on to become a full-time Union official.
When war came in 1939 he enlisted in the navy as an ordinary seaman but was commissioned from the lower deck in 1944.
Soon after, he was diagnosed with TB and admitted to Haslar Hospital. When he recovered he went, first, to the Admiralty, then to the Far East.
Encouraged by Labour academic and writer Harold Laski to stand for Parliament, Callaghan was given permission to return to the UK to contest the Cardiff South seat in the 1945 'khaki election' (a national election heavily influenced by wartime or postwar sentiment.).
He won the constituency from the sitting Conservative MP by 6,000 votes.
In a lengthy 42 years in the House of Commons, Jim Callaghan served in several ministries. The first of these was the Ministry of Transport where he was instrumental in creating things like zebra crossings and an increased use of cat's eyes reflectors on the roads.
Over the next 20 years he served as Chancellor of the Exchequer, Home Secretary and Foreign Secretary.
His time as Chancellor was not easy or comfortable as he had to deal with a significant balance of payments deficit and oversee the devaluation of the pound.
As a consequence, he and Roy Jenkins exchanged posts and Callaghan became Home Secretary.
In this position he was responsible, rightly or wrongly, for taking the momentous decision to use troops to support the police force in Northern Ireland.
Jim Callaghan also stood for election as Deputy Leader of the Labour Party, forcing the ever-redoubtable George Brown to a second ballot.
Following the death of Hugh Gaitskell he ran for the leadership but lost out to Harold Wilson and, thinking his moment had passed, settled for Cabinet posts.
When Harold Wilson suddenly resigned in 1976, Jim Callaghan decided to stand for the leadership once again.
He defeated five other candidates and on 5April 1976 he became leader of the Labour Party and Prime Minister.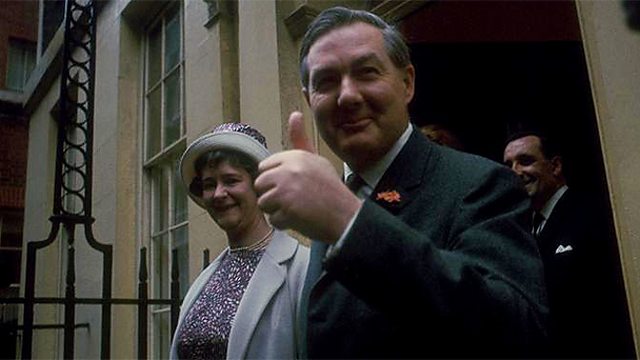 James Callaghan, pictured with his wife Audrey in 1967.
Almost from the start Callaghan's was a minority government and as a result he was forced to deal with other, smaller parties, notably creating the Liberal-Labour pact of 1977-78.
It was a time of industrial disputes and economic hardships and Callaghan's Labour administration soon became unpopular.
Following a motion of no-confidence in the wake of a referendum over Scottish devolution, a General Election was called. Labour duly lost the May 1979 election, the vote that saw Margaret Thatcher come to power for the first time.
Following Labour's defeat, Jim Callaghan remained as leader of the Labour Party until the following year when he retired quietly to the back benches. His place as leader was taken by another Welsh Member of Parliament, Michael Foot.
Callaghan retired as a Member of Parliament in 1987 and left the constituency he had held all his Parliamentary life.
He was elevated to the House of Lords as Baron Callaghan of Cardiff and devoted himself to his interests of rugby and tennis. He also found time to write his autobiography Time and Chance.
Jim Callaghan died on 26 March 2005, just ten days after the death of his wife Audrey.
Having been brought up as a Baptist, Callaghan certainly believed in a nonconformist work ethic. He was a tireless constituency MP, an indefatigable Cabinet Minister and a Prime Minister who had the misfortune to take the reins during a very turbulent time in British history.
Jim Callaghan may not have been Welsh but he certainly followed in the footsteps of another Welsh MP who rose to the top in government, David Lloyd George - and deserves to be remembered.