Jayce Lewis is keeping a tour diary as he joins Gary Numan on tour in the UK, Russia and Ukraine.
Well, here I am on my day off in Southampton. I played what I think is the best UK show so far at the Southampton Guildhall last night. It's a huge venue with a sound system to match, and it made me grin from ear to ear - although I made the mistake of having a KFC just before going on stage and feeling two stone heavier than normal.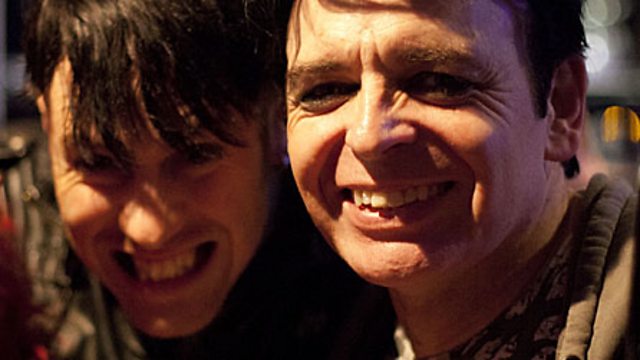 Jayce Lewis and Gary Numan
My sound engineer and I have been working closely together to keep the level out front manageable as even I am getting blasted on stage. My ears are ringing and my eyes and feet itch with the vibrations of the bass on stage, which I like but need to control.
My mother came to the show last night, and has never seen me perform as a soloist ever! She watched me sing Cars to Gary in sound check which was really funny. I then introduced her to him. She came out with the typical, "I was a fan and saw you years ago" - to which the engineers turned the house music up and it thankfully ended that conversation!
We had an issue in Manchester the night before with one of our sequencers: it decided right in the middle of the set to just STOP and never work again. It's crazy that it happened as it's been everywhere with us, thousands of miles away, and it's never ever let us down. It was a real shock to hear it stop like that, we all look at each other and thought uh-oh!
After the show in Guildhall, I met loads of people by my merch that are following my music. It's really nice to have that connection, they are all so enthusiastic and friendly. And in the corner of my eye was my mum watching, taking it all in. It must be odd for her to see.
p>She came over and tried to talk to me, which then lead to some of the people realisng she was my mother and wanting photos of her. Nice one mum!
Tomorrow we have the last show, which is in Hatfield Forum. I'm really am gutted that it's the final one with Gary this year, he's been a total legend. After that I'm home to get ready for our Ukraine trip - stay tuned.
Feel free to comment! If you want to have your say, on this or any other BBC blog, you will need to sign in to your BBC iD account. If you don't have a BBC iD account, you can register here - it'll allow you to contribute to a range of BBC sites and services using a single login.
Need some assistance? Read about BBC iD, or get some help with registering.