Fallen Women take centre stage in WNO's new season
Welsh National Opera is just about to embark on its spring season which will feature three touring operas exploring the theme of fallen women, led astray by the different paths they choose in life.
I caught up with artistic director David Pountney to find out just why the operas chosen - Puccini's Manon Lescaut, Verdi's La traviata and the 20th century retelling of the Manon story, Boulevard Solitude by Henze - work so well together.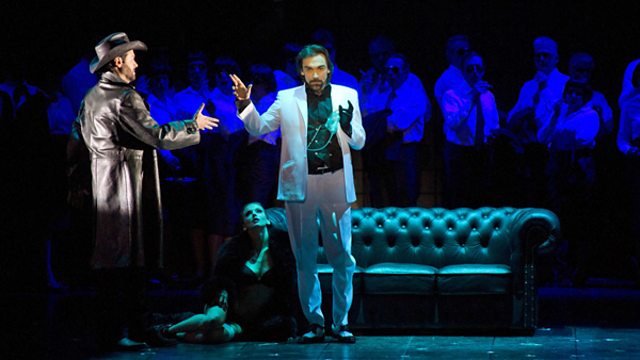 A previous WNO production of Manon Lescaut. Photo credit: Forster.
19thcentury culture's moral fascination insisted that audiences could be entertained by women's misdemeanours and sins on the proviso that they were seen to be punished harshly in the end. David believes the subject matter they explore enables them to still appeal to contemporary audiences.
He told me: "It is a controversial subject, which is good for arousing discussion which a well programmed opera season should do, because on the one hand the concept of a fallen woman may seem dated, but on the other hand our 21stcentury news is peppered with horrifying stories of grooming and trafficking of young women, so the topic is actually very up to date.
"This genre of stories could be, and very often was, told in a cheap, voyeuristic way in magazines and cheap novels etc.
"In the case of these operas in our programme, we have narrators of genius in Verdi, Puccini and Henze, and it is their compassion for and perceptiveness about their leading characters that generates our fascination for these pieces.
"Certain aspects of these pieces can and should also make us angry, but hopefully they may also provoke us to think that although we may have very different attitudes now to women, and male/female relations are conducted on a very different basis, nonetheless young women are still being destroyed in our towns and cities in much the same way."
Manon Lescaut, which was Puccini's breakthrough opera, and La traviata each feature a female heroine who sells herself for money and is destroyed, although the fate of each unravels in very different ways.
While Manon is reckless and undone at the hands of a predatory male society, in La traviata Violetta has an identity and independence formed on "sex, style and sophistication", according to David.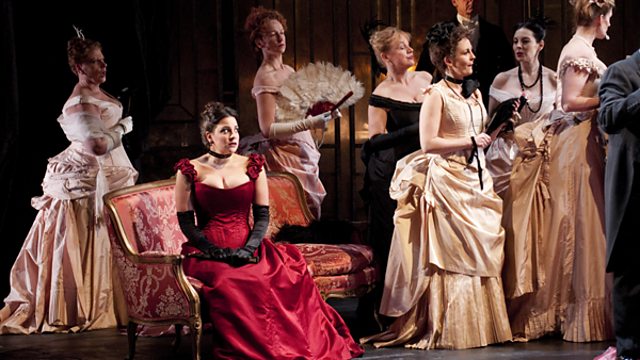 Joyce El-Khoury as Violetta in a previous WNO production of La traviata. Photo credit: Roger Donovan.
"When we first see her she is probably as powerful and independent as it was possible for a common - ie non aristocratic - woman to be in that era.
"Then something happens which is beyond her control: she becomes ill (tuberculosis). This illness provokes/inspires her to do something unprofessional: she falls in love. Illness threatens death, which makes her reflect on her moral position, which again a professional courtesan can ill afford to do. This in turn enables her lover's father, Germont, to use moral blackmail to destroy her fantasy of a true love."
The season will mark the first time German composer Henze's first opera Boulevard Solitude is being staged outside London and reveals how he creates the image of a degenerate world through the use of jazz music.
David said: "It is by turns charming and satirical, and the jazz influences it uses give it an especially piquant flavour. I suppose people will think of it as a modern opera, but it is, in fact, extremely accessible."
Director Mariusz Trelinski makes his UK directorial debut with Manon Lescaut and Boulevard Solitude, which will take place on the same set. He aims to highlight the parallels between the two while creating a "surreal world of decadence and greed".
While each opera works as a stand-alone piece, David hopes audiences will feel inspired to see all three in turn and that they will feel deeply moved by the stories that unfold in each.
He added: "I hope that the audience feels compassion at the devastating fates of these three women, and anger, or at least indignation, at the social mechanisms that drove them there.
"Don't forget that in addition to relevance to the current day, works of art are also about giving delight, by their exquisite craftsmanship, by their choice of beautiful materials, by the way they sound, feel, smell, taste.
"A work of art is also an intensely sensory experience, and these are highly sensitive and sensual subjects, and also very emotional ones, so there is all that to be experienced here too, quite apart from the social message."
The three operas are touring across Wales (Wales Millennium Centre, Cardiff and Venue Cymru, Llandudno) and England from 8 February - 12 April. For details visit wno.org.uk.
They will be supported by additional events including pre concert talks, an in-conversation session with David Pountney, a literary inspirations talk looking at how the operas draw on classics by Dumas and Prévost and The Whole Story, where a team of singers and musicians will introduce the stories, music and background of each opera.
WNO is also working with award-winning composer Errollyn Wallen to create Anon, a brand new opera for young adults based on the theme of fallen women, looking at the exploitation of women today in different cultures.
Errollyn, who composed the theme for the opening ceremony of the London Paralympics, is working closely with 16-18 year olds in school and university groups in and around Birmingham, gathering stories and inspiration for the production. The opera will tour small-scale venues in Wales and England alongside the main season tour.
David added: "She has been talking to them about their perceptions of the problems and dangers of sexuality amongst their generation, and has used these conversations to form a libretto."
Mezzo soprano Emma Bell will be performing with WNO Orchestra at St David's Hall in Cardiff on Friday 17 January in a concert which reflects the fallen women theme. Conducted by Lothar Koenigs, the concert will feature music by Berg, Wagner, Henze and Berlioz.