Most people know the name Rudolph Hess. Many know the story of his dramatic midnight flight to Scotland in 1941, supposedly in an attempt to broker peace between Britain and Nazi Germany.
Yet how many realise that from 1942 until 1945, when he was flown to Nuremberg to stand trial for crimes against humanity, Hess spent virtually all of his time in captivity in Wales?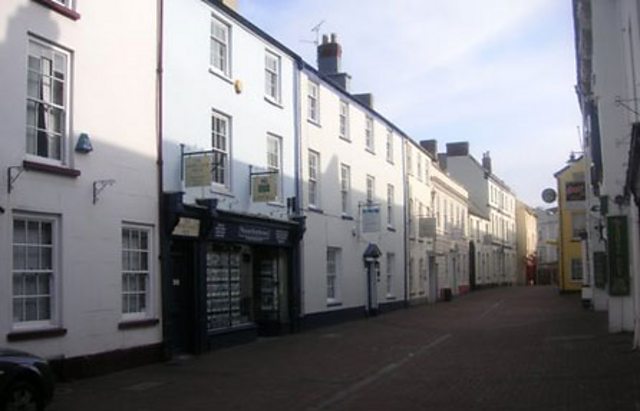 Hess was driven around Abergavenny and the surrounding countryside by his guards. Photo: Gordon Hall
Rudolph Hess was Adolf Hitler's deputy in the Nazi Party and, despite his clear mental fragility, he was a significant figure in the German state.
The reasons for his flight to Britain have never really been made clear. Was it a genuine attempt to find a peaceful solution to the conflict? Did he seek just to recover ground and influence with Hitler, ground he had lost to people like Himmler and Goring? And then, there are those who say it wasn't Hess at all, just a duplicate or stand-in.
Whatever his reasons, Hess flew to Scotland on the night of May 10, 1941 in an ME 110 fighter bomber, bailed out over Eaglesham and injured his leg in the process.
Arrested by members of the Home Guard - an indignity that irked him greatly, both at the time and in the coming months - he spent several weeks in places like the Tower of London (the last man ever to be imprisoned there) and at Camp Z in Aldershot, obviously undergoing interrogation and debriefing.
Following a supposed Polish plot to assassinate him, on 26 June 1942 Hess was brought to Maindiff Court Military Hospital and POW Reception Centre outside Abergavenny.
Before the war Maindiff Court had been an admission unit for a mental hospital in the town and there were many who thought that Hess - who had already attempted suicide by throwing himself off a balcony in his prison in Aldershot - was well placed.
At Maindiff Court Hess had his own room and there were invariably a pair of guards on duty outside his door at all times. He did, however, have a fair degree of freedom, often being driven about the local countryside, in some style, by his gaolers.
He was allowed to take walks around the grounds, his guards maintaining a close watch from a discreet distance. On several occasions he visited places like White Castle and there are even rumours that he once went to dinner with Lord Tredegar in Newport's Tredegar House.
The British government never tried to hide the fact that Hess was being detained in Abergavenny. Indeed, when he first arrived, the staff of the hospital/centre actually lined up in a formal reception to meet him. And the news did feature in many of the national papers of the time.
There was certainly no attempt to play down, or keep low profile, his presence in the quiet Welsh border town. All of this has added fuel to the belief that this was not the real Rudolph Hess, just a double or lookalike, and the publicity was simply adding fuel to the fire.
Always supposing that the prisoner in Abergavenny was actually Hitler's deputy, this was not the first connection between the Hess family and Wales.
It is possible that Carl Hess, Rudolph's father, actually lived in Cardiff for a short while. Certainly Carl's first wife, not Rudolph's mother, was buried in the parish churchyard at Michaelstone-y-Fedw so there may be a degree of truth in the story.
Hess' sojourn in Wales came to an end in October 1945 when he was taken to Nuremberg where, alongside people such as Goring and von Ribbentrop, he was accused of war crimes.
Unlike many of his co-defendants, Hess did not face the rope but was sentenced to life imprisonment for his part in creating and administering the infamous Nazi regime.
Rudolph Hess lived out the remainder of his long life at Spandau Prison in Berlin, being the sole occupant of the jail once Albert Speer and Von Schirach were released in 1966. Rumours of him being a double persisted right until his death, which came on 17 August 1987.
There are still many people who remember seeing Hess in Abergavenny or at places like White Castle. And despite the rumours most of these are clear - the man kept at Maindiff Court was no double, this really was Rudolph Hess.
Feel free to comment! If you want to have your say, on this or any other BBC blog, you will need to sign in to your BBC iD account. If you don't have a BBC iD account, you can register here - it'll allow you to contribute to a range of BBC sites and services using a single login.
Need some assistance? Read about BBC iD, or get some help with registering.