Changing weather at the Royal Welsh Show
It's the first day of the Royal Welsh Show in Llanelwedd and the sun is shining. There's a good chance it will stay dry here today which will be the hottest day of the week with temperatures rising as high as 27°C.
Today's heat and humidity will trigger the odd isolated thunderstorm, most likely in northeast Wales, but tomorrow there is a greater risk of heavy showers and thunderstorms. Some torrential downpours are likely in places and the Met Office has issued warnings of heavy rain. http://www.metoffice.gov.uk/weather/uk/wl/wl_forecast_warnings.html
It's hard to pin point exactly where the thunderstorms will occur but if you're caught in one it could be severe and accompanied by large hail and very gusty winds. 50mm or more of rain is possible in a short space of time and flash flooding is a possibility. However, the southwest and Pembrokeshire may escape and stay largely dry.
So if you're coming to the show tomorrow come prepared and bring waterproofs just in case, but during the afternoon it should become dry and brighter with some sunshine. Temperatures tomorrow will be lower than today, reaching around 22°C, a bit more comfortable for walking around the showground.
Wednesday and Thursday will bring some dry weather and sunshine but with a risk of showers which could be heavy on Thursday with a risk of thunder. Temperatures lower than recently with highs around 22°C.
Since 6 July 2013 at least one place in the UK has reached 28°C or higher making it the longest spell of hot weather since August 1997. The high pressure responsible for the prolonged dry spell and heat-wave is now moving away towards Norway allowing low pressure near Ireland to bring a change in the weather.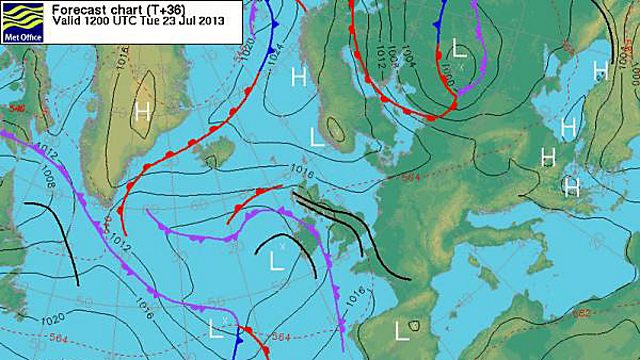 Met Office forecast chart
Over the next few days temperatures will drop by a few degrees - a welcome relief for those who don't like the heat. The heavy showers and thunderstorms will also help clear the air and it should turn a little fresher!