October in Cardiff, part one: Sŵn review
What a wonderful month it's been here in Wales for music. After trotting up mountain and down dale for the summer festivals, it was Cardiff's turn to shine. The Sŵn festival has become nearly a week-long affair with the Welsh Music Prize gig and award ceremony now tagged on to it.
A mighty congratulation to prize winner Georgia Ruth, who has been slowly building up her stage presence, voice and cannon of songs. But the Welsh Music Prize's success was also down to all the little-known artists who've had a lot more exposure and audience awareness through their nomination.
I particularly enjoyed being reminded of a few of the year's treasures: hearing Jo Whitby aka Laurence Made Me Cry's beautiful songs again from Diary of Me, zany Neon Neon numbers, Winter Villiains' multitude of harmonies, Sweet Baboo's life-affirming Swimming Wild from Ships and Race Horses… what a crying shame they are no longer together! Metabeats' album would've probably passed me by had it not been nominated for this award, and it was refreshing to hear something so different among the nominations.
You can hear a full discussion on the Welsh Music Prize here on Sŵn Radio.
Sŵn hit the streets of Cardiff like a hurricane of joy. Womanby Street with Clwb, Dempseys, The Moon Club, Full Moon and the 'fashion quarter' was right at the heart of things. Sŵn transforms the city with its secret injection of hipsters and hordes of hungry fans baying for some new music blood. Apart from festival tourists there's a huge amount of punters returning to their student haunts plus plenty of Cardiff's jaded 'older music fans' (myself included) leaving our general gig hibernation for a rare weekend out.
I love discovering new places during Sŵn. Having a holiday from the Cardiff we usually know and love - for example, momentarily suspending our disbelief that a pub on St Mary Street will welcome the geeks and freaks of the music world! Yes, O'Neill's was a sweaty, heaving, 60s mod-fest for Keys on Friday night, hosted by actor and filmmaker Jonny Owen and Vicky McClure (This is England), both DJing such a brilliantly addictive set of tunes, that I had a bit of a shock when I finally looked at the time… ahem, time to go home!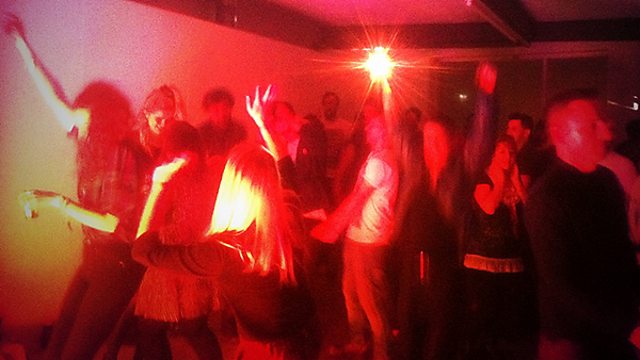 Dancing
On the Saturday night I hosted a wonderfully cosy set of Sŵn session tasters and guests for BBC Radio Wales from the Urban Tap House. We had fun Indie pop from Seazoo from Wrexham, swoonsome melodies from Valleyers from Pembroke, smooth R&B voices from Cardiff Bay's Baby Queens, the unbelievably tender voice of Scriber, and Nadine Shah, the jazz singer from London, adding a touch of class to the evening. The warmest throng of people squeezed in to see Houdini Dax, who blasted through their bright, brash and brilliant songs.
After a tiring day I thought I'd just head to say hello to my friends at Peski Records who were hosting a night at Jacobs antiques market. This was the final transformation - I definitely wasn't in Cardiff anymore but high above the Manhattan streets at the coolest loft party around. Peski's parties at Jacobs have been growing in reputation over the last year, and I walked in to see the bonkers Y Pencadlys perform – both experimental, engaging, terrifying and fun! Onwards then, via the cosy vintage tea corner and loft garden to dance like an idiot to the crunchy French beats of Plyci. It was the best atmosphere of any night I can remember in Cardiff for a very, very long time.
The fifth day of activities was beyond me, you'll have to read Adam Walton's blog for more on that, while I start thinking over what has happened in the last week at WOMEX festival. Part two of October's activities on the way… But thanks to the brilliant people at Sŵn festival and the Welsh Music Prize for their hard work making our city a wonderful place to live and breathe.