The Joy Formidable - US tour diary 2013, part one
I've seen a few awe inspiring vistas. Most of them - Nant Ffrancon, the Alps, the Loire Valley - were created by geological forces. The Manhattan skyline quickens my pulse like no other, and it's man-made.
As my cab crosses the Brooklyn Bridge, whatever jet lag I'm experiencing dissipates into a bright New York afternoon. I'm thrumming with excitement. The sight of these incredible towers of steel and glass, defying gravity and flattening the mundane, makes me believe that anything is possible.
I'm in The City. That's 'The City' - definitive article, capital letters - and I'm here to see the finest band in Christendom.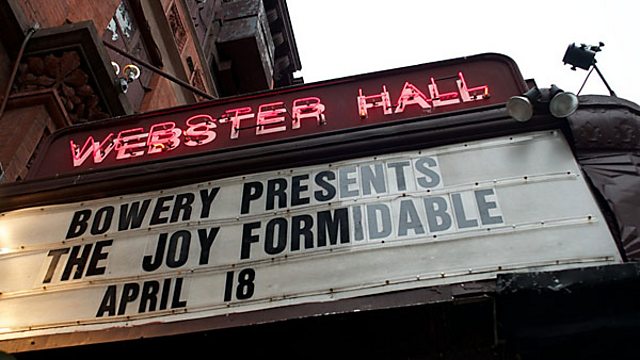 Sign outside Webster Hall in Manhattan
I'm travelling poor. Instead of the Manhattan hotel I stayed in last time ($350 a night - and you didn't even get to keep it afterwards), I'm in an apartment I found on the internet. Friends and family have joked that if they were going to commit the perfect murder, they'd probably order up their victim via the internet too.
Some suggested that I'd get to the apartment to find a nice steaming mug of cocoa and Rohypnol waiting for me. But Dan - who owns the apartment in hipster-infested Williamsburg - doesn't appear at all interested in having a rotund, furry north Walean sex slave.
I'm moderately disappointed.
Dan is a painter. The apartment is adjacent to his studio. He seems cool. Not so much when we're both woken in the dead of night by a woman screaming.
"Don't worry," he says. "It's another of the guests. She gets night terrors."
And so do I. Now.
The Joy Formidable's merchandise facilitator, or manager, or technician... I'm not sure what the correct terminology is... is Emma. She's from Mold. We meet at Madison Square Garden and eat Korean food in the wrong order. Then she persuades me to go and see Muse the following night. Beer and a misplaced sense of chivalry have much to do with this cataclysmic error of judgement.
In the end, I rather enjoy the spectacle of the gig. But musically - and especially lyrically - it's beyond ludicrous.
Emma may try to persuade you that I was seen smiling and tapping my feet. I assure you, any outward sign of enjoyment was, erm, ironic.
We get lost in MSG, as Emma insists on calling it, making me think we're wandering around the insides of a flavour enhanced Mclusky song. We escap the worst aftershow party in history - it felt more like a wake for someone that nobody really liked - and we're mooning about gawping at the framed pictures that circumnavigate the arena. Each one resonates with history.
Marilyn Monroe sang Happy Birthday Mr President here. I got asked for ID at the bar. I'm 41. It's something of an achievement.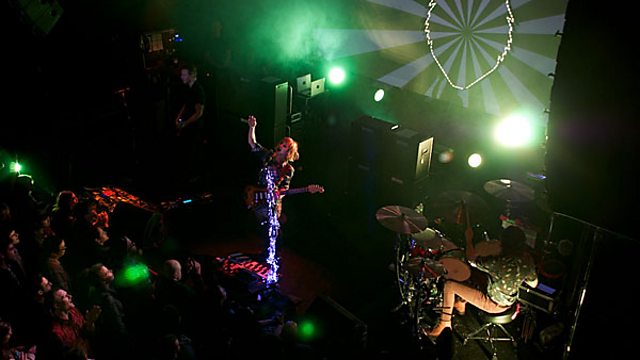 On stage in Williamsburg
The following day I decide to walk from Williamsburg to Prospect Park, without fully taking into account the distance (four-ish miles). Walking two miles in completely the wrong direction means that I end up having to get a cab anyway.
Ritzy is here filming a video for their forthcoming single Silent Treatment. She looks a little tired - and no wonder, after almost 100 gigs on two and a half continents in three months.
And a video shoot, which is initially fascinating, quickly becomes tedious to witness.
Ritzy is the consummate professional. She goes through take after take - from location to location - and she does it all with good grace. I bale after the inevitable pizza.
"Don't be too polite to take any," she says. So I'm not. Repeatedly.
I see my first Joy Formidable gig of this trip on my third night. It's at the Music Hall in Williamsburg, a boutique area of the city - formerly epicentre of the hipster.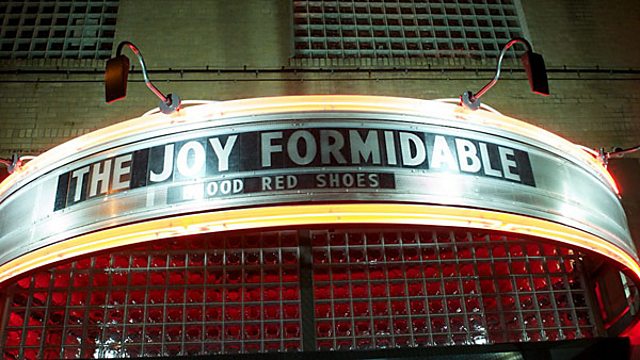 Sign outside the Music Hall in Williamsburg
It's a great venue: nice room, fine bar, a backstage area where you could eat food off the floor, if you wanted. But the audience is a little disengaged. The Joy Formidable echo their audience's enthusiasm back at them, in exponential waves. However when the proportion of go-on-then-impress-me-poseurs breaches a certain point, there isn't enough for the band to feed off and truly phosphoresce.
The shape of their set has settled in the couple of months since I last saw them in Manchester. It is now honed for maximum drama. It tells a story. Few bands throw their set list together - but it is a very definite consideration for The Joy Formidable. Your ticket entitles you to a ride that will thrill you, move you, fill you heart with awe and bring tears to your eyes. It's quite something. THEY'RE FROM MOLD!
Sorry. I was trying not to mention that. Sometimes the pride just splurges out, especially when I'm watching them skewer thousands of American hearts with Tendons, then Silent Treatment.
The following night at Webster Hall, in the middle of Manhattan, is a big improvement audience-wise. The sell out crowd is poseur-free. Every one is up for it. Greatest Light Is The Greatest Shade is a nuclear mammoth stomping the hall with a bare and bloody heart.
It sounds so magnificent, so big and raw and tender and beautiful all at the same time, that every time *that* whale call of a motif rips through the room, a tear slips out of the corner of my eye.
Not that I'm a sap or nothing. No sir.
But this song is the one I want to be buried with. In fact, I'm going to eschew cremation because if I'm cremated, what will they put the headphones on?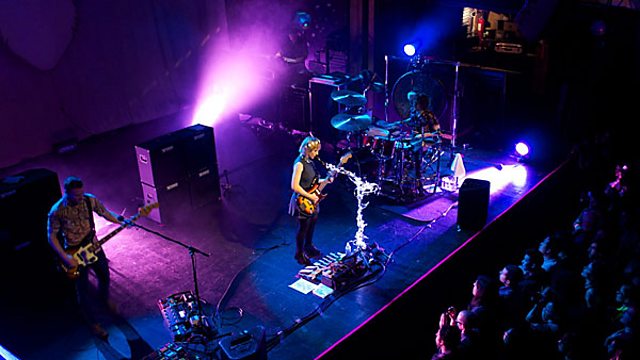 On Stage at Webster Hall, NYC
Of the songs from the new album, Wolf's Law, the title track is the one that has evolved the most since I last heard it. It has a real naturalistic power to it.
It's lithe, fierce, gentle, heartstopping all by turn. It's like seeing the mousey, quiet girl from your form class a decade later, and realising that's she's more beautiful than all the most effulgent sunsets ever, strung together. And that the mousiness was all about a quiet intelligence you'd hack portions of your soul away to spend time with.
Oh my.
It's a damn fine gig.
As we're in The City, the band have a lot of record label hands to shake post-gig. Canvasback and Atlantic have done a great job supporting this band (mostly) from Mold.
I'm no master of small talk, though, so I watch the crew derig the stage from the sidelines. They're the equal of the Royal Engineers. A few tonnes of valuable equipment is stowed away without loss or breakage, within an hour.
The people responsible aren't luggers, they're skilled technicians who understand a damn sight more about sound than - say - your average investment banker understands about the vagaries of finance.
I go to a billiard hall with Rhydian and his "Mold scally" (her words, not mine!) girlfriend Sian. Rhydian whips my ass on the pool table - which is a deliberately ambiguous image. We hit a few bars. I probably say too much. I generally do.
Everyone's excited by Boston tomorrow. Last time round, The Joy Formidable's gig in Boston was the best I ever saw. The people of Boston are - as the broadest generalisation - the friendliest, most enthusiastic - without being exhausting or insincere - people I've met in the States.
I love Boston.
I can't bloody wait for tomorrow.