2010 - 1510 = Robert Recorde
The week marks the 500th anniversary of the birth of Welsh mathematician and inventor of the equals sign Robert Recorde, who was born in Tenby in 1510.
Phil Carradice's earlier blog tells more on the life and sad death of this incredible man.
Recorde was the founder of the English School of Mathematics, writing his works in English as opposed to Latin and making learning much more accessible.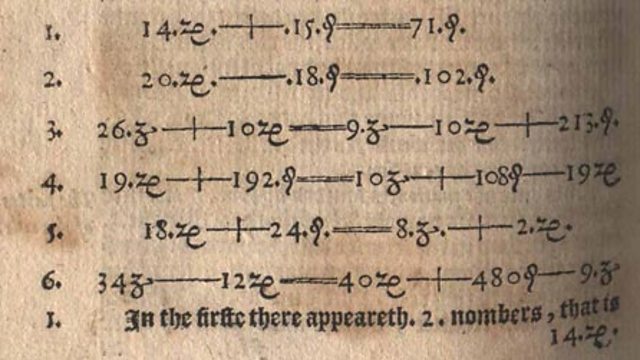 The Whetstone of Witte (1557). Image provided by Tenby Museum and Art Gallery.
His first book was The Grounde of Artes. Published in 1543, this book of simple arithmetic was so popular that it continued to be published for 150 years after his death.
Recorde went on to write three more mathematical books: The Pathway to Knowledge (1551), a book on geometry; The Castle of Knowledge (1556), a second book of geometry; and The Whetstone of Witte (1557), a work on algebra and arithmetic.
It was in The Whetstone of Witte that the equals sign was first used:
And to avoide the tedious repetition of these woordes: is equalle to: I will sette as I doe often in woorke use, a paire of paralleles, or gemowe lines of one length, thus: =, because noe. 2. thynges, can be moare equalle.
Recorde also wrote one non-mathematical work, The Urinal of Physick, published in 1547, which, as a book of practical home nursing, described how to divine and treat illnesses by examining urine.
Tenby Museum and Art Gallery has organised a series of events to celebrate Recorde including an an exhibition called 2010 -1510 = Robert Recorde which displays interpretations by 53 artists of Recorde's life and work. The exhibition runs between August 8 and September 5, 2010 at Tenby Museum and Art Gallery.
The almost equal tree by Elizabeth Haines
Untitled by Olivia Argent
All images provided by Tenby Museum and Art Gallery