Musicians from all genres urged to take part in folk project
For many living in the 'land of song' these days, Welsh folk music is not accessible or recognisable as something current in their lives.
But now a project by Trac, Wales' folk development agency, aims to change all that by reaching out to professional and semi-professional artists from varying backgrounds to reinvigorate the genre.
The idea of 10 In A Bus is to find 10 musicians who can reinterpret traditional Welsh folk music through varying musical styles like hip hop, jazz and rock, to make it something contemporary and tangible for a new audience of listeners.
The musicians will be asked to undertake research by visiting the sound archives in St Fagans and the National Library's music collections, as well as meeting some of Wales's 'tradition bearers' and ethnomusicologists.
They will then go on a writing retreat to compose new work that also draws on their research into the traditional material before recording an album and taking their music on tour around Wales.
I caught up with Trac's Project Officer Angharad Jenkins ahead of the 4 January closing date for applications to the project. She said interest in 10 in a Bus had so far been overwhelming.
Angharad is herself in the folk group Calan, which plays traditional Welsh music but aims to take it to new audiences and explode stereotypes.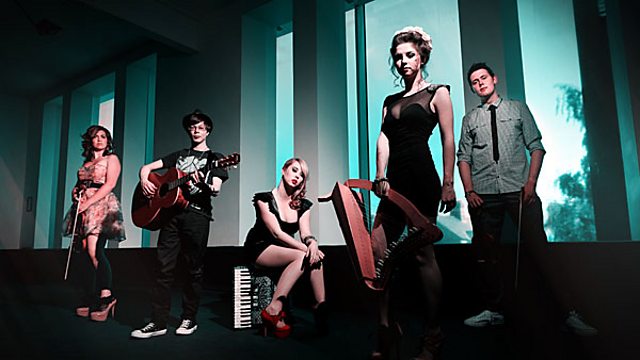 Calan, featuring 10 In A Bus project manager Angharad Jenkins, far left (photo: Mei Lewis)
"We have had lots of enquiries about the project so far which is encouraging," she told me.
"I was giving leaflets out after a concert though and somebody asked if I was having a laugh which does show you the attitude that often exists towards Welsh folk music. But the interest in the project so far does prove that not everybody shares that attitude.
"We would like to hear from musicians from a wide variety of musical backgrounds - not just folk but hip-hop, rock, classical, jazz - there are no limitations.
"Ideally I would like the 10 the panel picks to be at that tipping point in their career as musicians.
"I hope the project will help them on their journey as well as raising the profile of Welsh folk music and demystifying it. But having them from different genres will bring something new.
"Even if they know nothing about folk music and are from backgrounds like electronica, we'd love to hear from them."
Once the 10 are assembled they will regroup in mid February for the more academic part of the project, where they will be interacting with traditional musicians and researching the roots of the genre at the national archives, as well as seeing some Welsh folk in session.
Depending on what the group's interests are they will then embark on the retreat in March at the writer's centre at Ty Newydd in Llanystumdwy, Criccieth, Gwynedd.
Angharad said: "It's a lovely creative place and they will be left alone to rework what they have discovered during the research phase and reinterpret it in a way that's relevant to them and their interests.
"We want what they come up with to represent the musical map we have in Wales and be a really good representation of society here.
"The applicants don't even have to be Welsh as long as they live here and have formed a relationship with the country.
"We're really keen that the music they create adds to the Welsh tradition and that the songs they compose are still played in Wales in years to come."
Next year the world music trade fair WOMEX comes to Cardiff and Angharad is hoping 10 in a Bus will help to put music in Wales in the international spotlight.
For further information and to apply to be one of the ten, contact Angharad Jenkins at prosiect@trac-cymru.org or visit Trac's website www.trac-cymru.org.