Spillers Records and the state of independents
I've just got back from a week's holiday to find that it has been confirmed that Spillers record shop in Cardiff, after a lot of will-they-won't-they, have closed their shop in The Hayes and are looking for new premises.
Owner Nick Todd is looking at a move to one of the city's famed arcades and says, "You've got to be positive - the Hayes has outgrown a business like ours. I like the idea of going into the Morgan Arcade - we're more of an old-part-of-the-city business."
For people who don't know the shop, it's reputed to be the oldest record shop in the world, established in the 1890s for all your wax cylinder needs. The reason I'm writing about this news is that it's an important element in the musical culture for all Wales. Far from being a Cardiff-centric non-story for the rest of Wales, the ongoing health of Spillers is important.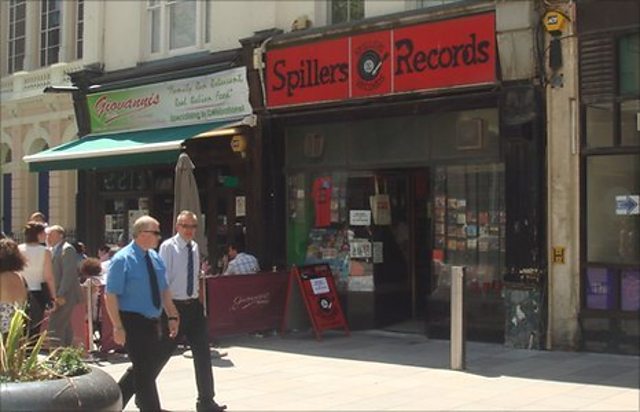 When I arrived in Cardiff as a student in 1996, I tried to find the shop in my very first week. Cardiff was meant to be great for its music scene and so I had a meander into the city centre to find this haven of music that had been written about in such glowing terms in that summer's NME Student Guide. Unfortunately I had to give up because I had neither a map nor a sense of direction. I found it later in the week when, to be honest, I may have been slightly more sober.
It was fantastic. Its dingy interior held a wealth of music on CD and vinyl from all kinds of genres and even had a dedicated punk and hardcore section on which I was to spend a good proportion of my student loan. It also held the biggest collection of Welsh music I have ever seen. They stocked records from labels from all over the country, giving independent labels a space in Wales' foremost record shop. That literal shop window has continued over the years. Indeed, one entire window in their shop front is dedicated to the latest domestic releases.
Labels such as Dockrad, FF Vinyl, Ankstmusik, Mighty Atom, Boobytrap, SFDB and even my own foray into label-dom have found a space on the shelves. It's very important, even in this age of digital downloads and web-based mail order, that independent physical releases have a space in shops next to those of established acts.
Now, Spillers Records are very good at marketing their wares and as I've noted before on this blog they've got thousands of indie-heads advertising the shop through their ubiquitous t-shirts, but despite that, it's still important to remember the truism 'you don't know what you've got till it's gone'.
I hope they find new premises and can continue as a productive business. I hope that DIY labels from all over Wales can continue getting their releases into a shop that has a genuine history, presence and reputation. It's not enough that they hope for random online custom or MySpace plays; any plan for financial health and longevity has to include shop presence.
Feel free to comment! If you want to have your say, on this or any other BBC blog, you will need to sign in to your BBC iD account. If you don't have a BBC iD account, you can register here - it'll allow you to contribute to a range of BBC sites and services using a single login.
Need some assistance? Read about BBC iD, or get some help with registering.