Archive sessions: Mclusky
Its been amazing looking back at photos and listening to these recordings again - they've reminded me of how much we've achieved with the show, how we've been in the thick of everything that happened musically in Wales and how much the show has supported new musicians and bands. And what an amazing decade of Welsh music it's been too.
Last week on Radio 1 Andy Falkous from Mclusky and Future Of The Left joined me on Radio One to talk about a special gig we did in 2000, at the launch of One Live in Cardiff.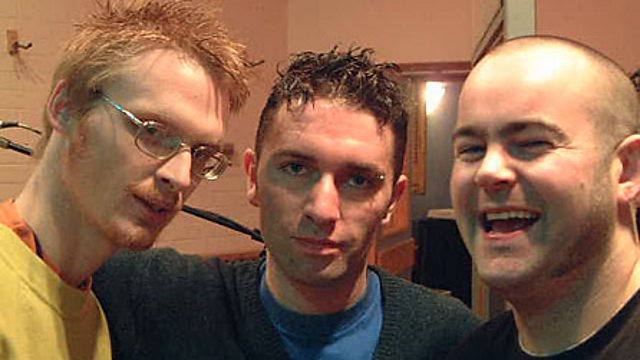 Mclusky in 2000
Below is a transcript of the interview, broadcast on 25 November 2010.
The interview begins as I explain to Andy that we've dug out a Mclusky session from 2000 for the radio, as it was a very special moment for the band. They opened the gig, followed by Helen Love and headliners Mo-ho-bish-o-pi, but really Mclusky stole the show.
Andy: It was a landmark moment for us. We played the opening song and it was on the back of that session that we got signed, because Jason from Too Pure heard that recording. [We got signed] not on the basis of the perfectly good album that we'd already put out, that didn't make so much as a splash.
Beth: It was one of those gigs that surprised many - the opening gig of One Live in Cardiff, a Radio One event across the City. The city kicked into life, and Clwb Ifor Bach: the place was packed.
Andy: There must've been around 500 people. It was an incredible gig. It was around October 2000, we'd never played to more than a hundred people ever, so it was our first show that was a sense of an event. Even though you should play the same to every gig, you do get taken in by a sense of event. It took 15 minutes just to get through the crowd.
Mclusky: Rice Is Nice
Mclusky: Whoyouknow
And after hearing the tracks:
Andy: Those young men have no regard for song structure. I haven't heard that for about eight years; its like looking at a picture of your younger self with a crazy haircut and tie dye t-shirt.
Beth: What are your memories of Mclusky, and the key moments?
Andy: I treasure all of it. The parts when we played with bands... like I remember one show, we were playing with The Liars in London, and the show was opened by The Yeah Yeah Yeahs. It was their first performance in the UK. We were driving along the M4, and Matt had a panic attack, so Jon took over the driving. Then I think he thought it was a game, and he had a panic attack, so we were sat in Membury service station. Then 'Veg', who was driving Liars at the time, came from the garage all the way, picked us up, we got there five minutes before we were due on, threw our stuff on stage and had a great show.
Feel free to comment! If you want to have your say, on this or any other BBC blog, you will need to sign in to your BBC iD account. If you don't have a BBC iD account, you can register here - it'll allow you to contribute to a range of BBC sites and services using a single login.
Need some assistance? Read about BBC iD, or get some help with registering.