I've always found the balance between work and home a bit of a juggle, though I never thought I'd actually be juggling at work. But that's exactly what I'm doing on X-Ray this week, as part of a report into those £9 holiday deals you see advertised in some tabloid newspapers.
Fortunately, it suited the director Phil Tibballs that I couldn't keep the balls in the air for more than a few seconds at a time.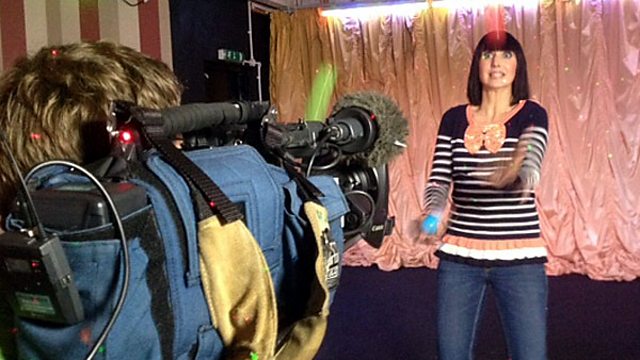 Caught in the act - but only just!
It was part of quite a complicated 'piece to camera' (PTC) we were filming. The idea: I'm the terrible holiday entertainer, being watched by an unimpressed holidaymaker – also me. In the shot in this week's programme, you'll see me watching the performance at the same time as my alter ego juggler is on stage.
If you've ever wondered about the TV trickery behind that kind of shot, I thought I'd let you into the secret. First of all, you need the camera person to do a "locked-off shot". The camera position can't change. Then the director has to imagine there's a line down the middle of the screen, splitting it in two.
Without the camera moving, you then film two different PTCs or activities separately, one on either side of the frame. Then in the edit suite, the opposite halves of the same shot can be joined together, and because the camera hasn't moved, the backgrounds look the same, and two of you can appear. Magic!
So back to those holiday deals. Needless to say, the family we spoke to ended up facing bills that were far higher than £9 per person. But I sincerely hope their holiday entertainment proves to be of a considerably higher standard than the useless juggling act that was filmed at a caravan park near Barry on a wet day.
X-Ray is on at 7.30pm. If you'd like to get in touch with the team call 03703 334334 or email xray@bbc.co.uk.