Dance of Life mural finds new home in Wrexham
A mural by Mildred Elsie Eldridge that was formerly on view at a hospital in Oswestry, and which has been in storage for the past decade, will go on show shortly in Wrexham.
The Dance of Life mural was commissioned by the Hospital Management Committee of the Robert Jones and Agnes Hunt Orthopaedic Hospital in 1951 for the dining room of the then new Nurses' Home.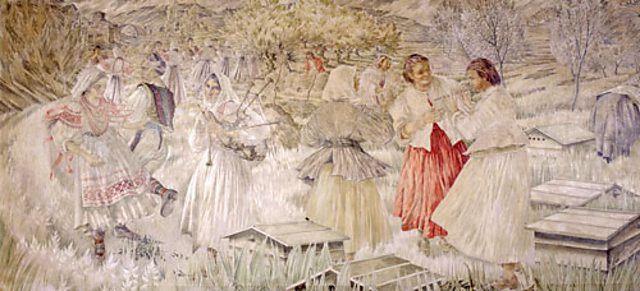 The Dance of Life mural by Mildred Elsie Eldridge. Image courtesy of Robert Jones and Agnes Hunt Orthopaedic and District Hospital NHS Trust
Following the relocation of the dining room in 1999 the mural has been in storage. It has now been loaned to Glyndŵr University for display in their new Creative Industry Building, which officially opens in March 2011.
Mildred Elsie Eldridge was the wife of Welsh poet RS Thomas. The mural consists of six panels of differing lengths painted in oils on canvas and tells the story of civilised man's alienation from nature, and his attempt to reclaim a lost natural wisdom. It depicts scenes of the countryside and seashore, and contains many images of birds, animals and plants.
Director of Operations at the hospital, David James, said, "We are very pleased that this work of art will be displayed at Glyndŵr University giving others the opportunity to appreciate this magnificent mural."