Gwyn Thomas 1913-1981 - novelist, playwright, broadcaster and raconteur
This week marks the centenary of the birth of Gwyn Thomas, one of Wales' greatest writers in the medium of English.
Thomas was a prolific writer of novels, short stories, plays for stage, radio and television and contributor of articles to magazines and newspapers including Punch and the Western Mail.
He even managed to appear frequently on radio and television in programmes such as Any Questions, The Brains Trust, Parkinson, Eamonn Andrews and BBC Wales' own Week In Week Out with Vincent Kane.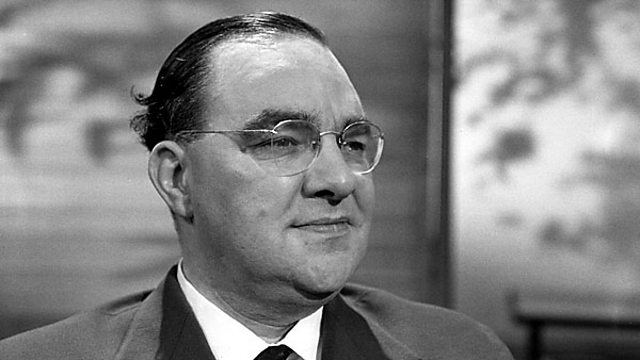 Gwyn Thomas on the BBC's The Brains Trust, 18 August 1960
Gwyn Thomas was born on 6 July 1913 in Cymmer near Porth in the Rhondda Valley. The son of a miner - "an underground ostler with no love of coal and no luck with horses" - he was the youngest of 12 children. His mother died when he was six and he was brought up by his older sister Nana, who deferred her own marriage to do so.
In 1930 a state scholarship took him from Porth Grammar School to St Edmund Hall, Oxford to study modern languages and a miners scholarship later enabled him to study for six months in Madrid before graduating in 1934.
His first job was as a lecturer for the Workers' Educational Association in south Wales. Then, after his marriage to Lyn Thomas in 1938 he worked as a social service officer in Lancashire and Cheshire before going to Cardigan Grammar School as French master in 1940.
In 1942 Thomas moved to Barry Grammar School where he taught Spanish for the next 20 years before devoting himself entirely to writing and broadcasting.
Everything he wrote was written in long hand in exercise books and then typed by his wife. Eventually he filled about 500 of these notebooks with novels and collections of short stories, numerous radio and television plays, stage plays and essays for a variety of national and international magazines.
For several years he contributed a regular Saturday column in the Western Mail, with occasional feature articles. The Saturday column, ostensibly a criticism of the week's television, served mainly as a launching pad from which Gwyn was able to take off on many and varied tangents.
His books were translated into numerous languages and always received literary acclaim if not huge sales. An example of the worldwide reach of his talent was given by fellow Welsh writer Alun Richards.
In the 1980s Alan had been on a lecture tour of Australia for the British Council when he was approached by three Chinese professors who had recently been released from imprisonment in solitary confinement during the Cultural Revolution.
Although they had never before been out of China they wanted to know if he knew Gwyn Thomas whose work they had read and re-read. Alan said that he then fully realised the literary impact Gwyn had made overseas.
In 1993 Sir Anthony Hopkins appeared as Gwyn Thomas in an adaptation of Thomas' autobiography A Few Selected Exits. The film was directed by Tristam Powell with a screenplay by Alan Plater and called Selected Exits.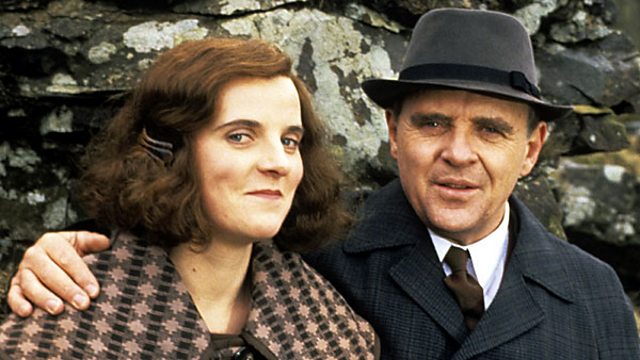 Abigail Hopkins as Nana Thomas and Anthony Hopkins as Gwyn Thomas in Selected=
The following year Sir Anthony accepted an invitation from the Gwyn Thomas estate to unveil a bust of the author, created by Welsh sculptor Robert Thomas, and placed in the foyer of the New Theatre, Cardiff where it can still be seen.
More recently three of Gwyn's novels, The Dark Philosophers, The Alone To The Alone and All Things Betray Thee have been reprinted in the superb Library of Wales series. In 2012 The Dark Philosophers was adapted for the National Theatre of Wales' first ever production at the Edinburgh Festival where it received critical acclaim.
To help mark the centenary a schools competition is being organised in Rhondda schools reflecting on the changes that have taken place in that community. Prizes of ebook readers will be awarded to successful entrants by the Gwyn Thomas estate.
Thomas once wrote: "In the darkest night of the spirit, laughter is the signal that we are fully and unconquerably still there. And when a fine laughter maker falls still, the night itself, for a while, will be inconsolable."
Gwyn Thomas is a significant voice in Welsh culture. He deserves to be remembered and celebrated.
Jeffrey Robinson
Gwyn Thomas Estate