The Vanities, 10 years on
Last week I was contacted by an old friend, Rhys Bradley of Cardiff band The Vanities, telling me their self-titled début album was due for release on 12 September. "What the hell?" was my initial reaction, seeing as the band had first come on my radar in 2001, and I had seen them perform at In The City in 2002. Their day seemed to have been and gone by the middle of the decade; they sparkled and faded many moons ago.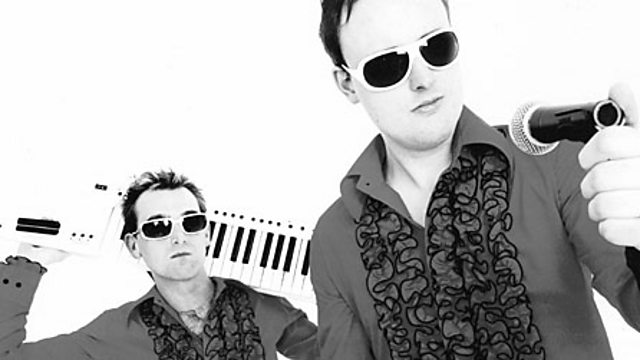 The Vanities
So I wanted to know the story: why on Earth would The Vanities choose to release the album a full decade after they started? And what was the story of what they've been up to since I last saw them?
Rhys was glad to fill me in. What he has to say is an interesting perspective on the passage of time, the factors that affect a band when they don't get signed, when they don't get the breaks. It's also a great look back to how the local scene used to be.
"The Vanities formed in 2001 and began performing that September, making our live début at Clwb Ifor Bach just a few days after the demise of the World Trade Centre. Whilst foreign policies began shifting in a way that would define the next decade, we were glad to be in the bubble that was the Cardiff music scene at that time. The Barfly had recently opened its doors to 21 bands per week which, along with Clwb and The Toucan Club meant that hot new music was everywhere in the capital.

"Boobytrap Records was also fairly new and providing great exposure for bands through their increasingly influential singles club whilst Welsh Music Foundation's magazine Honk (later Sound Nation) was giving local artists column inches on a monthly basis. Whilst undoubtedly an overused term, there really was a strong 'scene' which included bands such as The Loves, Small Victories, The Martini Henry Rifles, Transposer, Sammo Hung, Watershed and Kilo-C along with ourselves and many others.

"Many of these bands got to know each other personally and became friends, despite the diversity of their music. Indeed, it was almost as though there was a self-styled 'brat pack' of local bands. This was before the days of Facebook and Myspace and bands were yet to realise the full potential of the internet, so in many ways there was a greater emphasis on face to face interaction.

"Some bands were lucky enough to get a single released by Boobytrap Records, something which was much sought-after at the time. Our own Boobytrap single, Space Tourist, helped us gain a great deal of exposure and opened many doors. It was single of the week for a prolonged period on Kevin Hughes' BBC Wales radio show whilst the record also gained airplay from the late great John Peel on Radio 1. Perhaps most significantly, it helped us get selected for the official In The City A&R conference in Manchester along with 12 other Welsh bands - a good indicator of the strength of the scene at that time.

"Unfortunately this didn't bag us the big record deal, with our style and sound being somewhat out of step with what was currently in vogue (perhaps we were ahead of our time given the later emergence and success of The Killers, La Roux and Little Boots etc!). Between 2002 and 2006 we gigged extensively up and down the country with a strong emphasis on London, where we were embraced by many of the ultra cool 'electro-clash' club nights of Camden and Soho.

"We made many friends along the way and had some unforgettable experiences. We also released a number of records on our own Star Asylum label which were well received. But in 2007 The Vanities went on an indefinite hiatus. This was due to a combination of things: disillusionment, burn-out and a desire to do other things and have different experiences. After many years of slumming it and tolerating dead-end, soul-destroying jobs purely to finance the band, we did a bit of a Renton and chose 'life', kicking our addiction to the band.

"So we went away and spent several years doing things that might be considered 'normal': re-training, getting married, getting mortgages, having kids and so on. Music took a back seat and for a time in seemed as though Rock Band on the PS3 was the closest we would come to performing together again. But earlier this year we started to get the itch. We also felt that we had unfinished business, with a big regret being that we never released an album, despite amassing a large body of work.

"A lot of rehearsing, mastering and remixing later and The Vanities are back next month with their self-titled début album. We are launching the album with a show at Clwb Ifor Bach on Saturday 10 September.

"It's an interesting coincidence that our return to the stage is exactly a decade since we made our début. We return to a scene that is very different from the one we departed: the Barfly has shut its doors for the last time, Boobytrap Records is no longer trading and our 'brat pack' contemporaries appear to be no more.

"Honk/Sound Nation has long since gone out of print and social networking appears to be eclipsing social interaction. There's a new generation of bands on the block although whether the scene is as vibrant as a decade ago is unclear. Wars have been fought, regimes have fallen and governments have changed since 2001. As well as being a vehicle for our music, The Vanities provides us a framework for reflecting on life and how so much can change is such relatively short time. It is clear that we have changed a lot as people since our beginnings as a band, as has the local scene and the world that we inhabit. It is almost reassuring then that our music remains the same."
For me, the return of The Vanities is exactly as Rhys says: it's a window into a world in which a younger version of me was enthused by a local indie scene that provided me with my job for five years, more or less. Their music is exactly as I remember it: Pet Shop Boys-meets-New Romantic synthy anthems with shades of Wales' other synth god, David Wrench.
It's good, in other words. If you're feeling old, or nostalgic, or you're a young buck wondering how Cardiff used to do things, it'd be worth checking out the record or the reunion gig.
Feel free to comment! If you want to have your say, on this or any other BBC blog, you will need to sign in to your BBC iD account. If you don't have a BBC iD account, you can register here - it'll allow you to contribute to a range of BBC sites and services using a single login.
Need some assistance? Read about BBC iD, or get some help with registering.