Welsh applied art represented at SOFA New York
The work of two of Wales' most eminent artists will be exhibited in New York this weekend.
Ruthin Craft Centre will present ceramic works by Walter Keeler and Eleri Mills' textile and fibre art at the Sculpture Objects and Functional Art Fair (SOFA) in Manhattan, from this Friday 20 April until 23 April.
Walter Keeler's career spans over 50 years. The London-born artist trained at Harrow School of Art and moved to Penallt near Monmouth in 1976. He has been working in Wales since, and in 2007 was named the Welsh Artist of the Year.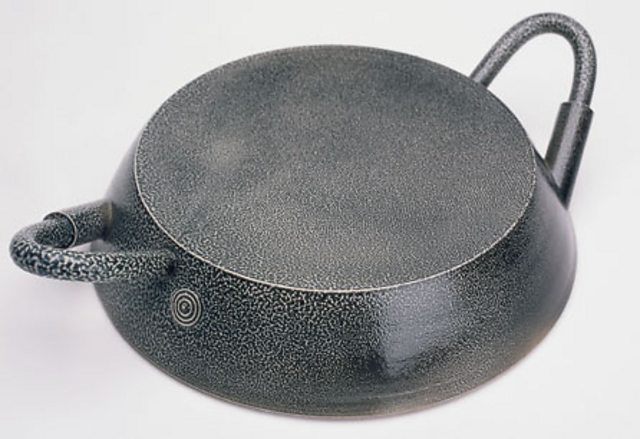 An example of Walter Keeler's salt glaze work. Image courtesy of Ruthin Craft Centre. Photo: Dewi Tannatt Lloyd
Eleri Mills was born in Llangadfan, Powys and it is the rural landscape of Wales that is at the heart of her work, which combines hand-stitched pieces and mixed media paintings.
Keeler recently toured the US, in March 2012, with lectures and demonstrations culminating at the NCECA conference in Seattle, while Mills is in residency as a visiting artist at Columbia University, New York until the end of April 2012. The residency is part of the Creative Wales Ambassador role that she was awarded in 2010.
Ruthin Craft Centre has previously shown work at SOFA in Chicago but this will be the first time the centre has exhibited at the New York show.
A delegation of members from Welsh galleries that exhibit craft and applied art will also be visiting SOFA, with funding from Wales Arts International.
Representatives of Oriel Myrddin Gallery, the Mission Gallery and Mostyn will make the trip to research future opportunities between New York and Wales and to raise the profile of Welsh artists and makers.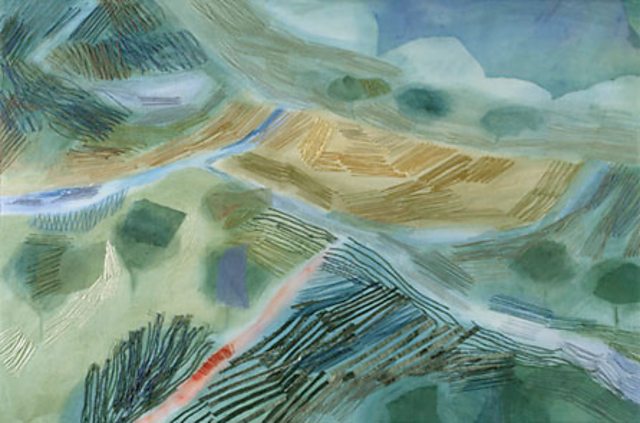 Eleri Mills, Tirlun I (Landscape I). Image courtesy of Ruthin Craft Centre. Photo: Dewi Tannatt Lloyd
Philip Hughes, Director of Ruthin Craft Centre, said: "Walter has been potting for 50 years now. His work over the years has encompassed many different materials but he is best known for his salt glaze pieces and that's what we've chosen to show.
"They should compliment Eleri's work really well and give people an experience of Wales and the landscape, and how ceramics and textiles can sit in harmony in a presentation."
Watch a video of Hughes talking about SOFA New York and the artists being represented in 2012.
Galleries from America, Japan, Italy, Canada, Belgium, Israel, Argentina and England will also be exhibiting at SOFA New York.
Keep up to date with news from the event on the SOFA Cymru blog, sofacymru.wordpress.com, and the Facebook page.