Somewhere over the rainbow
For many people beachcombing leads to pockets full of sand and forgotten shells gathering dust in jars around their homes.
But for Anglesey artist Wil Rowlands, decades of collecting beach mementoes has resulted in a fascinating creation which forms the centrepiece of an exhibition currently running at the Rhyl Library Arts Centre.
During his wanders, every time Wil spotted a discarded cigarette lighter on the shore, he pocketed it – meaning he now has a collection of somewhere near the 1,300 mark, in all gradations of colour on the spectrum.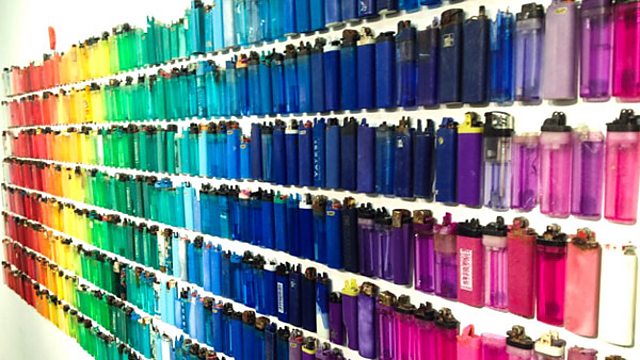 Wil Rowlands' artwork created from discarded lighters. Image courtesy of the artist
He has painstakingly organised just half of this astonishing collection into a 7ft long eyecatching rainbow for the exhibition.
"I've been collecting stuff from the shore for decades and the first time I saw a lighter it instantly gave me the idea for this piece," he said.
"I've looked out for them ever since and, as my collection grew, I started to realise how varied they all were, not just in colour, but in tonality.
"Each lighter has its story, and each shows different effects of being battered by the waves and bleached by the sun."
The rainbow piece is just part of his latest exhibition Plastic and Paint, but the theme of erosion is echoed in the 52 mixed media paintings Wil has chosen to include alongside it.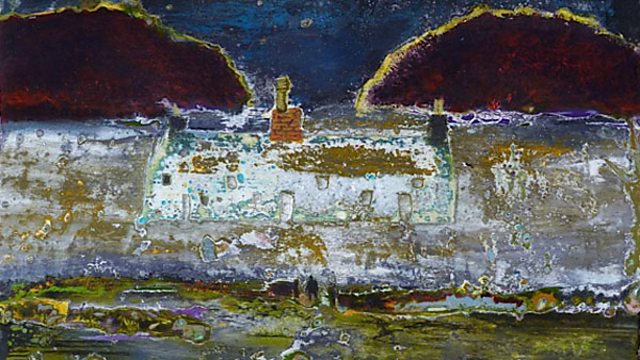 Artwork by Wil Rowlands on show at the Rhyl Library Arts Centre
"Erosion is the link because in the same way the lighters have been eroded by being in the water and smashed up against the rocks, I rub, sand, scratch, scrape and break the surface of the painting."
Wil comes from a farming background and his knowledge of the way farmers toil the land has also informed his artistic technique. He draws comparisons between how he uses his materials to the methods farmers have employed to work on the land for centuries: ploughing, rolling, harrowing, cutting and breaking the surface.
"Particularly with harrowing, it uses spikes and drags them through the surface of the land - it's quite brutal.
"It's about leaving our mark," he says, "both of us endeavouring towards a harvest of some kind."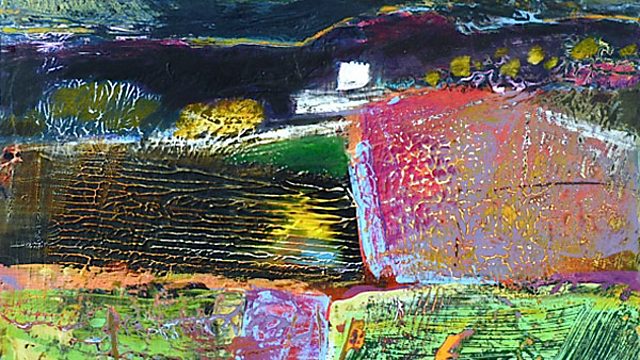 An example of work by Wil Rowlands on show at the Rhyl Library Arts Centre
After training at Chester College of Art and Liverpool College of Art, Wil started out as an illustrator working in Manchester 40 years ago but eventually returned to his native Anglesey and now works in acrylic, oil and mixed media and is a printmaker.
He says his art is forever evolving and never stays in the same place for too long.
So far, reaction to the exhibition has been pleasing, with over half of his paintings sold - something he says is unheard of in Rhyl.
The Paint and Plastic exhibition runs at the Rhyl Library Arts Centre until 22 September.