Making The Committee Meeting
In 2009 I was hanging out with Greg Davies (name drop number one) talking about how difficult it was to get ideas commissioned for TV and he said to me, "You know what you should do Korkey, you should do a show in the valleys, something that would be a good TV format but mainly that you enjoy doing so people can see it."
I replied that I'd had this idea of doing a comedy show based on a committee meeting in a workingman's club in the valleys where the audience are the committee members. We'd have special guests, I was the Chairman and we'd have comedy characters like a health and safety-obsessed caretaker.
"Ideal" he said, or words to that effect with more expletives in it.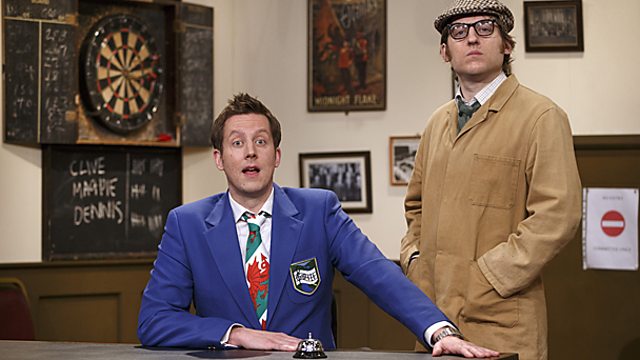 Mr Chairman, played by Chris Corcoran and Rex Jones, played by Elis James.
The following week-ish Elis James guested on The Rhod Gilbert Show, that I was co-hosting and it turned out that, in one of the most bizarre coincidences of all time, he already had an old health and safety-obsessed valleys workingmen's club character in his repertoire. Not only was he looking for a format for him, he could speak in the voice of this character as easily (and arguably more lucidly) than he could in his own voice. The comedy gods had delivered. And Rex Jones was born. 
For a few years we did a brand new live show at - and with the truly brilliant staff of - the wonderful (and recently, shamefully closed) Muni Arts Centre. We worked with our friends (and comedy-sketch filming geniuses) Zipline Creative, Cor Meibion Morlais (who became our club choir) and soon Vern Griffiths (who became Vernon Jones, Rex Jones' estranged brother and caretaker nemesis). 
We would write each show from scratch in the space of five days and the first time we'd perform it would be in front of the audience. Which was completely ridiculous, but was superb fun (and massively stressful).
Rex Jones the safety conscious caretaker has had a minor accident with a nail gun.
BBC Radio Wales then suggested we did a radio comedy spin-off. Working again with Zipline Creative and comedy writer Gareth Gwynn, the sitcom Social Club FM was born. It ran for two series following the small-time adventures of Mr Chairman and Rex Jones as they tried to run a village radio station. 
In 2012 Phil McIntyre Entertainments took us doing a 'best-of' show to the Edinburgh Fringe Festival. It was superb fun (and not that stressful because our show was at 1pm which meant that Elis could do upwards of 150 gigs a day and I could go for a swim in the afternoons and watch the Olympics). It was well received with some smashing reviews and a Guardian Pick of the Fringe (which we were all very chuffed about). 
It was there when production company Tiger Aspect said they were interested in making a TV pilot of The Committee Meeting for the BBC Three pilot season. It's an extended version of that which is now making its TV debut on BBC One Wales. 
Please tune in. If 100% of the population of Wales watch it, there is a possibility they may commission a series. 
The Committee Meeting is on Saturday 9 August, BBC One Wales at 10.30pm.