So, how was it for you? I'm talking about Roy's First Click, which was on BBC Two Wales on Wednesday night at 7pm. I thought the programme was excellent, but then again I'm biased. It was all very encouraging for those of us who have, not so much been surfing the net, as gingerly dipping our toe in the surf first. There were so many positives and possibilities for us - how shall I put this? - mature internet explorers. It was all very exciting.
I must say that the visit to Pilleth and the Glyndŵr verses Mortimer battle was something I really enjoyed, and computers can add so much to the story, even when you're there. It set me thinking of history and our place in it.
Don't you feel that sometimes you are of another time and place or there are elements and feelings within you that take you back to a world that once was and to characters that were of your ancestral bloodline, whether real or imagined? Dear Ray Gravell, who passed away three years ago, Welshman to the core that he was, was convinced that he was a re-incarnated warrior from Owain Glyndŵr's time. He could relate to the period, he could live it.
As for me, well, I suspect that I'm a mongrel. And yet there are historical periods that hold a solid place in my mind and psyche. Take the Vikings. I'm sure there is something in my background that has a touch of Norwegian fjord about it. When I went on a cruise to Norway last year, I was up at 4am just to catch the thrill of sailing up a fjord, and for a couple of hours I was Kirk Douglas in a scene from that film The Vikings.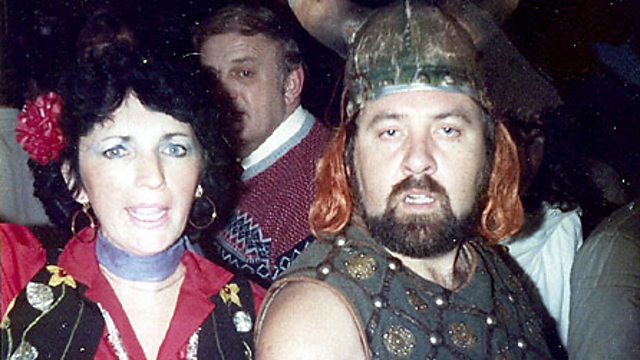 Elaine and Roy Noble
You see, they say that the Nobles, us as a family, came to this country with the Normans, but the Normans were really re-settled Vikings from the north. On the cruise ship there was a man from Garnant who had the same feelings as me .He even had a Viking finger, diagnosed by the doctor. When he held his hand up, his middle finger always dropped, the sinews were gone. It was well known, his doctor said. Nordic finger, lots of Vikings had it. He couldn't do press-ups, his dropped middle finger was always in the way.
Then again, if I'm really a Celt, some of those came from the Halstadt region of southern Germany region, and I've had some good times in the Black Forest and Bavaria, let me tell you. That's why, if I was invited to a fancy dress party in Aberdare some years ago, I always tended to end up as a Viking or a Bavarian in lederhosen, hence the attached photographs. There was a definite calling to do that.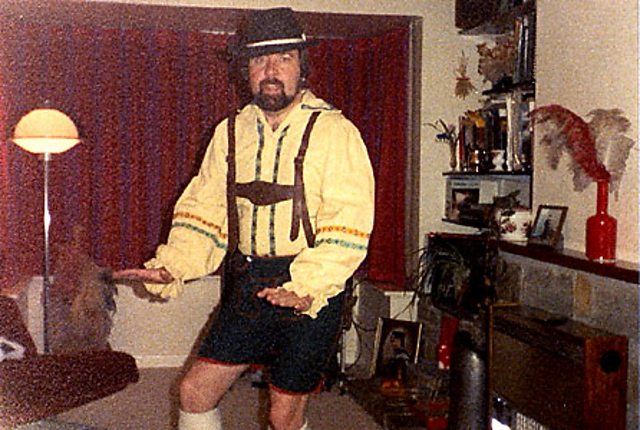 Roy Noble in lederhosen
Mind you, I was also quite well known as quite a convincing Henry VIII, but I put that down to the Noble name, my girth and my deep down longing to live in a house with a tower.
I still hold that yearning. It doesn't have to be a castle, just a nice detached abode... but with one corner forming a tower. One day, perhaps.
Roy
Roy Noble is bringing his famous storytelling skills to a computer near you as part of the BBC First Click Campaign - aimed at encouraging people to take their first steps to getting online. If you know somebody who needs help to get online, call the free BBC First Click advice line on 08000 150950.