Archaeologists excavate 'tomb of Stonehenge builders'
Archaeologists believe they may have discovered the Welsh tomb of the builders of the Stonehenge monument.
The remains of a ceremonial monument were found with a bank that appears to have a pair of standing stones embedded in it. The bluestones at the earliest phase of Stonehenge - also set in pairs - give a direct architectural link from the iconic site to this newly discovered henge-like monument in Wales.
The bluestones are thought to have been quarried from the west Wales site in around 2,300 BC. A Neolithic tomb, next to the Carn Menyn site believed to have been the quarry, is being excavated in the hope that it will provide a conclusive link to Stonehenge.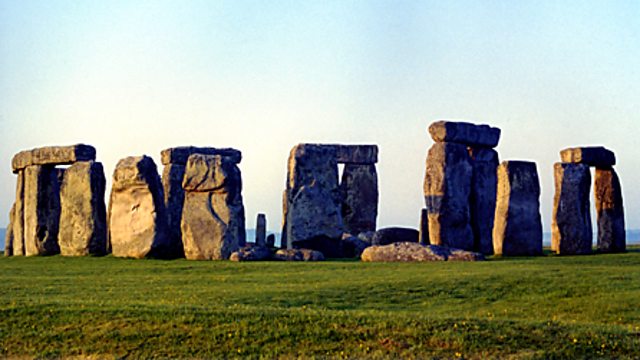 Stonehenge
The excavation project of the tomb has been led by Professor Geoff Wainwright and Professor Timothy Darvill, who believe that the giant stones were brought from the Preseli Hills in Pembrokeshire to the Wiltshire grounds.
Prof Darvill said: "It's a little piece of keyhole surgery into an important monument, but it has actually lived up to our expectations perfectly."
Prof Wainwright added:
"The important thing is that we have a ceremonial monument here that is earlier than the passage grave.
"We have obviously got a very important person who may have been responsible for the impetus for these stones to be transported.
"It can be compared directly with the first Stonehenge, so for the first time we have a direct link between Carn Menyn - where the bluestones came from - and Stonehenge, in the form of this ceremonial monument."
The excavation will feature in the new series of BBC Two's Digging For Britain, which begins at 9pm on Friday 9 September. Louise Ord, an assistant producer on the series, has written more about the excavation on the BBC News website.