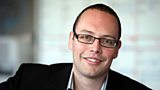 Steve Austins
Editor, BBC Radio Wales
Blog posts in total 44
Posts
While the election campaign marches on, we get some light relief from the Machynlleth Comedy Festival, and just what does an operatic tenor sing in the shower?

All aboard the battle bus as BBC Radio Wales heads out on an election tour for the final weeks of the campaign, and we welcome the Radio 2 Folk Awards to Wales.

Politicians, Jeff Banks and Severus Snape

In a week 'eclipsed' by events up above, we've still got the budget, and rugby making headlines this week. Plus there's a teenage takeover on Thursday with School Report

A busy week of Comic Relief, the Welsh gongs, a couple of crucial rugby matches, and Lulu performing live.

A weekend of sporting success, the first recording of the Welsh national anthem and a rousing St David's Day concert all contribute to a cracking start for March on Radio Wales

A Saint, a Singer, and a Soldier - St David's Day on Radio Wales

A cockney Butcher, an Italian feast and Welsh Fjords are all on the menu this week, plus a whole day celebrating Welsh innovations.

The new sound of Good Morning Wales gets off to a strong start, meanwhile our rugby squad looks ahead to Scotland after a no-so-strong start to the six nations championship.

Preparing to say 'Happy Six Nations Day' on Friday, a new dawn for Good Morning Wales, and the wunderkinds of Merthyr.

The bluest of Mondays, planning for the 6 Nations, and the NHS "under siege". Radio Wales Editor Steve Austins looks ahead to the coming week.

More fantastic music than you can wave a conductor's baton this week featuring Sharleen Spiteri, André Riu, and Amy Wadge. Plus, Wynne Evans learns the flute in a week.

A day with the orchestra, Caradoc Evans and the greatest Welshman never heard of. Radio Wales Editor Steve Austins picks his highlights for the first week of 2015

Christmas Carols, a Brass Band, a Mega Mixtape and the Apocalypse - Radio Wales Editor Steve Austins picks his Radio Wales highlights over the Christmas fortnight.

Radio Wales happenings this week including news of Beverley Humprheys' award from the Welsh Music Guild and a preview of a report on the Big Welsh Weekend with Wynne Evans spending the day in a postal sorting office.

Missing notes from Shirley Bassey and a missed win from Wales against New Zealand at the weekend. Things should improve this week with musical guests galore on Radio Wales and the final rugby international game of the autumn season against South Africa next weekend.

You can count on one hand how many real superstars we have as a country. I'm just back from Belgium, having seen one of them play this weekend. Wynne Evans is up in London today speaking to another whose status gives Gareth Bale a bit of work to do.

Steve Austin blog on Radio Wales this week - looks at Children in Need highlights and the weekend's sport - international rugby and football.

November's here. A time to light up the skies. A time to remember our brave. A time to conveniently forget how bad we are at beating southern hemisphere opponents.
Previous

1