Wales
Featured Post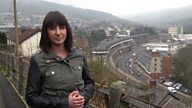 We asked regular travellers to record their experiences of their daily commute.
Posts
The clocks go forward this weekend marking the start of British Summer Time but unfortunately the weather is about to take a turn for the worse! A strong jet stream over the Atlantic and low pressure will bring spells of heavy rain with strong to gale force winds.

Incoming rain at Church Stoke at sunset by Ros Baylis from the BBC Wales Flickr group

Friday evening will start dry but overnight a warm front will bring a little rain and drizzle. The cloud will lower with mist and fog patches. The wind will pick up after midnight and it will turn milder. Temperatures will reach 8-10°C by the end of the night with a south-westerly breeze.

Saturday may start dry apart from a little drizzle but a cold front will move south-east during the morning bringing a short spell of heavy rain with strong and gusty winds. The rain will be followed by a drier and brighter afternoon with a little sunshine and showers later. Temperatures will rise higher than recently reaching 11-13°C and up to 15°C in Flintshire. It will remain breezy into the evening with showers and some dry...

Wales is fortunate in being able to boast a whole range of writers, musicians, singers and artists who have achieved international acclaim.

Artistic endeavour and excellence seem to go hand in hand with the Celtic spirit and nowhere is that statement more obvious than in the mining valleys of the country. In painting and in the visual arts the Rhondda, in particular, has had a lasting influence and effect.

Pembrokeshire might have spawned Gwen and Augustus John; north Wales might have sustained the talent of Kyffin Williams. But the Rhondda, with its interwoven webs of industrial architecture and social deprivation once produced a like-minded group of painters and sculptors that soon became known as 'The Rhondda School'.

The Family, a sculpture by Robert Thomas in Churchill Way, Cardiff

The Rhondda School of artists was never an actual school, in the formal sense, and was in no way an official grouping. The members produced no manifesto or statement about their aims – they were, simply, a group of students from the Rhondda who, in the early 1950s,...

We enjoyed a fine weekend across most of Wales - the first one after the spring equinox and it felt like it, with plenty of spring sunshine.

There's a much more unsettled week to come though - cooler, often cloudier, with some sunshine, but wet and windy at times.

Dramatic skies over Penarth by Grazka40 from BBC Wales Flickr group

Monday afternoon is rather cloudy with some patchy drizzle clearing south-eastwards. It will eventually turn a bit brighter from the north-west later, with highs of 8-10°C with a chilly north-westerly breeze.

Tonight, there will be a few lingering showers but will generally turn clearer and colder with some frost patches forming overnight.

Tuesday is a changeable day - with scattered showers, some quite sharp hail and thunder, possibly feeling wintry in the hills, with sunny spells in-between and variable cloud. Temperatures will be slightly lower than recent days at 7 or 8°C - with brisk north-westerly winds making it feel chilly.

Showers will slowly ease on Tuesday night. High pressure will build, with clearer skies and...

Much of Wales had a good view of the partial solar eclipse this morning with clear skies.

My career originated in PR so it was overwhelming when I was asked to move from behind the camera to in front of the camera - I was used to directing shoots and events, not being in the limelight myself! However, I am hugely passionate about what I'm doing right now; I'm a big believer that food and family should be at the centre of everyone's upbringing - even if family isn't your immediate blood relatives. Everyone should be surrounded by people they love and support. It's what makes the world a happy place, in my opinion!

So doing what I do now - promoting simple food, family and...

There are a lot of people living in the south Wales valleys who work in Cardiff. Many don't have a choice - it's just where the jobs are. And that means a daily commute back and forth to the capital.

The quality of that commute can have a big impact. If it's a stress-free, enjoyable experience, you arrive in work on time and all set for the day ahead. And if it's not? Well X-Ray has been hearing stories of some terrible train journeys, that have been causing big problems for some of our viewers.

Lucy on location at Pontypridd as she investigates the performance of train services in the south Wales valleys

Steve Austins

Editor, BBC Radio Wales

Let's start with the rugby, and after that extraordinary win over Ireland, there's a chance. It's a small chance. But it's a chance nonetheless. And we do like chances.

Someone else will know the maths better than me, but Wales need a thumping win away to Italy (and perhaps a snooker on the pink) in order to beat England and Ireland to the Six Nations Championship on Saturday. But that's enough to get the nation worked into a lather before then.

The build-up gets into full flow on Thursday night's Scrum V Radio. Wynne Evans will be live in Rome for the Big Welsh Weekend on Friday and Money...

Rachel Treadaway-Williams

A question for you… Is it possible for someone who's gone through the Welsh education system to be unable to tell the time?

It's a skill I'm working on with my 6 year old. We've not got to grips with the concept of how many minutes 'to the hour', but he can read an analogue clock and write down the numerical representation. I am playing quite an active role as a parent and am fortunate to consider myself confident when it comes to numbers. But even for those children without pro-active family members to help-out, surely after 10 plus years at school they should be able to tell the...

Monday is another chilly day with some rain and showers, even a little snow on high ground. Temperatures are only 5-8°C with a light breeze from the east or north-east. However, the grey, chilly spell we've had for the last few days is on its last legs and a change is expected tomorrow. High pressure will continue to dominate our weather this week bringing plenty of dry, settled weather and it will become warmer for a while.

On Monday night there will some patchy rain and showers but otherwise it will be dry and where the cloud breaks the temperature will fall low enough for a ground...