Ripper Street: Policing the meanest streets imaginable
The journey to Ripper Street started out with a simple statement of intent – let's make a crime show set in east London at the time of Jack the Ripper.
The dramatic potential of the idea was clear from the start – but as the show's creator, the key moment that showed the way through those laneways and rookeries was the discovery of H Division.
It was the real life police station from which the hunt for the killer was coordinated, but it was also the headquarters for policemen who had to control the meanest streets imaginable.
Whitechapel vigilantes confront the police outside H Division
That was what the show had to be – a precinct thriller. Committed lawmen doing the best they can in the most impossible circumstances.
And so our show features not just murderers but – amongst many others - pornographers, child gangs, slum landlords, vigilantes and anarchists.
But how to factor in the man himself?
The Whitechapel Killer, the forever anonymous maniac who informs that area of London to this day: witness the thrice daily 'Ripper Tours' strolling from Tower Hill underground station to Christ Church Spitalfields.
Strangely, the whole series was unlocked by almost throwing him away.
We wanted to create a TV series that might run and run, a grimy, period version of Hill Street Blues or NYPD Blue.
But in November 1888 – once poor Mary Jane Kelly's remains had been defiled in a Dorset Street doss house – the lunatic killer disappears and all else is conjecture.
Constructing our stories to run alongside the Ripper investigation was a terrible constriction, so we dug him up, threw him out, and decided to start our stories once he'd gone.
Pretty much everything flowed out of that moment.
In truth, I've never been much of a Ripperologist.
What he did disgusts me and the sense you get as you read into the theories and wonderings and suspects is of an endless vortex of grim fascination.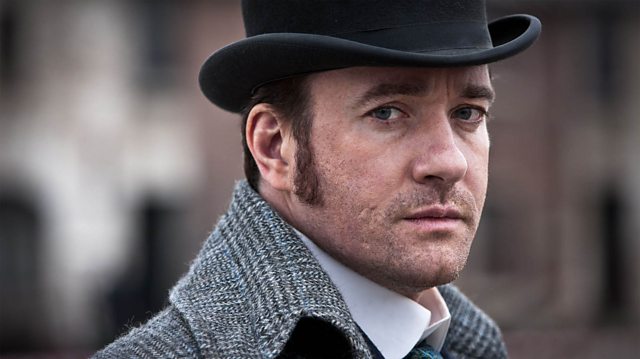 Matthew Macfadyen as Detective Edmund Reid
The decision to discard any direct element of the manhunt in our series allowed me to pursue what I was really interested in: how did the men who were responsible for keeping the people of Whitechapel safe cope knowing that they'd failed so spectacularly?
How do you then go about bringing all the other murderers, thieves, rapists and poisoners to justice?
Would you be broken or galvanized?
The answer – in terms of our imagined drama – is both.
As soon as Matthew Macfadyen told us he was interested in taking on the part of Inspector Reid, I knew that this duality would be perfectly served.
As an actor, he has such an astonishing ability to describe both toughness and vulnerability, to entirely inhabit the role of a man who is haunted by terrible ghosts but who is still intent, every new day, on bringing the fight to the evil and corrupt.
There's a particular moment toward the close of episode one when, the case solved, he tells his one-time boss and superior officer, (the more fictionally celebrated) Fred Abberline that no longer is he going to let Jack The Ripper dominate his every day and that from now on he's going to look on and forward.
Reid comes out of the pub, puts on his bowler and – a private moment for the camera – he smiles.
It's a smile of conviction and intent and, whilst it wasn't scripted, it makes the whole character come alive.
It's a purely instinctive moment from Matthew and one that went on to entirely inform the further development of the character.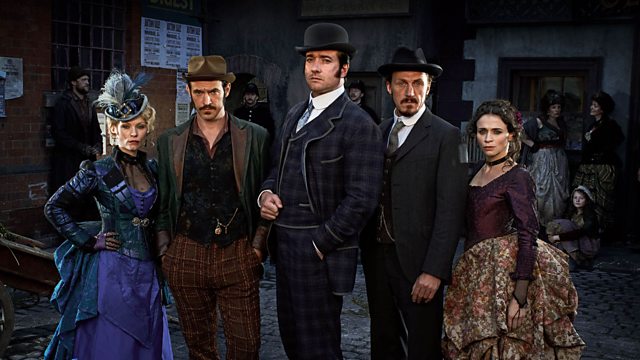 The cast: MyAnna Buring, Adam Rothenberg, Matthew Macfadyen, Jerome Flynn and Charlene McKenna
Of course, it's not just Matthew. Jerome Flynn and Adam Rothenberg brought, respectively, an intensity and a playfulness that then cut through every word I wrote for them.
Elsewhere MyAnna Buring, Charlene McKenna, Amanda Hale and Lucy Cohu brought such a defined sense of four very different women's reactions to the time and its dangers that their performances through the beginning of the series actively defined how their stories were then scripted and played out through to the end.
As a writer, you have to imagine a mood – a feel and smell that you want the whole piece to take on – but it's rare that the finished product marries so exactly with that imagined mood.
I'm so grateful to our magnificent cast and endlessly committed technical crew for that fact.
At the beginning of this new stage for Ripper Street (the one where the world at large starts to interact with our stories and characters), I hope everyone is as excited with this world, its people and their further stories as I am.
Richard Warlow is the creator and lead writer of Ripper Street.
Ripper Street continues on Sunday, 6 January at 9pm on BBC One and BBC One HD. For further programme times, please see the episode guide.
More on Ripper Street
Den of Geek: Ripper Street episode 1 review: I Need Light 
The Guardian: TV review: Ripper Street 
The Scotsman: Interview with Matthew Macfadyen: Watching the detective
The Telegraph: Ripper Street review
Comments made by writers on the BBC TV blog are their own opinions and not necessarily those of the BBC.