Love And Death In City Hall: Stories from a register office
The idea for Love And Death In City Hall was my mum's. She phoned when I was outside a magistrates' court making another film to ask: "Have you ever considered a registry office?"
I was excited about the idea of finding interesting stories in seemingly ordinary and bureaucratic situations. So I took off for a three-day tour of my native Northern Ireland, hoping to find an interesting register office there.
I came across several nice ones, but decided on Belfast City Hall, because of its stunning neo-baroque location and the great camaraderie that existed amongst the nine women (and one man) working there.
Andrea tells the registrar how her fiancé first got her number
Also, having never lived in the capital itself, I was excited to explore the everyday culture of Belfast – natural curiosity is probably the best motivation.
My basic approach to finding contributors was to sit on one of the waiting room chairs in the register office and speak to the public when I thought they were open to having a chat.
Body language was everything. If someone looked very upset, I would not approach them at all. If someone looked sad but open to conversation, I would speak to them as sensitively as I could.
Overall, about 50 per cent of people would invite me to film their registration for a birth, marriage or death certificate. On one occasion a man came in to attempt to buy a grave for himself, but this was not possible.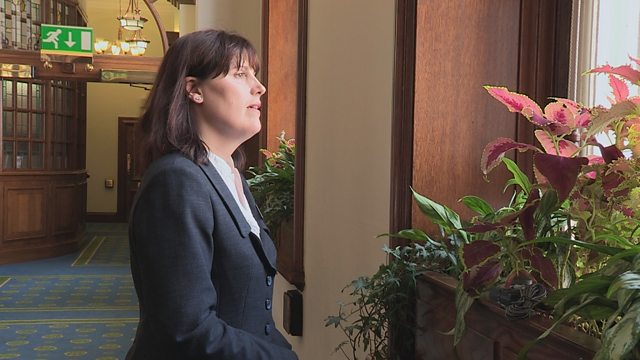 Registrar Aileen remembers her first love while waiting for a groom to arrive for his wedding
I mostly filmed alone with a hand-held camera for a couple of days each week over the course of five months. On my breaks I would get to know the registrars who are remarkable people – ticket inspectors on life's rollercoaster.
Occasionally they would muse philosophically on camera, like a Greek chorus, and I'm forever indebted to them for speaking openly about their life experiences – it is refreshing that people working in an official capacity had the trust of their bosses to speak without a press officer peering over their shoulder.
Sammy registers the death of his father, Sally's husband
One of the most challenging scenes for the viewer is where Sally says goodbye to her husband Robert. An open coffin is an important part of our culture at the time of death, and I thought it was important to include an intimate moment such as this.
I was sure Sally and Sammy were comfortable with me being there and before broadcasting the film I watched the footage on two occasions with Sally, who told me that while it was of course emotional for her, she actually enjoyed seeing it again because in her mind it took her back to Robert again.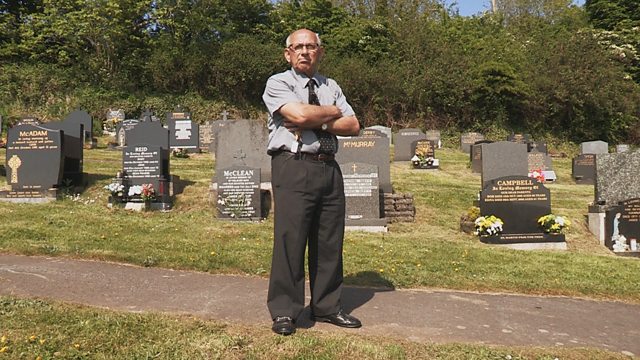 Arthur shares his take on life at Cemetery Sunday
I enjoy staying in touch with people in the film. Arthur, who we leave at the end of the film at Crusaders Football Club, told me a story that summed up why he was glad to have taken part.
As he travelled through the Shankill area of Belfast a car came screeching to a halt, a woman climbed out to say she thought the film was brilliant and that her side of the community hadn't even heard of Cemetery Sunday.
She thought an annual graveyard community get-together like that was a great idea and Arthur should be very proud of how well-kept the graves are up in Hannahstown.
My mum hasn't said all that much about what she thought of the film – she's a woman of few words. Hopefully she is too busy thinking up another idea.
Guy King filmed, produced and directed Love And Death In City Hall.
Love And Death In City Hall is on Tuesday, 21 May at 9pm on BBC Four. It was first broadcast on BBC One and BBC One HD in Northern Ireland on Monday, 18 March.
Comments made by writers on the BBC TV blog are their own opinions and not necessarily those of the BBC.