Life After War: Haunted by Helmand
From time to time I would have to ask if we could stop the interview.
I would suggest they put the kettle on or claim I needed to rest my shoulder from the weight of the camera.
Sometimes they would ask me to stop filming because they knew they were going to cry. It could catch up with me as I drove home afterwards.
As the producer on the film Life After War: Haunted by Helmand, I had entered a world where right at the centre there was a blankness. A numbing pain. One of the mothers referred to it as a desolation.
In what remains the worst attack on a British foot patrol in the history of the Afghan campaign, on 10 July 2009 five members from the same platoon were killed.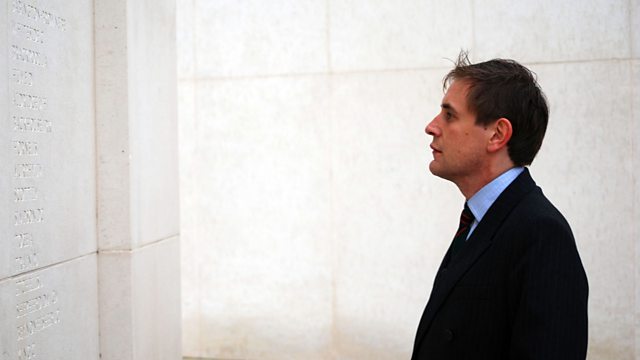 'It's a date that you actually remember more than your birthday': Officer Alex Horsfall
The bond within these platoons is particularly intense. The attack still sends shock waves through the young men who survived and the relatives of those killed.
Some carry wounds in their minds, or in medical parlance they have post-traumatic stress disorder or PTSD.
I wanted to tell their story. Better still, I wanted them to tell their story. To this end, I entered their lives very quietly.
I wanted them to see me as someone they could talk to, as someone who would listen, and I wanted them to be comfortable with the small camera on my shoulder.
For some of the grander shoots we hired an expert craft cameraman, but my aim generally was for the audience to feel like they had dropped in on an honest, intimate conversation.
I wanted them to hear these young men talk openly about how they live with the pain. Luckily for me, we had a brilliant team on the project here at BBC Northern Ireland.
Film making is a team sport, and everyone was superb. The film is the result of all our efforts.
I began last May by getting to know some of those who had survived the attack. We would meet in pubs and cafes and front rooms and just chat. I had a notebook out but no camera.
I think the time I spent embedded with British forces in Helmand in 2009 and 2011 helped me connect with them.
I understand soldiers' lingo and have some appreciation, to a tiny extent really, about what they had experienced out there.
My aim was for them to relax around the camera, to have them talk to me and forget that it was there.
So over a cup of tea perhaps, I showed them how it worked and what the buttons did, and they would start to lose their fear of being filmed.
And then we would start talking about anything and I would raise it to my shoulder and start recording.
On a day out with Sherly and Matthew, Holty confesses he feels more alone now he's home
It would vary as to how long it would take before they forgot it was there. Some were instantly comfortable with it, but for others it took a few days.
Then most of them would then talk and talk and talk. And sometimes they could not.
I would arrive at their house as planned, knock on the door, and when they answered see the blankness in their eyes. If they were up to it I might do a bit of filming.
The silences would say more than their words. Some days I left the camera in the boot and we just had a chat.
The last thing I wanted to do was take them back to the day of the attack and cause them additional pain. I would just ask them about how they were doing now.
Some could take us back there. For others it would have been too much.
There was plenty of laughter along the way. Army banter is like a tonic they conjure up to boost morale. They were very funny when they wanted to be. The camera would wobble as my shoulders shook.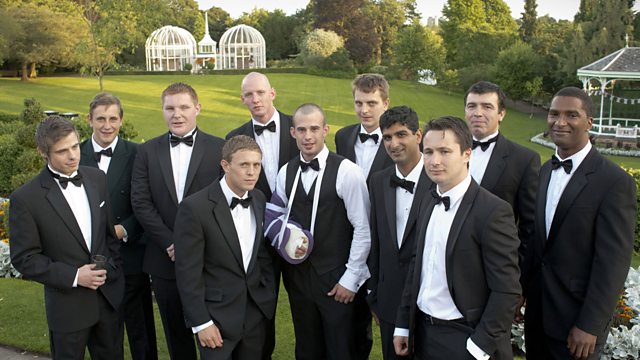 Members of 9 Platoon get together for a black tie reunion
But it was tough as well. The hardest interviews were those with Allan's mother and sister.
Even in the edit weeks later, as we stitched the pictures together, I could not watch them back without getting a lump in my throat.
Allan had been 18 when he was out in Helmand in 2009 with his platoon. He survived the day of the attacks and all the other IEDs and bullets and rockets during that grisly tour.
The way his mother and sister talked about him he was still around. They told me about his humour and his foibles, his generosity and his love of life. I got to know him through their stories.
I started to think he would suddenly walk in, crack open a beer and give us all a big grin. We would laugh at what they remembered.
But they also talked about how he was changed by Helmand. It was all too much for Allan.
On 2 May 2011, nearly 18 months after he got back, at the age of 20, he took his own life. I was looking into his mother's eyes as she told me this. The pain uncurled within her and I put the camera down.
Michael Price filmed and produced Life After Death: Haunted by Helmand.
Life After Death: Haunted by Helmand is on Wednesday, 23 January at 9pm on BBC Three. For further programme times, please see the upcoming broadcasts page.
If you, or someone you know, is affected by the issues raised in this programme, please see the information and support page for details of organisations which can help (available until Monday, 4 March).
Comments made by writers on the BBC TV blog are their own opinions and not necessarily those of the BBC.