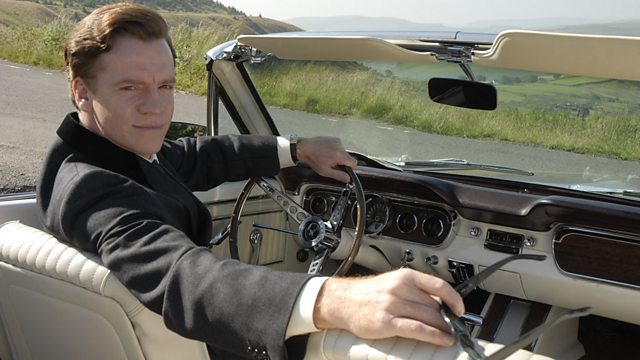 City slick: Prodigal son Basil Thomas (William Houston) returns with a taste of the 60s
Though you'll notice some of the visiting characters, like the Thomas brothers, returning to Trefelin from living in London, clearly have a different style to the others.
With all the characters being such individuals I provide reference pictures sourced from original 1960s photographs to show to the director and producer so we can agree on everyone's specific requirements.
Ayesha Dharker, who plays Kamini, the doctor's wife, supplies her own saris, which she had made on her visits to India.
Many saris today are of mixed fibres but Ayesha's are made of pure silk and silk chiffon, some with beautiful embroidery, some printed.
Ayesha chooses designs appropriate for the 1960s. The costume team make some of the matching blouses from the same sari fabric.
Ayesha and I discuss before the shoot starts which sari would suit each scene, leaving the less colourful ones for sombre moments in the storyline.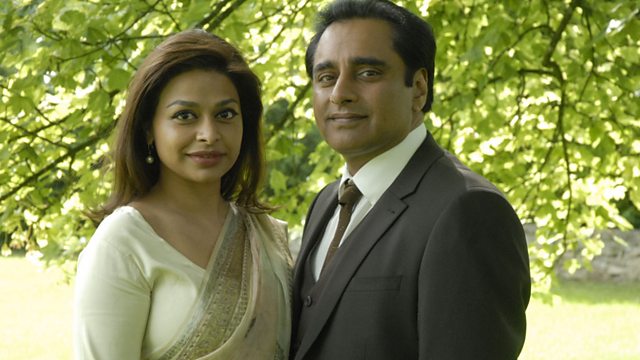 Kamini (Ayesha Dharker) and Dr Prem Sharma (Sanjeev Bhaskar) have more traditional tastes
For sari research I looked at actress Leela Naidu, Maharani Gayatri Devi and Princess Sita Devi of Baroda. 
In series three, currently airing on BBC One, Ayesha's character has been living in South Wales for three years, so it seems fitting that she should have a few Western outfits.
Kamini comes from a wealthy Indian family who has friends in high places.
The influences for her Western outfits are taken from high profile women of the time like Jackie Kennedy and Princess Grace of Monaco.
Sanjeev Bhaskar, who plays Dr Prem Sharma, is dressed in three-piece suits, as befitting a doctor in a 60s practice.
Budgetary constraints prevented us having bespoke suits made for Prem so they're hired in.
I use companies in Cardiff, Bristol and London to select outfits and accessories that build on the ideas I have.
We're working with a relatively modest budget, which means I also buy from vintage and charity shops, choosing items I know can be adapted to have a 60s feel.
The character Megan Evans works hard and when not dressed for running the local pub, her clothing reflects her moods.
In this series she is unwell and is often seen doing housework, so her clothes are in keeping with her domestic duties. 
Sian Davies, who is played by Erica Eirian, just loves dressing up when she is not keeping shop, as is evident when goes out on a date with farmer Ceri Joseff (Dafydd Hywel).
Sian's favourite outfits include her floral, two-piece, which she wears for lunch on Ceri's tractor and her yellow costume, for lunch with Basil Thomas (William Houston).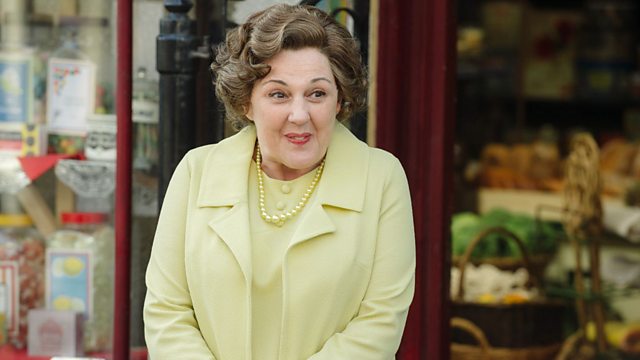 Sian Davies (Erica Eirian) wears her best matching dress and jacket to lunch with Basil
My team and I work together on a costume truck, where we keep all the stock, dress extras, do all the washing, ironing, sewing and paperwork.
It's all pretty compact, which adds to the fun.
And I don't think anyone thinks it's glamorous, especially when we are parked in a farmyard next to the silage store! 
Early mornings are often very hectic, as there's so much to do, dressing all the artists and extras, checking continuity to ensure everyone's dressed exactly as they were in their previous scene, as programmes are not all shot in the sequence you see on screen.
We have to remember to be very practical in the mornings as well, ensuring we have everything packed to go on set, including hot water bottles, brollies and warm coats to keep everyone happy.
There's very little time to snatch a breakfast roll, that's for sure.
There can also be many heart-stopping moments, such as when a pair of trousers splits during a take, or when a coffee gets spilled onto costumes - or just when continuity items go missing!
The hours in costume are long, but the preparation and hard work of all the team is rewarded when we know our artists, director and producer are happy and of course when we get lovely feedback from viewers.
Jilly Thornley is the costume designer for The Indian Doctor.
The Indian Doctor is on daily from Monday, 4 November to Friday, 8 November at 2.15pm on BBC One and BBC One HD. For further programme times please see the episode guide.
Comments made by writers on the BBC TV blog are their own opinions and not necessarily those of the BBC.