I'd finished a BBC film about Robespierre and the French revolutionary terror and was looking for another story about tyranny, but this time seen from the point of view of someone who opposed it.
I'd always wanted to make a film about anti-fascists in Germany and Martin Davidson, the commissioner for history at the BBC, had come across the story of Hans Litten and a little-known criminal trial in 1931 in which he had subpoenaed Hitler.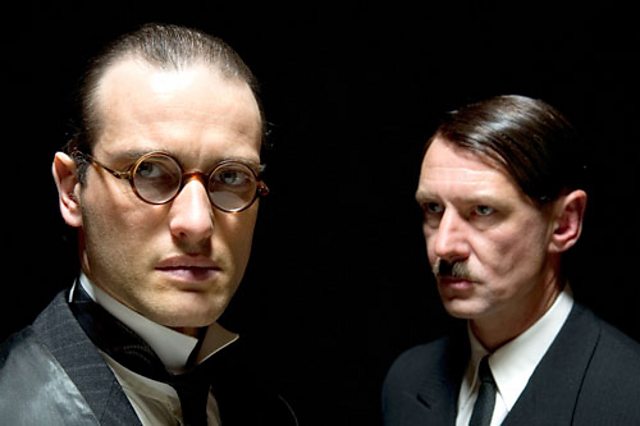 Lawyer Hans Litten (Ed Stoppard) and Adolf Hitler (Ian Hart)
That was news to me. Hitler being challenged in court by a Jewish lawyer bent on exposing him as a man of violence?
The desire to tell Litten's story on screen became irresistible.
Over the past few years I'd made a number of drama-documentaries on historical subjects and each time the drama element had got bigger.
It was Martin who suggested that this time I wrote a complete drama focussing on the trial itself, and then make a documentary exploring some of the wider questions thrown up by the story.
Rule one in drama is get yourself a good director.
I had that in Justin Hardy who, along with his team, has always made beautiful historical films.
Rule two is get a good cast - and the cast is great.
The scenes between Ian Hart, who plays Hitler, and Ed Stoppard, who plays Hans, were electrifying to watch as they were being performed.
The drama, The Man Who Crossed Hitler, was broadcast on Sunday evening and the documentary, Hans Litten vs Adolf Hitler: To Stop A Tyrant, is on this weekend, Saturday, 27 August.
Making the documentary as well as the drama gave us an opportunity to tell the story in greater personal, historical and political detail with contributions from real survivors of Weimar Germany and members of Litten's family.
It also allowed us to tell more of Litten's story after the trial - his arrest and torture by the Nazis, and his courage in the concentration camps as Hitler's first political prisoner.
Litten's is such a remarkable true story it felt only right to tell it not only as dramatically as we could, but also as thoroughly as we could.
This was a fascinating project to be part of and the independent research I did for the documentary - which also helped inform the script for the drama - was enlightening.
We went back to the archives in Berlin to trace any remaining official records of the trial.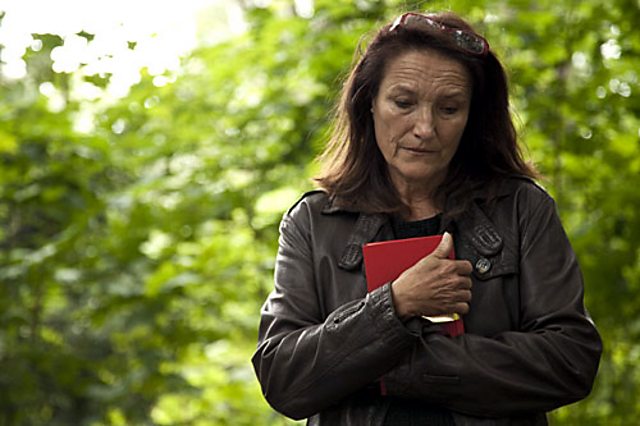 Patricia Litten, Hans Litten's niece.
We traced surviving members of Litten's family to find out about his personality and his background. I read his letters and the memoirs of people who'd once loved him.
There was also an excellent scholarly work about Litten by an American lawyer called Ben Carter Hett.
By the end of my research I also had a decent handle on what this corner of left-liberal Berlin was like in the late 1920s - a modern, energetic, fast-talking town.
I had a producer, in Uli Hesse, who didn't know the meaning of the word impossible.
It's pretty tough to find people who fought fascists in the streets of 1930-33 Berlin or who knew Hans Litten - but she found them.
Two people in the documentary film are over 100, though you'd never guess from seeing them speak.
We also got superb access to those places which were relevant to the Hans Litten story - the courtroom in which he cross-examined Hitler and the various concentration camps he was imprisoned and tortured in, including Dachau.
Why is Litten's name not known today?
Curiously his name was well-known in Britain in the 1930s because he was seen as 'Hitler's personal prisoner' and there were campaigns launched over here to release him.
But I guess his name was eventually overwhelmed by sheer numbers.
When he died in Dachau concentration camp in 1938 he was one of thousands of Nazi victims from that decade.
Soon there would be millions.

Mark Hayhurst is the producer of Hans Litten V Adolf Hitler: To Stop A Tyrant and the writer of The Man Who Crossed Hitler.
Hans Litten V Adolf Hitler: To Stop A Tyrant is on BBC Two on Saturday, 27 August at 8pm.
The Man Who Crossed Hitler is available in iPlayer until Sunday, 28 August.
For more information on Hans Litten, please visit the BBC News Magazine.
Comments made by writers on the BBC TV blog are their own opinions and not necessarily those of the BBC.