Sebastian Coe makes Olympic history at the 1984 Games
Thirty years ago Brits were the undisputed kings of middle distance running, so I was really excited when I was asked to produce a documentary about the history of this great race for the new BBC Two series Faster, Higher, Stronger.
Kenyan athletics legend Kipchoge Keino is so right when he says in the film that the 1500m is about more than just a test of supreme fitness.
Over three and three quarter laps of the track, this race requires the most demanding combination of talents - the stamina of a marathon runner, the explosive pace of a sprinter, the mentality to win and the tactical acumen to outwit your opponents.
That's why the 'metric mile' has been described as the Blue Riband event since the modern Games began in 1896.
Although the 1500m provided British athletics with a golden era, what surprised me while making this film was that for over 80 years it had attracted the most innovative and exceptional runners from unexpected corners of the world.
Inspired by the natural landscapes in which they trained, a small number of elite champions from different historical eras had transformed this extraordinary race.
I wanted this story to be told by the people who made it so my first challenge was to track down these athletes.
And what I quickly found was that I was making a film not about racing around a track but about the varied and rugged terrains these great Olympians pounded to plot their victories.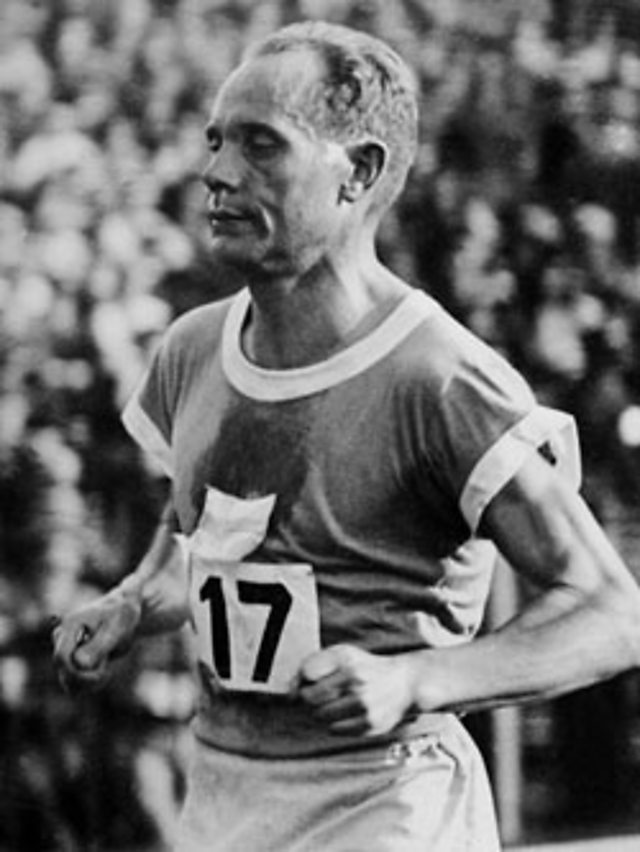 Olympic 1500m winner Paavo Nurmi
In the lake district of Finland I found 1972 Olympic champion Pekka Vasala, who told me about the first great 1500m runner, a Finnish athlete named Paavo Nurmi.
He devised the first systematic training regime in the 1920s. It was Nurmi who paved the way for today's champions by 'interval training' in the hills and forests that surrounded him.
In order to bring Nurmi's story to life I set about planning a reconstruction of his training methods.
Pekka introduced me to a young Finnish athlete Riku Marttinen (who plans to compete in the 2016 Olympics) and I sourced some period clothes in Helsinki.
I then showed Marttinen Nurmi's distinctive running style from old film reels and obtained an authentic 1920s stopwatch for him to carry, just as Nurmi had done in order to improve his running times.
I also brought my own running kit and attached a camera to my head to film Nurmi's perspective as he ran through the woods.
The shocking part of filming for me was in Kenya when I ran with the headcam at high altitude. Although I thought I was relatively fit it felt like my heart would explode.
The cameraman (who was filming from a jeep) found it very funny when a group of local schoolchildren first ran after me and then easily overtook me!
You'll see in the film Kipchoge Keino (who won Gold at the 1968 Olympics) discuss how training at high altitude improves endurance.
His hometown of Eldoret in the Rift Valley is situated over 7,000ft above sea level and has produced more Olympic champions than any other place in the world.
After filming sportspeople in Finland, Kenya, Morocco, Australia and the USA I came back to the UK.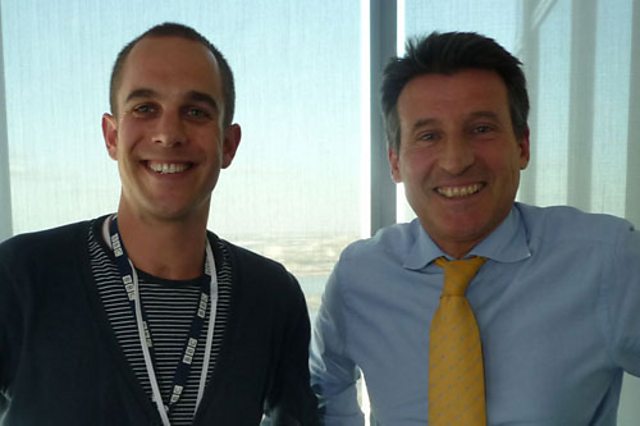 Producer/director Francis Welch with Sebastian Coe
Here I got to speak to Sebastian Coe, chairman of the London 2012 Organising Committee (Locog) and two-time Olympic champion.
We talked about the far-flung places I had visited and he explained how the environment around his hometown of Sheffield had inspired him.
It was in the Peak District that he followed an arduous regime of speed endurance under the guidance of his father and coach Peter Coe.
As we talked I was struck by his in-depth knowledge about the tradition of this race.
He explained how each of the great champions I had filmed with had, in their own unique way, raised the level of performance through history and why he feels that come the London Olympics this summer the 1500m will again be the event to watch.

Francis Welch is the producer and director of Faster, Higher, Stronger.
Faster, Higher, Stronger starts on Monday, 9 July at 7pm on BBC Two and BBC HD. For further programme times, please see the episode guide.
Roger Mosey, the BBC's director of London 2012, has written about Olympics programmes on his blog: BBC's sport programmes move to the fore.
Comments made by writers on the BBC TV blog are their own opinions and not necessarily those of the BBC.