Mock The Week: Coping with nerves and embarrassing moments
I think it's fair to say that the first time I appeared on Mock The Week, I really did get the classic pre-show nerves.
It's a different sort of anxiety to that you get when performing live stand-up. There is obviously a feeling of more pressure. This will be my fourth time on the show and I get a bit more relaxed each time I do it.
Zoe Lyons in Mock The Week
For a couple of days before the show is recorded I really do swot over the newspapers, but I am by no means someone who could be called a political whizz kid.
I know enough about world affairs to make an idiot of myself in most adult conversation, but actually that doesn't matter. When writing jokes for the show it's about finding your own take on the topics.
I love working with Milton Jones and Stewart Francis. Their off-the-wall, sometimes surreal one-liners bring a beautiful silliness to the proceedings.

Preparation is very important with a show like Mock The Week, so I have a pasta dinner to make sure I have enough carbohydrates to keep me going through the more strenuous rounds.

Backstage, before the show starts recording, I can be found doing a lot of pacing about with bits of paper clasped in my fist with jokes I hope I will get in at some point.
I have yet to be on the show with another lady. That's not unusual in the world of comedy and it has never bothered me working in predominately male environments.
I am not naturally a competitive person, so I have to prime myself for some of the rounds on the show that require a bit of cut-throat action.
I have a love-hate relationship with the Things You Wouldn't Want To Hear round.
I love it because some of the lines that come out genuinely make me howl with laughter, but you've got to be quick off the mark to get to that mic.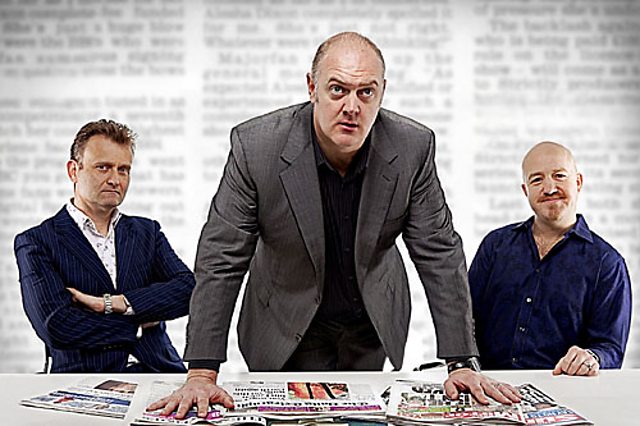 Hugh Dennis, Mock The Week host Dara O'Briain, and Andy Parsons
I favour wearing a flatter shoe when doing the show just so I can try to sprint off the block and get my lines out.
Russell Howard is like Usain Bolt when it comes to getting to the mic - that boy is quick, I tell you.
My only rather embarrassing moment on the show happened the last time I was on.
We had a loo break and the ladies were miles away from the studio. I got a bit lost, which is easy done in BBC Television Centre.
They have colour coded stripes on the floor to help you find your way, but I still managed to wander off in the wrong direction. It meant that my little trip to the powder room took considerably longer than the boys.
When I eventually made it back to the studio I felt I owed the waiting audience an explanation.
I rather foolishly started to explain that I was a long time for no other reason than I had got lost... it wasn't that I had had a... well, you know... it was just a... honestly!
Four hundred audience members blinked back at me as I tied myself up in awkward knots. I thought, "Ronan Keating was right, Zoe. You say it best when you say nothing at all."
Zoe Lyons is a participant in episode four of Mock The Week.
Mock The Week continues on Thursdays at 10pm on BBC Two. For further programme times, please visit the upcoming episodes page.
Comments made by writers on the BBC TV blog are their own opinions and not necessarily those of the BBC.