Quick Cuts: Confessions from a hairdressers
Quick Cuts is a cross between a sitcom and a sketch show.
The sitcom element follows the lives of five people who work in a hairdressers. The sketch show element is the short sketches between customer and hairdresser.
I wrote the show for Doon Mackichan who I worked with on Smack the Pony and Wild Things.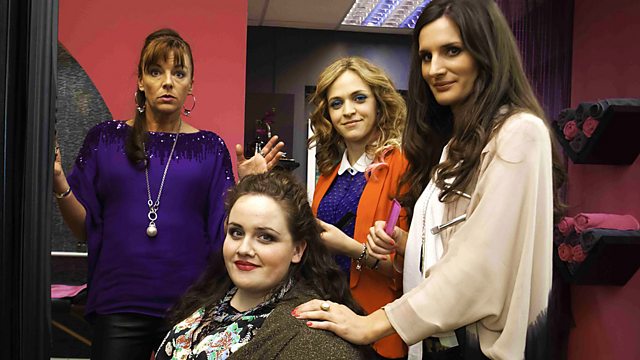 Sue (Doon Mackichan), Becky (Lucinda Dryzek), Marianne (Jane Dowden) and Annie (Jess Gunning)
She is not only a comedy genius but a great actress and I knew I needed someone who could make the drama and emotion of the piece work as well as the comedy.
I spent last year working on Miranda, The Thick Of It and Veep and thought I would like to combine some of those elements into one show.
So Quick Cuts has both falling over AND swearing. And I hope it also has some of the exuberance and charm of Miranda along with some of the grittiness and verbal dexterity of the Thick Of It and Veep.
As well as Doon, we have Jess Gunning playing Annie, the type of person who gets her arm stuck in a tube of crisps and is terminally unlucky in love.
Lucinda Dryzek plays Becky, a compulsive shopper and stalker. OT Fagbenle plays Gavin, a party animal with a secret, and Jane Dowden plays a male to female transgender character called Marianne.
'I'm pretty sure it's agoraphobia,' although a customer disagrees with Marianne
I have a wonderful friend called Donna Whitbread who is beautiful and funny and wise and who, apparently, was born male.
I would never have known this if it weren't for the fact that she is very honest and open (and amusing) about this. This made me want to see a positive representation of a transgender character on TV.
So Marianne (like Donna) is not the stereotype of a burly lorry driver in a bad wig – she is attractive and witty and many of the lines for Marianne have come direct from Donna.
Along with the five staff members, we have Trevor, Sue's boyfriend (played by Paul Reynolds).
I clearly have issues because in the space of three episodes, Paul's character is beaten up by a Peruvian pipe band, burned, thrown onto the street in his pants, stabbed and has his head shaved (in anger) by Sue.
Trevor (Paul Reynolds) has good news but it won't impress Sue (Doon Mackichan)
I'd like to claim that this was an Alfred Hitchcock / Tippi Hedren situation where he spurned my sexual advances and so I took revenge on him by punishing him in the name of art. Which would be fine.
But it's obviously something much darker than that.
Our art director and designers did such a good job on the show that people used to come in off the street asking for haircuts.
I was willing to have a go, as I used to cut my dog's hair as a child, but my producer wouldn't let me.
I was on set every day for the filming. Mainly because there are a LOT of snacks on a film set.
Every day is different and exciting and surprising. I'm still talking about the snacks. I pay very little attention to the filming because with Natalie Bailey directing and Catherine Bailey producing, I don't need to worry my pretty little head about such matters.
Sometimes I would think of a new idea or an extra joke that we filmed on the spur of the moment, but all too often, my mouth was just too full of jelly babies to be able to convey it to anyone.
However, I did break my personal record of how many jelly babies I can fit in my mouth at once, so that was a really exciting moment for me.
I hope that Quick Cuts captures the confessional nature of going to the hairdressers. People tell their hairdressers everything.
There's something about the familiarity, the lack of judgment, the (misplaced) feeling of confidentiality that makes people open up.
For example, one customer telling Becky about her one night stand says, "It was the worst sex I've ever had. He was like a seal trying to stay on a rock."
All together we had a cast of 87 – there are some great names and great cameo performances that pop up throughout the series. I hope you enjoy watching it as much as we enjoyed making it.
Georgia Pritchett is the writer of Quick Cuts.
Quick Cuts starts on Wednesday, 19 June at 10pm on BBC Four. For further programme times please see the episode guide.
Comments made by writers on the BBC TV blog are their own opinions and not necessarily those of the BBC.