The First Georgians: I found myself pitying these kings
If you work as a curator, as I do, at Hampton Court, you sometimes wonder if there might be more to life than Henry VIII.
Of course, he's our biggest character at Hampton Court, and always will be.
But after our re-display of the Tudor palace in 2009, which was the 500-year anniversary of Henry VIII's coming to the throne, I began to think it was time we turned our attention to the other, Georgian, half of the building. 
It is just as extensive and impressive as the Tudor part but much less familiar.
My colleagues and I at Historic Royal Palaces, the charity which looks after Hampton Court, decided we'd get the palace's Georgian rooms ready for display by 2014, an important year: the tercentenary of George I's coming to the throne in 1714.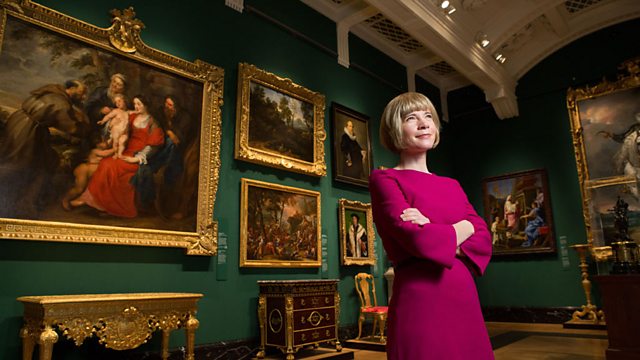 Lucy Worsley admires the Georgian works at The Queen's Gallery, Buckingham Palace
And, as it turns out, there's an enormous smorgasbord of Georgian activity celebrating the anniversary this summer.
As well as our re-displayed Georgian apartments at Hampton Court and Kensington Palace, there's a wonderful exhibition of Georgian art at the Queen's Gallery, Buckingham Palace.
The BBC Four TV series that I've presented, The First Georgians, includes architecture and objects from all three palaces.
The series looks at the important developments of the Georgian age: politics, slavery, satire, stock market bubbles, innoculation against smallpox and the invention of the novel. 
But I was very keen that the personal stories of George I and George II, and particularly that of his wife, Caroline, were also included.
Queen Caroline: 'She's not exactly a fairy-tale princess'
I'm extremely fond of Caroline, a bookworm, because I think she's the cleverest and funniest queen consort - as well as the fattest - that Britain's ever had.
These characters have been rather neglected by historians, but I spent five years researching them all in detail for a book about the Georgian court. 
As I came to know them well, I found myself pitying, rather than envying these people. 
They were thrust into a job – being Britain's Royal Family – they hadn't asked for, which didn't suit their personalities, and which practically destroyed their personal lives.
Court gossip: Lucy on the scandalous sexual slander against George I and his household
Because of the demands of court politics and the public position in which they lived, George I, George II and their children ended up doing bizarre and horrible things to each other, such as kidnapping a baby. 
After one ridiculous court quarrel, George I took guardianship of his grandchildren in order to use them as hostages for future good behaviour from his son and daughter-in-law. 
One of the grandchildren, a baby boy, was then given the wrong medical treatment, and died. 
In this case farce turned into tragedy, and the baby's mother (then Princess) Caroline was left feeling as if her child had been taken from her and killed.
As well as this, the Hanoverians did things like locking up a wife for adultery, forcing a teenager to give birth to her first child in a carriage at night, humiliating each other in public.
You wouldn't believe it if you saw it in a soap opera.  But there was also some kindness and kissing and even the odd deathbed reconciliation.
I wouldn't be surprised if you'd always thought of our Georgian kings - George I, George II and George III - as German, grumpy and slightly indistinguishable from each other.  But I hope you'll see a bit more of their individuality and their humanity.

Lucy Worsley is chief curator of Historic Royal Palaces and presenter of The First Georgians: The German Kings Who Made Britain.
The First Georgians continues on Thursday 8 May at 9pm on BBC Four and BBC Four HD. For further programme times please see the episode guide.
More on The First Georgians
BBC Four: The 18th Century Season 
Radio 3: The 18th Century Season
The First Georgians: Watch clips from the series
The First Georgians: A Family Tree
The First Georgians: Lucy Worsley on her favourite Georgians
The Royal Collection: Visit the First Georgians Exhibition
Comments made by writers on the BBC TV blog are their own opinions and not necessarily those of the BBC.