There is no denying that hospital food can have a pretty poor reputation and often it is well deserved.
So to be able to work on a BBC One series that aims to improve hospital food, and hopefully change the public's perception of what is served in our hospitals, has been fantastic.
As the series producer, easily the biggest challenge for me was simply finding and convincing a hospital to open its doors to our cameras and presenter, TV chef James Martin.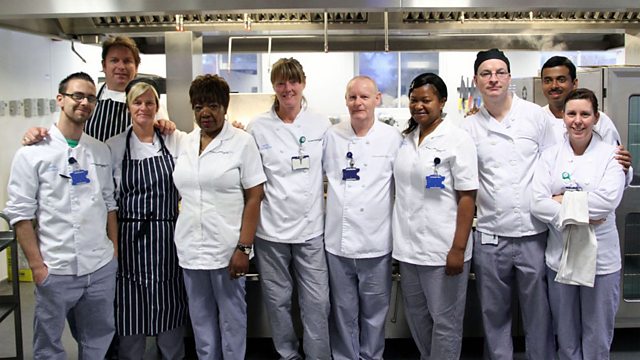 James and the catering team at Birmingham's Royal Orthopaedic Hospital
Myself and the producer/director Johnny Perks travelled all over the country speaking to countless hospital managers but generally they were pretty guarded.
I think this is a natural reaction; why wouldn't they be wary of a film crew descending on their hospital and exposing their flaws?
I found honesty was the best policy. Yes, we were looking for problems or weaknesses in their food, but the aim of Operation Hospital Food with James Martin is to improve the meals served and leave the catering in a better state than it was in when we arrived.
When we first visited Birmingham's Royal Orthopaedic Hospital they were very open about the issues they had with the catering department, in particular the overspend, the levels of food returned uneaten from the wards every day, and the low morale of the kitchen team.
Once food has gone up to the wards it can't be served to anybody else, even when it's untouched
Head chef Tracey and head of facilities Emma were very keen to take part in the project because they had been warned that unless things changed, the catering department faced the prospect of losing their jobs and an external company being brought in to provide the patients' meals.
The kitchen team did have concerns with allowing us in, as they didn't know how James was going to react to them or what changes he would implement, but after a few tense moments they came to realise that he was on their side and his changes were for the better.
Filming in small and noisy working hospital kitchens presented plenty of technical challenges for the crew, but it was the British weather that nearly scuppered one of the big moments of the series.
James asks some of the country's top chefs for a hand
James had invited a group of top class chefs to his home to ask them to join him in his mission.
To set the scene, we put together an outdoor summer garden but after spending most of the day setting up, the proverbial heavens opened! Good old British summer time!
The day was a wash out, but fortunately the chefs took it in good humour. You can enjoy watching them in episode two cooking huddled under golf umbrellas - and they still ate the soggy pizzas they'd all been preparing in the rain.
Throughout the series we faced many challenges but we built up a fantastic relationship with all the staff at the Royal Orthopaedic Hospital, which made it much easier - especially the early morning starts!
James became very close to everyone we worked with at the hospital. As you'll see, there were a few difficult situations as emotions ran high, but they always ended positively.
James even treated the team to a day out go-karting to help boost morale, which you don't see in the series.
Everyone got stuck in with the racing especially James and Gaz who were determined to beat each other; I'm still not sure who actually won as they both claim they had the fastest lap!
The highlight has to be being able to play an admittedly small part in transforming hospital food around the country.
At some point we are all going to have a loved one spend time in hospital.  So if the work we have done on Operation Hospital Food makes their stay even a little easier, then the hard work was definitely worth it.
Lucy McLennan the series producer of Operation Hospital Food with James Martin.
Series two of Operation Hospital Food with James Martin begins on Monday, 25 Feburary at 9.15am on BBC One and BBC One HD. For further programme times, please see the episode guide.
Hospital food: The chef that hopes to improve standards: Read the BBC Food feature
BBC Food: Recipes from Operation Hospital Food with James Martin: Try one of the exclusive recipes from the series
Comments made by writers on the BBC TV blog are their own opinions and not necessarily those of the BBC.