Legacy: The score would have to deliver
When I found out I'd got the job to write the music for Legacy I was very excited – but also quite sick with fear.
I'd worked with the director Pete Travis before on Endgame so I was aware of both his razor sharp instincts and his high expectations. The score would have to deliver.
With 60 minutes of music to write in four weeks, it was definitely going to set my hair on fire.
This isn't that unusual for a TV schedule but the amount of music and its prominence in the show made it seem an intimidating task.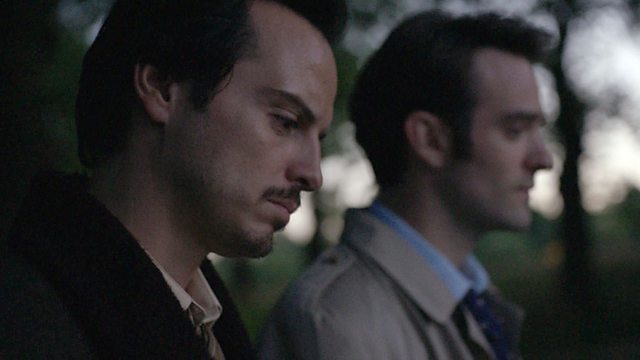 Old friends reunited: Viktor Koslov (Andrew Scott) and Charles Thoroughgood (Charlie Cox)
Legacy is a 70s spy film so it instantly appealed to me because it's such a cool genre and there are many great soundtrack references from the time to draw on.
What makes it unique though is the story of betrayal, which begins when Charles discovers a devastating secret about his father. This became the source of inspiration for the music.
Pete and Stuart Gazzard (the editor) had created sequences of just pictures and music, to capture the pivotal emotional moments for Charles.
They had found some inspiring but daunting steers for the tone of the music.
To avoid panic I had to park the film for a while and just think about the story – about how obsessive and tormented Charles becomes.
A driving repetitive Russian piano tune came to me and almost drove me mad.
I thought this might work against the sequence of Charles searching through his dad's room.
I added a string section playing emotional chords and jagged rhythms on top to give the piece a yearning but also aggressive feeling.
Charles searches through his father's study in the family home looking for answers
The Gibson electric guitar became the signature sound for Charles, and the guitarist was able to give it a soulful and masculine quality.
The score gets quite epic at times to reflect Charles' inner feelings. The music also had to sustain the tension and capture the feel of the period.
Pete was after an East meets West modern day Ipcress File sound.
The harp gives a quintessentially English feel while the cimbalom reminds us of Eastern Europe and spy thrillers of the day.
 
The process of writing was fast and furious. Pete pretty much camped in my studio while I sweated over the notes.
He doesn't mince his words which is exactly what you need when the pressure is on.
If an idea didn't hit the mark I'd have a day to turn it around before presenting again.
It was intense but very collaborative and mostly fun – a fair share of laughter went on (more than the tears!)
Some ideas were instant hits while others were instantly binned.
Luckily he loved my main theme with the obsessive piano, but when I tried using a version of the same theme in the opening training day sequence it didn't work as well.
"It sounds like goblins dancing in an Edward Scissorhands movie," came the voice from behind my chair.
Early experiments using a vintage Russian synth were also scrapped: "it sounds like a pigeon trapped in a bin," proclaimed its death knell.
The "woodpecker in a coffin" (from the opening scene) survived though.
Opening titles: Charles meets a woman with a message (Romola Garai)
My tea making skills didn't help matters but once I'd got a stash of Yorkshire on the brew Pete was happier and things began to look up.
The score started coming together as we looked at where and how the different themes could go and argued over instrumentation.
'I'm bored of harp, stick it on the piano... no guitar... where have the strings gone... arghggh not that tune again!'
Then off to Air Studios to record the notes, mix the finished tracks and pass out... hair slightly singed.
Ruth Barrett is the composer for Legacy.
Legacy is on Thursday, 28 November at 9pm on BBC Two and BBC Two HD.
More on Legacy
BBC Media Centre: Interviews with the cast
BBC News: Romola Garai on Legacy and lads' mags
Comments made by writers on the BBC TV blog are their own opinions and not necessarily those of the BBC.