The birth of the blues, for me, was when I heard an LP called The Best of Muddy Waters when I was 17. I'd never heard music so strange and beautiful.
So the chance to produce and direct Blues America, a two part history of the blues for BBC Four, felt like a gift.
It meant travelling to New York, Chicago and the Mississippi Delta to interview a host of musicians, including James Cotton, who was part of that great Muddy Waters band, and Keith Richards, who drawled "This one I had to do."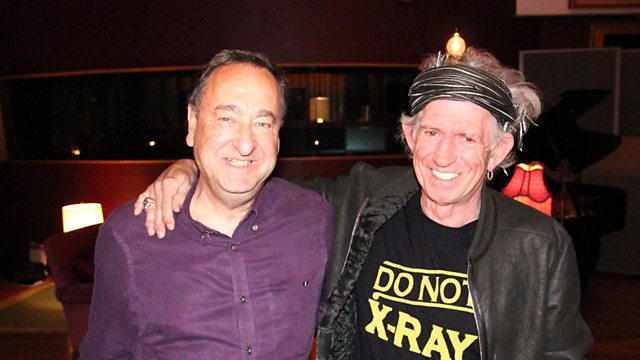 'We just thought more people should hear the blues' - Keith Richards (right) with Mick Gold
Questioning heroes from your adolescence can be daunting. For some obscure reason, I was convinced that Keith would be good. 
He was. Charming, smart and funny, he enthusiastically brought to life the music and musicians he loved the most. 
Episode one, Woke Up This Morning, looks at that elusive moment when the blues first took shape at the start of the 20th century.
But there were a few headaches. There was no archive footage of many of the major figures, a staple of this sort of documentary.
Some early giants of the blues, such as Charley Patton, are known only by a single photograph. The chance to talk to people who knew these musicians passed away years ago.
How to bring their stories and their music to life? One answer had to be – find musicians today who can embody early blues music, talk about it and play it for us. 
We were fortunate to find The Ebony Hillbillies, who are recreating the music you would have heard if you could time travel to a country dance in Mississippi around 1903.
We also filmed Blind Boy Paxton, a young man of 23 who grew up in central Los Angeles.
But when you meet him, it's like talking to a country boy who's walked out of some small town in Louisiana around 1936, clutching his guitar.
He talks with a soft Southern drawl, and can play beautiful renditions of Blind Lemon Jefferson, Charley Patton and Robert Johnson.
Me And The Devil Blues: Blind Boy Paxton performs a song closely associated with Robert Johnson
When I interviewed Paxton, he could talk about these early blues men as if he had left them a few minutes earlier. Blind Lemon Jefferson?
"He was a doozy! I don't know about ragged, he wore some of the wildest suits you ever seen." Finally I asked him about Jimi Hendrix.
"Who?" asked Paxton. I began to explain: Hendrix was an American guitarist who came to London and made some records.
"Never heard of him," said Blind Boy Paxton flatly.
There was a sly smile hovering around the corner of his mouth, but his ability to stay in character as a pre-war country blues musician was impressive.
One misconception we wanted to clear up is to show the history of the blues is much more than the story of lonesome men playing guitars.
The blues hit America as a pop music craze, and when the blues took off in the 1920s, the early stars were women: Ma Rainey, Ida Cox, and, greatest of them all, Bessie Smith.
A few precious minutes of film of Bessie survive. To augment this, assistant producer Tom Woolfenden contacted Miche Braden, who had created a stage show based round Bessie's life. 
Miche could belt out Give Me A Pigfoot (And A Bottle Of Beer) while explaining the tribulations of segregated America which Bessie surmounted in her music.
Miche Braden sings and talks about the Harlem high life made memorable by Bessie's song
Archive producer Jeannie Clark did clever deals to source hitherto unseen footage of Southern life, cotton plantations and Chicago clubs, talking to film collectors late into the night across transatlantic time zones.
Of course in episode two, Bright Lights, Big City, which runs from Chess Records in post-war Chicago to the present day, more archive footage was available and more interviewees gave us their stories to explain how key people shaped the history of blues music.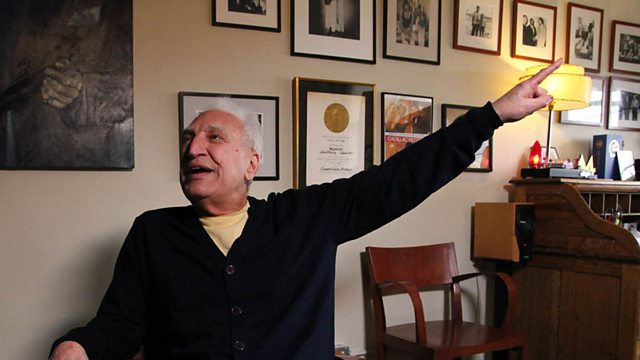 'Muddy Waters was their first real star' Marshall Chess on the beginnings of Chess Records in 1950
Marshall Chess remembered his dad, Leonard Chess, founder of iconic blues label Chess Records, telling him why he bought a club in a black neighbourhood of Chicago.
"We didn't have any money and it was the cheapest rent. So he bought a club, it was successful... And this is where he really got his first taste of recorded music. People came in to record one of his jazz artists, and he realised that another way black people were spending money was on records."
In the States, we had four weeks to film every interview and location sequence for two 60 minute films.
Each time we filmed a blues interview, we asked our artists to give us a song.
When we filmed a funky juke joint for episode one, the Blue Front Café in the tiny town of Bentonia in Yazoo County, Mississippi, co-producer and cameraman Sam Bridger went ducking and diving with his camera floating through the dancers as a local band belted out Dust My Broom.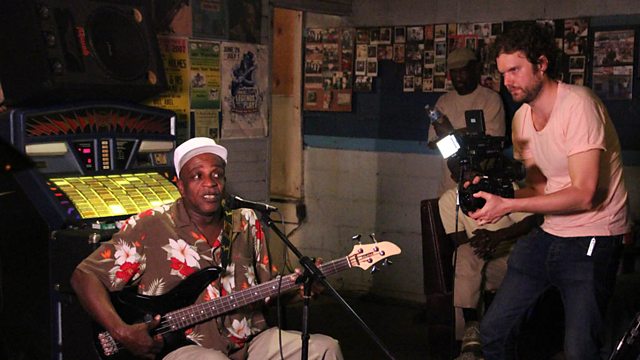 Sam Bridger films Roosevelt Roberts on bass guitar
It was history come to life. In the 1960s, every blues band in the Thames Delta – from The Yardbirds to Fleetwood Mac – cranked out this number made famous by Elmore James.
But it was first recorded by local Mississippi musician Robert Johnson in 1936.
The owner of the Blue Front café, Jimmy "Duck" Holmes, gave us first hand testimony of running a juke joint in the Deep South.
And when asked to explain the outlook of the blues, he gave an eloquent shrug and delivered my favourite definition of this marvellous music.
"Life," he said. "Blues is life."
Mick Gold directed and produced Blues America.
Blues America is on Friday, 29 November at 9pm on BBC Four. For further programme times please see the episode guide.
BBC Four: Collections: Blues: A selection of programmes from the BBC archives featuring influential blues musicians, including B.B. King, Muddy Waters, Sonny Boy Williamson and more.
BBC News: On the trail of the blues: A BBC Four documentary about Big Bill Broonzy
Comments made by writers on the BBC TV blog are their own opinions and not necessarily those of the BBC.