Director Marc Isaacs and contributor/co-writer Iqbal Ahmed gave this interview to the BBC TV blog about the upcoming Storyville documentary The Road, A Story Of Life And Death. The film follows people from around the world who have come to live and work around the A5, which runs from Holyhead, Anglesey to Edgware Road in London.
What were your first impressions when you met?
Marc: I had read Iqbal's book, Sorrows Of The Moon, and met him to discuss it. I found him to be extremely charming and sensitive. I also realised that he had his own story going on and was keen to have him in the film.
Iqbal: 'You lose both the place you are leaving and the place you are coming to'
Iqbal: When I met Marc for the first time, I knew he was someone I could work with. I had already seen his documentary, All White In Barking, and liked his work.
What expectations did you have, if any, when you started filming together?
Iqbal: It gave me a chance to look at myself from the outside and reminded me of Robert Burns' verse – "To see ourselves as others see us".
Marc: I hoped and prayed that his wife would come over in time for me to film and she did of course but that was uncertain for a long time during the filming. One day he just went off to India and within a week he had returned with her. Perfect!!
What was it like actually filming together?
Marc: Iqbal was quite a shy person and filming him in public locations such as his hotel reception was quite difficult. I wanted to get closer to him to really understand how he felt about not having his wife here in London with him.
I discovered they spoke regularly on Skype so decided to film a typical Skype conversation between the two of them. To capture the emotion and atmosphere, the lighting has to be correct, the mood has to be just right so it does take a good deal of planning.
I approached the scene in the film where Iqbal is making the double bed in the hotel room in a similar way, in the sense that, whilst he does often do this task, I set this up for the purpose of the film in order that I could create a quiet and intimate space for him to talk about the emotional pain he was going through because of his wife's absence.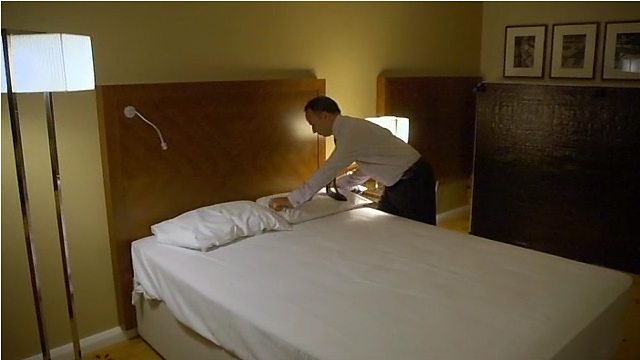 'I laugh and joke... but I don't tell them about the pain I go through every day'
The hotel room and the double bed was suggestive and a good way to visually deal with his situation in the film. For me, this is what documentary film is all about. I am looking for the poetry in people's lives and not just dealing with facts.
Iqbal: Marc would usually ring me a few days in advance and ask if I was free for the filming at the weekend. He knew I worked on the weekends and would usually choose a Sunday evening when the hotel wasn't very busy so that his filming wouldn't interfere much with my tasks at work.
I found it totally different from the filming of a drama or a feature film at our hotel when the entire lobby area is taken over by a film crew. I was surprised in the beginning to see Marc arriving at the hotel with just one assistant.
What is it like to take part such a personal documentary?
Iqbal: In the beginning you are conscious of being filmed but after some time you become oblivious of the camera and say what you want to say.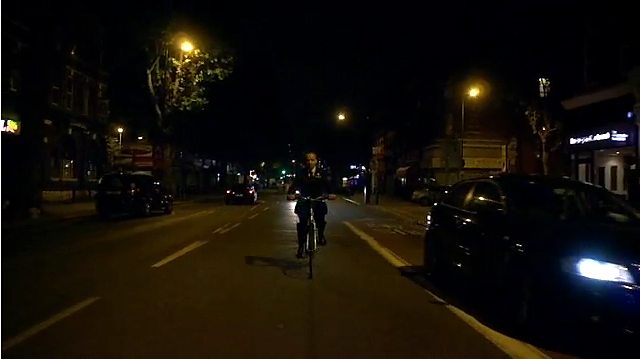 'As an outsider you can just disappear'
Marc: It's a deep privilege to be able to share these moments with people and I am always grateful that the people I film with feel willing to let me in to their lives in this way.
It is a very intimate experience if somebody shares with you things they usually keep to themselves. As a filmmaker, you develop very special relationships with your contributors and you have to respect that at all times.
Did the contributors know about each other?
Marc: I was filming everyone at the same time but they never met each other although they knew of each other's existence. They have now met at screenings together. I didn't feel it correct to bring them together in the film itself.
In one of my previous films, I did bring two characters together, but that was motivated by the subject matter of prejudice and people's fears. I am not at all against this method but it has to be for the correct reasons.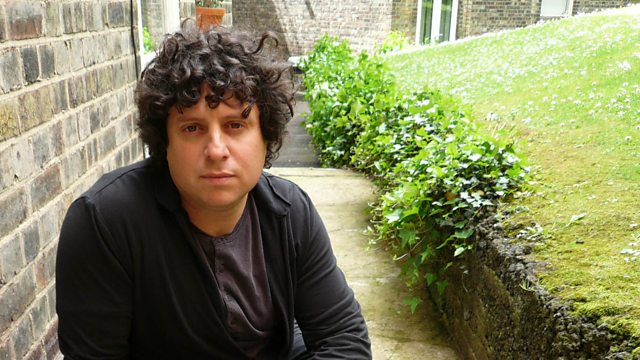 Marc Isaacs has made 14 documentaries since 2001
It takes me two years to make a film sometimes and this is a process of discovery - an exciting process which I want the audience to feel in the finished film.
Iqbal: I was aware of other contributors' stories but I hadn't met them. I actually met them when the documentary was screened at the BFI Southbank. It felt like our lives were different strands of the same story and other contributors seemed familiar when I met them again.
Can you tell us a bit more about Iqbal's writing credit on the film?
Iqbal: Marc had read my book and wanted me to write the narration for his documentary. But I was a bit preoccupied during that time as I was trying to get a visa for my wife, and in the end, I agreed that Mark could film me at work and home. I'm not sure I merited the writing credit I got for the documentary but I'm very happy to have been given it.
Marc: I met him with the thought of him helping me with my narration because he is a writer but once it became obvious that he'd make a brilliant contributor, that became his main role in the film rather than the writing element, which he was happy with.
Marc Isaacs is the director and Iqbal Ahmed a contributor and co-writer of The Road, A Story Of Life And Death.
The Road, A Story Of Life And Death is part of Storyville on BBC Four at 7pm on Sunday, 31 March.
More on The Road, A Story Of Life And Death
DocGeeks: In conversation with documentarian Marc Isaacs
The Guardian: The Road: A Story Of Life And Death - review
Totally Dublin: That Transient Space - Interview with Marc Isaacs
Comments made by writers on the BBC TV blog are their own opinions and not necessarily those of the BBC.