All Roads Lead Home: Teaching my celebrity students the art of natural navigation
A little over three years ago I set up a school to teach the rare art of natural navigation.
Since then I have run courses, indoors and out, teaching hundreds of people how to find their way using only the sun, stars, moon, plants, animals, weather and buildings.
When my book on the subject came out I was delighted to learn that there were tens of thousands of people interested in finding their way using nature.
The BBC got in touch and asked whether there might be a way to introduce millions more to this very unusual world.
The Natural Navigators, left to right: Stephen Mangan, Alison Steadman, Sue Perkins and Tristan Gooley
The plan was for me to teach Alison Steadman, Stephen Mangan and Sue Perkins the basics of natural navigation and then send them on three journeys together.
For each journey I would write a short guide, prompting them to look for certain clues along the way to the next place they would be visiting.
Setting up any natural navigation challenge is always a bit of a Goldilocks problem: the routes must not be too easy or too difficult.
For All Roads Lead Home we tried really hard to mix the right level of challenge with areas that would be fascinating for the participants, and therefore the viewers - and it meant that more than two-thirds of the routes we considered never made it to the filming days.
The producer, Zoe Timmers, and I travelled to the areas that had been chosen by the participants to prepare the routes.
I was focusing on the natural navigation clues and challenges, whilst Zoe was thinking logistics.
We met some truly extraordinary individuals, from a ranger in a peat bog to Wise Women in stone circles.
Sue, Stephen and Alison would travel to Cornwall first, then Ireland and finally Wales and Liverpool.
I knew that we would have to make the challenges get steadily harder from a gentle start, but nature does not always follow the same agenda.
In some places there were good clues everywhere when I wanted few, and in Ireland and Wales there were many misty moments when I found it very challenging myself and feared for the prospects of my students.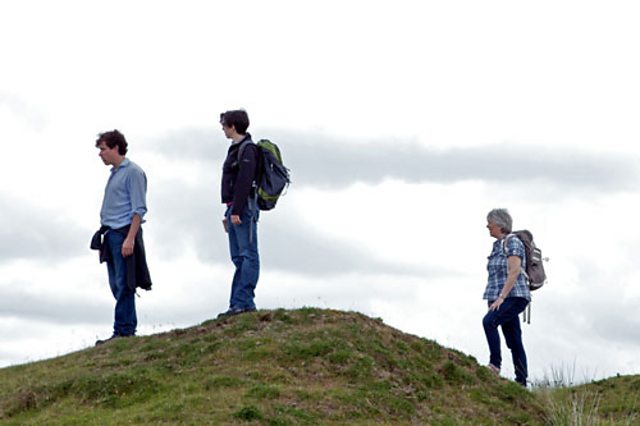 Stephen Mangan, Sue Perkins and Alison Steadman finding their way home
The first two days of filming were the training days. We met on day one at West Dean College, near Chichester.
I didn't think anyone else would feel this, but for me there was a real sense of a first day at a new school: it was a morning of meeting new people, trying to do what the headmaster (I mean director) Andrew told us to do, without looking a fool in front of everyone else.
I didn't learn until later that day that for Alison and Stephen, this was a new experience too.
Although they are of course hugely experienced in TV, they told me they had never done an unscripted outdoor series like this before.
Added to all this, nobody had ever tried to make a series about natural navigation before, let alone release three people into the wild during it.
The challenge of getting three people confident enough to navigate naturally on their own in two days is big enough, without any cameras - if something takes five minutes without cameras it has the potential to take an hour or more with them.
Added to this we had some bad luck with the weather.
Improvisation was called for, cardboard models of the moon were thrown to one side as they grew soggy in the rain, and I ended up using a piece of chalk to sketch the moon on a stone floor under the shelter of the porch of the college.
We had a lot of fun, largely due to the patience and good humour of all involved.
Andrew, Zoe, myself and all the crew did our best to adapt to the unknown, and Stephen, Sue and Alison did what they couldn't help: they made us laugh, a lot. (I learned that it's quite easy to tell when it's time for entertainers to take on another challenge: they start spontaneously breaking into song and dance.)
At the end of two very full days it was time for me to release my students to their own journeys.
I think we all worried: Would they find it impossible? Would they find it too easy?
Would they all have tantrums when stuck on Bodmin Moor for hours with no prospect of escape except the memory of me explaining something once a few weeks ago?
If the first training morning had felt like going to a new school, then the end of day two felt like dropping Alison, Stephen and Sue at the gates and waving goodbye.
No tears now, be brave. It had been an experience unlike anything I have ever done before.
Tristan Gooley is the natural navigation expert for All Roads Lead Home.
All Roads Lead Home starts on Wednesday 5th October at 8pm on BBC Two.
For further programme times, please visit the upcoming episodes page.
Comments made by writers on the BBC TV blog are their own opinions and not necessarily those of the BBC.