WPC 56: Women in policing in the 1950s
When I was first asked to pitch an idea for an original police series, which became WPC 56, I immediately knew I wanted to write about the 1950s.
The music and fashions of that decade were marvellously distinctive and it was a time of massive social change.
Britain was just getting back on its feet after the ravages of World War II, it was the beginnings of mass immigration, the birth of youth culture, the Cold War, and the feminism of the 60s was still a long way off. 
The idea of a young woman wishing to buck the trend and join the police force, a traditionally male profession at that time, seemed to me to be rich in story potential.
'Never forget that your sole responsibility is to support the men'
Once I'd fallen in love with my subject matter, I knew I had to do it justice by doing as much research as I could. 
I began with visiting the Metropolitan Police Museum which opened to the public in 2009 and is located at the Met's recruitment centre near Earls Court in London.
It is a small but fascinating collection of artefacts taken from a vast array of such treasures collected by Scotland Yard over at least a 100 years of policing – uniforms, weapons, photographs and archive footage.
I was even allowed to try on a genuine WPC's uniform jacket from the 1950s. While I was there I chatted to a couple of lovely retired policemen who were only too happy to tell me stories of the WPCs they worked alongside, mostly in the 60s and 70s. 
One anecdote that stuck with me ended up in episode one, where the male officers give Gina Dawson a 'Brinford Branding'.
This was apparently a real tradition in some police stations, where new recruits were rubber stamped on the backside by their new colleagues, and the women had to endure the initiation too (although they proffered their thighs as a compromise).
The retired officer described the women as being "game" for it, but I wondered if it was really good fun to them, or if they were merely anxious to fit in.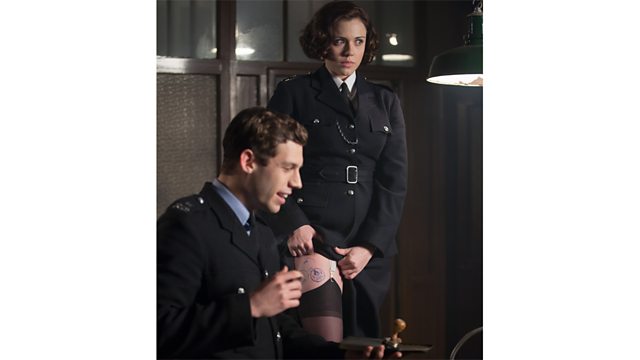 PC Eddie Coulson (Chris Overton) stamps WPC Gina Dawson (Jennie Jacques)
Also I was told some female officers volunteered to work undercover as decoys, and occasionally were attacked before the male officers could intervene.
This was echoed in a book I read called The Gentle Arm Of The Law by Jennifer Hilton, a WPC in the 1950s.
She gives a vivid, firsthand account of walking along a canal at night in the hope of drawing out a reported rapist. She escaped unscathed but found the experience understandably frightening.
I was struck by the irony of the so-called "fairer sex" electing to take such risks, and yet they were generally considered less brave or capable than the men.
I interviewed Sioban Clark, Chairman of the Metropolitan Women Police Association and she told me about the impossible choice women had to make between love and career – if a female officer chose to marry or have children she would automatically lose her job.
These were some of the realities I wanted to reflect in the BBC One series.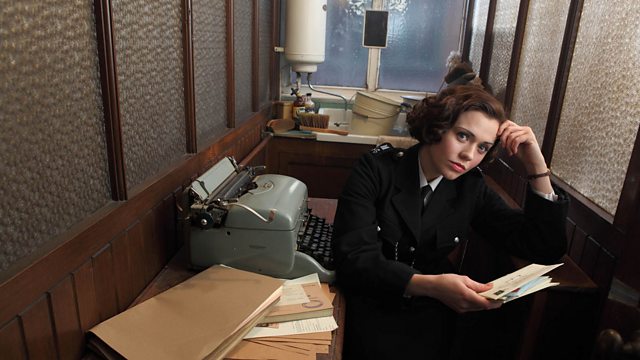 WPC Gina Dawson in her office, the broom cupboard
The fact that women police were treated as an isolated section of the police force meant that even when they worked alongside the men, their ranks and responsibilities were considered separate.
They weren't fully integrated into the main force until the early 70s, and they didn't drop the prefix for Woman Police Constables until 1999.
No matter what her rank, a female officer in Gina's time was expected to do the typing for even the lowliest male colleague.
Reading firsthand accounts and listening to hours and hours of transcripts of police women and men, there were of course many differing experiences, and certainly not all of them were bad. 
However, most would agree that making tea for the men was simply part of the job!
Dominique Moloney is the creator of WPC 56, and wrote episodes one, three and five.
WPC 56 continues daily until Friday, 22 March at 2.15pm on BBC One. For further programme times please see the episode guide.
Comments made by writers on the BBC TV blog are their own opinions and not necessarily those of the BBC.