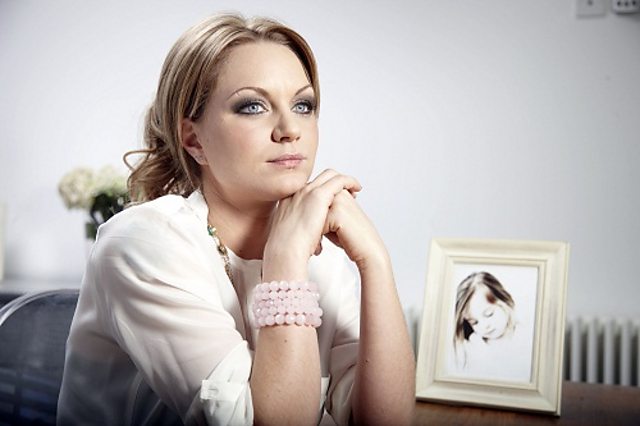 Rita Simons: My Daughter, Deafness and Me
Maiya was diagnosed with hearing loss at six months old and Rita and her family have recently found out that she will probably lose her hearing completely.
In the end Rita came to the conclusion that if she could break some of the stigma about deafness and raise awareness that deaf people can achieve whatever they want in life, it was worth doing the documentary.
Rita also, by her own admission, had been sticking her head in the sand about Maiya's condition and she finally felt ready to look into what was available for Maiya's future.
As the producer and director I was mindful about how our presence in the family home might affect the children and if it might put new emphasis on Maiya's hearing loss.
But once I got to know the family I became very comfortable with the role we played in their life for the four months we filmed with them.
Maiya and her twin sister Jaimee are fun, strong, characterful children who love being filmed and by the end of filming were directing me half of the time.
"Have you filmed me doing a handstand yet?"
However, we were always careful not to film sensitive scenes about Maiya's hearing loss when the children were around.
When Rita and Theo first found out from specialists that Maiya will probably lose her hearing altogether Maiya actually had her hearing aids out and wouldn't have been able to hear anything.
Maiya gets her hearing tested
Ninety per cent of deaf children are born into families who have no previous experience of deafness, so Rita and Theo are representative of many parents with deaf children.
It was a rollercoaster of emotions for them.
Everyone wants to do the right thing for their children, but choosing a route of treatment seems a big gamble as you never know until afterwards if you've made the right decision.

Rita is starting to understand about what life might be like for Maiya as a deaf adult and is starting to learn about how deaf people communicate.
There are many choices but Rita takes quite a black and white view for Maiya - to keep her in the hearing world with artificial sound like hearing aids or cochlear implants, or immerse her into the deaf world with sign language.
However, there is huge middle ground and most people use a mixture of ways to live and communicate.
There are so many different options and paths available to deaf people now that as Maiya grows up I'm sure she'll work out the right fit for her and Rita and Theo will support her in that.
Filming with deaf people who use British Sign Language (BSL) was a challenge as I don't know BSL. I can now sign what my name is, that I work as a director and that I'm filming with an actress from EastEnders who has twin daughters - but that can only get you so far!

We had many moments of communication breakdown that we had to overcome, but we managed it.
What most people don't realise is that BSL is not just a translation of English, it's a totally different language with different grammar.
For me as the English language speaker it was a bit like trying to communicate with someone who only speaks Mandarin, and it made me realise how difficult communication can be for deaf people.
As we show in the documentary, Rita and her family took a BSL lesson. As an actress, Rita was actually very good at sign language as it's a visual language and she picked it up very quickly.
However, at age five, Maiya was more interested at playing dressing up games than BSL, but I do think that as she gets older the family will look into learning sign language again.
When we started filming Rita said to me that I'd never see her cry about Maiya as she takes a very practical approach and won't let herself become emotional about it.
However, when she went to visit the deaf school and saw a big group of deaf children rehearsing a school play I turned round and saw tears streaming down Rita's face.
Rita visits the deaf school
The impact of seeing so many children like her daughter was very emotional for her and I think it hit home that Maiya is deaf and does have to overcome challenges on a daily basis because she can't hear like other people.
Rita and Theo are united in their approach to parenting Maiya, but they have very different personalities.
Theo is more reticent in making decisions whereas Rita is very decisive, but the balance between the two of them makes them a good partnership.
Rita and Theo have been together since they were teenagers and although having a deaf child inevitably makes parenting more stressful it hasn't put a strain on their marriage and they are very happy.
Rita wanted to find out about cochlear implants so she met eight-year-old Jack who has the same level of hearing loss as Maiya and was having a cochlear implant operation.
One of the most stressful parts for me was filming Jack's activation appointment.
Rita and Jack's parents were incredibly stoical about it but I absolutely hated it when Jack took a while to start hearing through his implant.
You may like to know that two months on Jack's parents Tracy and Mick have told me that he's getting on brilliantly and that he can hear all sorts of sounds that he couldn't hear before.
Sophie Leonard is the producer and director of Rita Simons: My Daughter, Deafness and Me.
Rita Simons: My Daughter, Deafness and Me is next on at 10.40pm on Tuesday, 20 March on BBC One and BBC One HD. It was first broadcast on Tuesday, 20 March at 12.35am on BBC One and BBC One HD with signing in British Sign Language.
For further programme times, please see the episode guide.
If you would like further information about deafness and the issues raised in the programme, please visit the information and support page.
Comments made by writers on the BBC TV blog are their own opinions and not necessarily those of the BBC.