The Coronation of Queen Elizabeth II: Restoring an era
As a colourist with BBC Studios and Post Production's digital restoration team, I am used to handling valuable archive footage.
However it's not very often that something as precious and special as the original black and white coronation footage arrives for me to digitally restore and preserve.
Amounting to seven and a quarter hours, The Coronation Of Queen Elizabeth II is being shown in its entirety by BBC Parliament on Sunday, 2 June 2013, exactly 60 years after its original broadcast.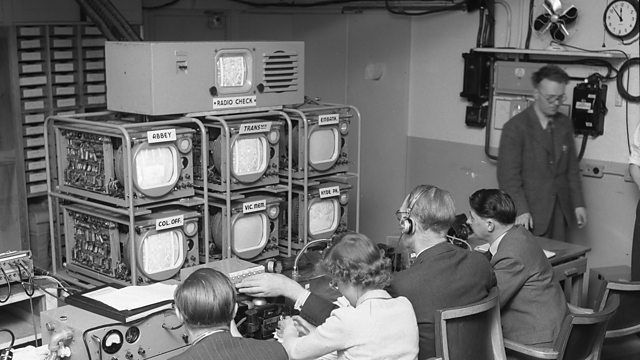 The central control room in Broadcasting House combined contributions from cameras and microphones
The Queen's Coronation was an epoch-making moment in broadcasting history – it was the first time the television audience exceeded the radio audience. It was also the largest outside broadcast that the BBC had ever undertaken.
In 1953 TV technology was in its infancy and video recording had not been invented, so the only way the BBC could retain a copy of what was transmitted on that day was by filming the output - basically pointing a camera at a 405-line television monitor!
The BBC did this using 35mm black and white film. Recording the broadcast onto film and storing it for 60 years brings its own problems, like dirt and scratches.
These film faults were not part of what the public actually saw on the day, therefore our challenge was to restore the pictures as closely as possible to how people would have experienced them at the time.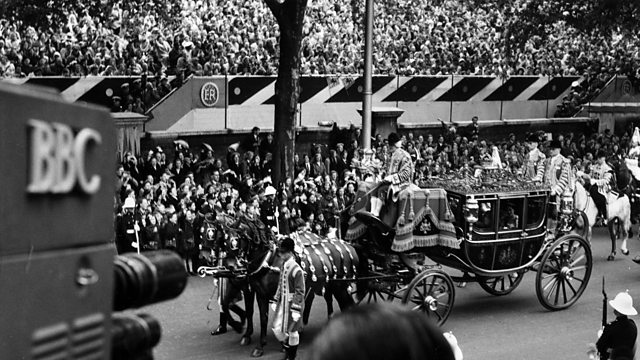 The carriage procession passing the television camera on the Victoria Embankment
The 35mm film rolls only lasted around 10 minutes, so an immense 45 film rolls were used in total.
After cleaning the rolls I scanned them to make digital files, taking care to capture the full picture area available.
This revealed more of the image than was seen on previous versions, bringing it in line with the live broadcast in 1953.
I then painstakingly graded each shot, which involves adjusting the brightness and contrast levels to maintain a consistently good looking image, whilst removing film defects, including fine dust, dirt and occasional damage.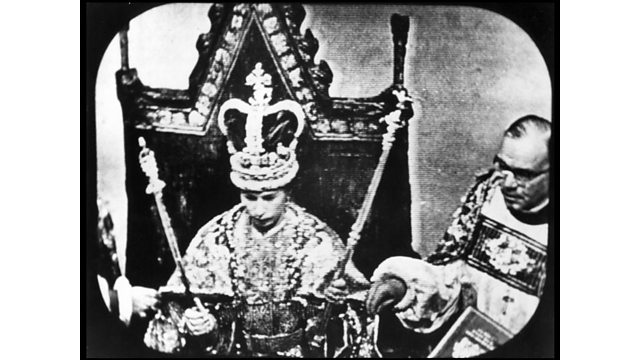 On screen: Queen Elizabeth II in full regalia at her coronation