Bert & Dickie: Writing an Olympic drama
I'd never been near any boat smaller than a pleasure cruiser on the Norfolk Broads when I started work on the script for Bert & Dickie. That was part of the attraction for me.
I'm sport mad and was intrigued to investigate sculling - a sport which for me was completely alien.
(For those who'd like to know, scullers use both oars. A rower uses one.)
Thanks to watching Sir Matthew Pinsent and Sir Steve Redgrave as they powered to many Olympic victories I at least knew what was the most elemental aspect of their sport: pain.

And then still more pain!
Dickie (Sam Hoare) and Bert (Matt Smith) have an unsuccessful first meeting
In the
first Olympic Games to follow World War II
,
Bert Bushnell
and
Dickie Burnell
won gold in the double sculls.
It was five weeks after meeting for the first time and at first the match between Bert and Dickie was far from made in heaven.

I'd become aware of their story having read Hampton's magnificent book about the 1948 Games in London, The Austerity Olympics.

Then I was fortunate enough to talk to Bert Bushnell at his home near Henley shortly before he died.
In fact the 1948 Games was stuffed full of potential film ideas, not least because it happened at such a peculiar time in history.
In the aftermath of carnage and chaos there seemed to be a particular determination to let sport act as a glue to piece nations and people back together again, which led to many stirring narratives I could have explored.
But having met Bert, having had a run out on the river courtesy of the local university eight (let's just say seven of them weren't sick) and having realised the unique potential which Bert and Dickie's story had to draw out all that was wonderful about the British stiff upper lip 'make do and mend' approach to life and to demonstrate the iniquities of a country which was still perfectly happy to countenance terrible class bigotry and social exclusion, I knew that there could only really be one place for me to focus my attention.
Clearly much of the drama came from the fact that Bert and Dickie were so different socially.
One Eton and Oxford-educated, Captain of Boats and a University Blue, the other a grammar school boy from Wargrave of much more modest upbringing.
Actors Matt Smith and Sam Hoare discuss their characters
Though Bert's mother had been an opera singer (a theme explored sub-textually in the music I chose for many of the later scenes) nevertheless, these differences were very real at the time.
However, the British are (rather magnificently in my opinion) terribly good at seeing the other point of view and as they both started to appreciate the potential which lay on the 'other side of the fence' they made a terrific team.
It was not just their characters, nor the fractured social panoply which they demonstrated that intrigued me about this story, but the wider world beyond rowing.
The ability of the country to stage the Games was staggering.
It was done with no government financial support, with few resources and with a populous still reeling from war.
And yet the Games happened. Magnificently so, because of some remarkable individuals like Lord Burghley and Lord Aberdare who feature in the film and because of the nation's ability to dust itself down and get on with it.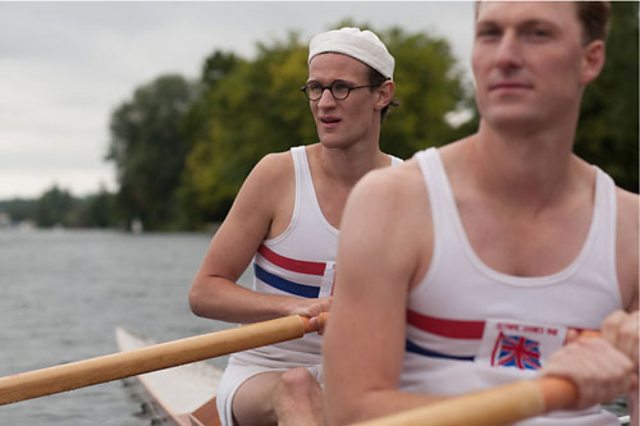 Bert and Dickie
Even when presented with Olympic etching and Olympic poetry (which were on the first Olympics list and revived in London because they were cheap!) the country flocked to support the events.
And this was the thing for me: the spirit of the Games.
What I have tried to demonstrate in Bert & Dickie is that the people of 1948 really understood that the Olympics was all about an attitude of mind: a desire to come forward and to be involved, to compete and to watch, to strive and to enjoy.
And as long as that effort was made in a heartfelt way then money did not have to be showered upon the event for it to be a success.
And as we prepare to stage a Games now, amidst dreadful unemployment, social deprivation and fiscal meltdown, it would do us all good to remember that spirit.
William Ivory is the writer of Bert & Dickie.
Bert & Dickie is on Wednesday, 25 July at 8.30pm on BBC One and BBC One HD.
Comments made by writers on the BBC TV blog are their own opinions and not necessarily those of the BBC.