Miranda: Trying to keep a straight face
My sense of humour, a bit like Miranda's, is based around bodily functions and the timeless hilarity therein. Basically I'm a child trapped in a man's body.
 
When working on Miranda, we're always bringing ideas into the rehearsal room and we either get a gold star from her, or polite but dismissive no - but it's always done in good humour.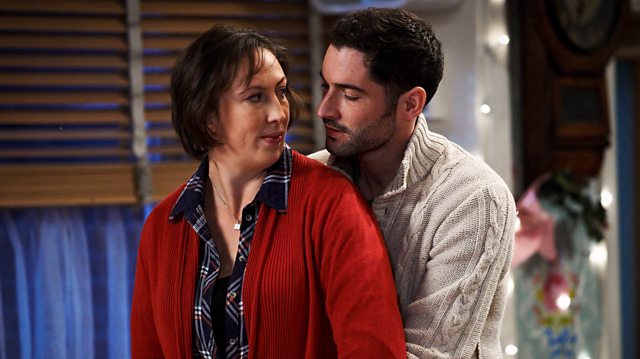 Gary and Miranda on the brink of a kiss
To test a joke out if we can't decide if something's funny or not, we record it both ways in front of the studio audience and see which gets the best reaction.
Our audience at the recordings are very vocal - be that laughing, sympathising or booing – they make it very clear who they're rooting for.

We had a brilliant time filming this series.
When Gary Barlow turned up I felt like a 12-year-old girl and didn't know what to say to him.
We always have a very high calibre of guest on the show, often because they're fans themselves.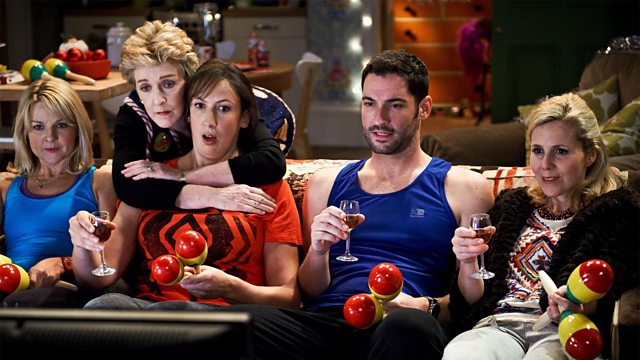 The cast celebrate Christmas together
One of the stand-out moments for me was in episode four when we tried some alternative endings for
Dr Gail
's departure. 
The episode was played out more like a play than a TV show and some of the other cast members weren't warned.
It caused them a bit of a shock when we started to explore the boundaries of Gary and Dr Gail's relationship.
 
I love working in BBC Television Centre, it's always such fun and there's such a sense of history there, especially in comedy.
 
When filming this series we overlapped with Strictly and I would frequently bump into contestants like Michael Vaughan and Sid Owen and the various judges around the studios. We often asked them for dancing advice when we had dancing scenes.
 
We had the honour of being the last studio sit-com to be filmed at Television Centre while it still belongs to the BBC.
I always try to find the truth of the world my character inhabits - be it comedy like Miranda, or serious drama, like The Secret Of Crickley Hall. I approach each challenge the same, basically.
 
Working on Miranda has its own challenges. Trying to keep a straight face when all around me are losing theirs - that's one the hardest things.
Gary and Miranda take a romantic stroll through town